Podcaster: Tony Darnell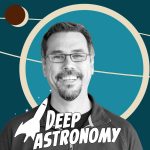 Title: Deep Astronomy – Physicists Hunt for a Mirror Universe
Organization: Deep Astronomy
Link : https://deepastronomy.space
Twitter @DeepAstronomy, https://facebook.com/DeepAstronomy
YouTube: https://www.youtube.com/deepastronomy
Description: From Oct 31, 2019.
Is the many-worlds interpretation of quantum mechanics science? While we may not be able to say what exactly science is, I can say that I prefer to have my science with a little bit of data. For me to recognize science when I see it, it has to come with some observations or something verifiable. But hey that's just me, and apparently I'm in the minority on this issue.
You may very well ask, oh c'mon what's the big deal? Who cares if a bunch of cosmological Poindexters write some papers that only get read among themselves, that have a bunch of math in it and have no practical value to us at all.
Bio: Tony Darnell is the owner of Deep Astronomy website and a host for the same hangout channel in Youtube. He has worked in the field of astronomy all my life, his first job was at a school district planetarium in Boulder, Colorado. With the exception of a stint in the Army in the 1980's he has worked in many aspects of astronomical research.
Most of his time has been spent writing software to retrieve, process and analyze data taken from telescopes. He has worked with data from some of the world's largest ground-based and space-based telescopes: from the four meter Blanco telescope in Chile to the Hubble Space Telescope.
Astronomy education has always been his passion and he has written articles for DeepAstronomy.space website and produce astronomy videos for YouTube on the DeepAstronomy channel.
Today's sponsor: Big thanks to our Patreon supporters this month: Paul M. Sutter, Chris Nealen, Frank Frankovic, Frank Tippin, Jako Danar, Michael Freedman, Nik Whitehead, Rani Bush, Ron Diehl, Steven Emert, Brett Duane, Don Swartwout, Vladimir Bogdanov, Steven Kluth, Steve Nerlich, Phyllis Foster, Michael W, James K Wood, Katrina Ince, Cherry Wood.
Please consider sponsoring a day or two. Just click on the "Donate" button on the lower left side of this webpage, or contact us at signup@365daysofastronomy.org.
Or please visit our Patreon page: https://www.patreon.com/365DaysOfAstronomy
End of podcast:
365 Days of Astronomy
=====================
The 365 Days of Astronomy Podcast is produced by Planetary Science Institute. Audio post-production by Richard Drumm. Bandwidth donated by libsyn.com and wizzard media. You may reproduce and distribute this audio for non-commercial purposes.
This show is made possible thanks to the generous donations of people like you! Please consider supporting to our show on Patreon.com/365DaysofAstronomy and get access to bonus content.