Podcaster: Host: Fraser Cain; Guest: Pam Hoffman, Dave Dickinson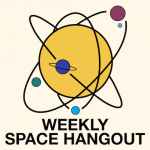 Title: Weekly Space Hangout: Dr. Eddie Schwieterman Discusses Nitrous Oxide as a Biosignature
Link: Cosmoquest: http://cosmoquest.org
Description:
Today's story:
More evidence for modified gravity (MOND) as dark matter.
Cool, dark nebulae!
A giant eruption of Io!
How to get the cosmonauts home?
Host: Fraser Cain ( @fcain )
Special Guest: Historically, scientists using spectrographic analysis to study exoplanet atmospheres have considered oxygen and methane as two key biosignatures when identifying "life-friendly" planets. But could nitrous oxide (N2O) — aka "Laughing Gas" — also be a reliable biosignature? A recent paper published in the October, 2022, Astrophysical Journal (https://iopscience.iop.org/article/10.3847/1538-4357/ac8cfb) explains why N2O can — and should — be included as a biosignature gas. Tonight we are pleased to welcome the paper's lead author, Dr. Eddie Schwieterman, astrobiologist at UC Riverside, to discuss why N2O is an indicator of life.
Dr. Eddie Schwieterman is an Assistant Professor of Astrobiology in the Department of Earth and Planetary Sciences at the University of California, Riverside. He earned his undergraduate degrees in physics and astrophysics from the Florida Institute of Technology and his PhD in astronomy and astrobiology from the University of Washington in Seattle.
Dr. Schwieterman studies the climate, atmospheric chemistry, geochemical evolution, and spectral appearance of terrestrial (rocky) planets. His research specifically focuses on the habitability and potential biosignatures of exoplanets.
To learn more about Eddie's research visit his website (www.eddieschwieterman.com) and follow him on Twitter: @nogreenstars (https://twitter.com/nogreenstars)
You can also read more about nitrous oxide as biosignature in the following SciNews article: Nitrous Oxide Could Help Detect Extraterrestrial Life on Exo-Earths (https://www.sci.news/astronomy/biosignature-nitrous-oxide-11260.html)
Regular Guests:
Today's sponsor: Big thanks to our Patreon supporters this month: Rob Leeson, David Bowes, Brett Duane, Benett Bolek, Mary Ann, Frank Frankovic, Michael Freedman, Kim Hay, Steven Emert, Frank Tippin, Rani Bush, Jako Danar, Joseph J. Biernat, Nik Whitehead, Michael W, Cherry Wood, Steve Nerlich, Steven Kluth, James K Wood, Katrina Ince, Phyllis Foster, Don Swartwout, Barbara Geier, Steven Jansen, Donald Immerwahr
Please consider sponsoring a day or two. Just click on the "Donate" button on the lower left side of this webpage, or contact us at signup@365daysofastronomy.org.
Or please visit our Patreon page: https://www.patreon.com/365DaysOfAstronomy
End of podcast:
365 Days of Astronomy
=====================
The 365 Days of Astronomy Podcast is produced by Planetary Science Institute. Audio post-production by Richard Drumm. Bandwidth donated by libsyn.com and wizzard media. You may reproduce and distribute this audio for non-commercial purposes.
This show is made possible thanks to the generous donations of people like you! Please consider supporting to our show on Patreon.com/365DaysofAstronomy and get access to bonus content.
After 10 years, the 365 Days of Astronomy podcast is poised to enter its second decade of sharing important milestone in space exploration and astronomy discoveries. Join us and share your story. Until tomorrow! Goodbye!