Podcaster: Shane and Chris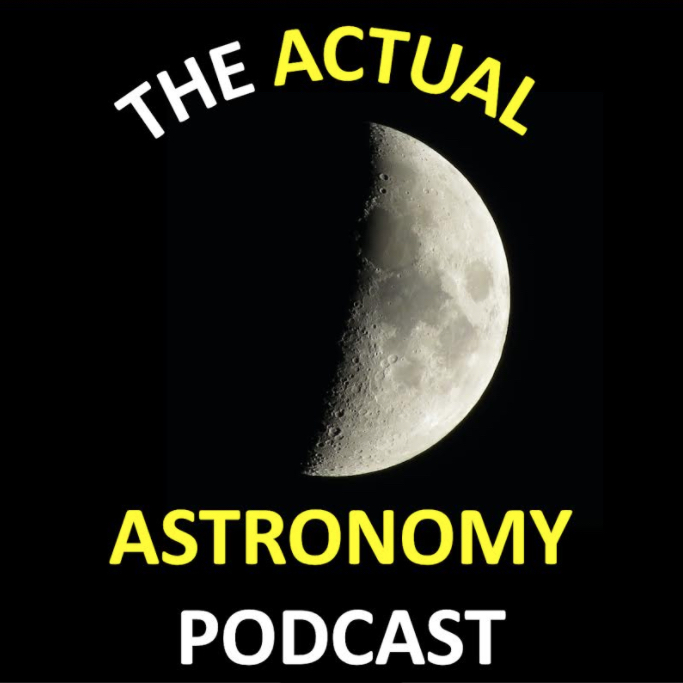 Title: Listener Observing Reports
Organization: Actual Astronomy
Link : https://actualastronomy.podbean.com/
Description: The Actual Astronomy Podcast presents Episode 256 Listener Observing Reports. In this episode we read listener observing reports. Beginning with a new Dark Sky Preserve we move on to a "smorgasbord" session with planets, double stars and planetary nebulae. 
Bio: Shane and Chris are amateur astronomers who enjoy teaching astronomy classes and performing outreach where they help the eyes of the public to telescope eyepieces.
Today's sponsor: Big thanks to our Patreon supporters this month: Rob Leeson, David Bowes, Brett Duane, Benett Bolek, Mary Ann, Frank Frankovic, Michael Freedman, Kim Hay, Steven Emert, Frank Tippin, Rani Bush, Jako Danar, Joseph J. Biernat, Nik Whitehead, Michael W, Cherry Wood, Steve Nerlich, Steven Kluth, James K Wood, Katrina Ince, Phyllis Foster, Don Swartwout, Barbara Geier, Steven Jansen, Donald Immerwahr
Please consider sponsoring a day or two. Just click on the "Donate" button on the lower left side of this webpage, or contact us at signup@365daysofastronomy.org.
Please visit our Patreon page: https://www.patreon.com/365DaysOfAstronomy
or you can consider to sponsor a day of our podcast : https://cosmoquest.org/x/365daysofastronomy/product/sponsor-an-episode-of-365-days-of-astronomy/
Transcript:
Welcome to Episode 256 of the Actual Astronomy Podcast, a short episode on where we catch up. I'm Chris and joining me is Shane. We are amateur astronomers who love looking up at the night sky and this podcast is for anyone who likes going out under the stars.
We heard from lot's of folks re: Don Macholz passing.
Had a VM from Phil, I took a listen while observing.
Julian sent me some paintings of Globular clusters…..
Trevor wrote us on the new DSP in Canada the
Hi Shane and Chris
On Sept. 4, the official signing for the Spruce Woods Dark Sky Preserve will be taking place. RASC Winnipeg, Spruce Woods Provincial Park and Manitoba Parks have been working for well over 10 years for this to happen.
My club the Brandon and Area Astronomical Society has been a big part with the parks astronomy program and will continue to do so. Actually a prior Brandon astronomy club started going to Spruce Woods for a weekend observing trip with members of RASC Winnipeg joining as well. And from this is where the idea of making Spruce Woods a DSP.
Spruce Woods is located 45 min east of Brandon. Spruce Woods has always been a really dark park with limited lighting. On dark sky quality meters it reads in the 21.5 to 21.7 area.
I don't think you have done an episode solely about Dark Sky Preserves in Canada. Could be a very good topic since Grasslands DSP is a place you guys go to.
https://rasc.ca/lpa/spruce-woods
Thanks
Trevor
Larry wrote:
Dear Chris and Shane,
I have been enjoying the summer shorts! Nice to hear about some topics that wouldn't fill a full episode, but are interesting – really liked the one on Burnham. Maybe you should consider adopting a short – long format when you shift back after summer. But, then again with all the planetary observing coming up over the next few months, you may not have time to switch back :).
Over the past few months, I have picked up a new scope – a SvBony 80m f7 ED (like the Astrotech 80 ED) – and several new Eps – a Pentax XW 7mm, a used Vixen LVW 3.5, and a Takahashi MC Hi-Or 2.8mm – BUT, of course, the weather in my part of Japan has been terrible since Spring! I've only gotten out a few times, and at that just for very short sessions dodging clouds and jumping in sucker holes.
Last weekend, the skies finally cleared, and I got out for a good three-hour session. I call it a "smorgasbord" session because, rather than spending a long time on a few objects, I jumped all over the sky, trying out the new scope and Eps on a variety of targets, from the Summer Triangle, to Saturn, to Cassiopeia and Andromeda, and finally to Jupiter. I think I looked at about 20 different objects, from doubles, to nebula, to open clusters, to M31, getting my fill of observing.
Thought I would share some highlights….
I began with Saturn. Pretty sure I could see Cassini – the first time! Overall, the planet had a whitish cast – less cream colored than I have previously observed. Only the northern cloud band was visible, and it was a paler shade of tan than before. Titan and Rhea were visible – making a nice fishhook with 2 field stars – like a trail of stars coming off the planet. Later, when I came back, I was able to pull out Tehtys as well, with averted vision and best with in the Tak MC Or 7.
Next, I moved in the area around Sagitta. First, I took a quick peek at the Coathanger, and then Theta Sagittae. This is an interesting triple. Not so colorful, but the surrounding area is really nice and the field looks a bit like a widely-spaced open cluster. I will visit it again.
Moved on to M27 and M57. M27 was pretty much a vague spot of fog – but still better than I had been able to see before. The XW 7 showed it best, with a nice balance between magnification and brightness. M57 was also best in the Pentax – a little grey ball with straight vision, but a donut with averted vision. I guess you can only get so much out of 3 inches of apertures form inside the city ;). Later in the night, I observed the Blinking Planetary in Cygnus as well – first time to see it. It was a very vague grey circle – tougher to see than either M27 or M57 – with what seemed to be a bright dot in the center. It did seem to pop in and out of vision as I switched between straight and averted vision. I didn't want to fiddle around with my nebula filter to see if I could improve the view of any of the nebula, but will try it out next time.
Followed this with some colorful doubles – Gamma Delphinus (nice yellow-gold primary, and blue-green secondary); Albireo; 61 Cyg (red-orange primary, and yellow-orange secondary); Omicron Cyg (orange, white and pale blue-green – always reminds me of an Irish flag), and some clusters in Cygnus (M29, M39, etc.). My favorite of these was NGC 6910 – a small cluster just off Sadr. It looked like a tiny triangle linked by a winding chain of very faint stars – a subtle, but beautiful little cluster.
Kept going after this for a bit, but my notes began to trail off, so I must have been getting tired….
Anyways, hope you guys continue to have clear skies!
Best,
Larry
Thanks Shane and to everyone for listening, be sure to subscribe and we always appreciate the patreon support. You can reach us at actualastronomy@gmail.com.
End of podcast:
365 Days of Astronomy
=====================
The 365 Days of Astronomy Podcast is produced by Planetary Science Institute. Audio post-production by Richard Drumm. Bandwidth donated by libsyn.com and wizzard media. You may reproduce and distribute this audio for non-commercial purposes.
This show is made possible thanks to the generous donations of people like you! Please consider supporting to our show on Patreon.com/365DaysofAstronomy and get access to bonus content.
After 10 years, the 365 Days of Astronomy podcast is poised to enter its second decade of sharing important milestone in space