Podcaster: Tony Darnell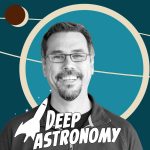 Title: Astronomy at the European Southern Observatory (ESO)
Organization: Deep Astronomy
Link : https://deepastronomy.space
Twitter @DeepAstronomy, https://facebook.com/DeepAstronomy
YouTube: https://www.youtube.com/deepastronomy
Description: Some of the most exciting astronomical discoveries and observations are being done at the cutting-edge observatories operated by ESO. The European Southern Observatory (ESO) is the pre-eminent intergovernmental science and technology organisation in astronomy. It carries out an ambitious programme focused on the design, construction and operation of powerful ground-based observing facilities for astronomy, in order to enable important scientific discoveries. ESO also plays a leading role in promoting and organising cooperation in astronomical research. ESO operates three unique world-class observing sites in the Atacama Desert region of Chile: La Silla, Paranal and Chajnantor.
ESO's first site is at La Silla, a 2400 m high mountain 600 km north of Santiago de Chile. It is equipped with several optical telescopes with mirror diameters of up to 3.6 metres. The 3.5-metre New Technology Telescope broke new ground for telescope engineering and design and was the first in the world to have a computer-controlled main mirror, a technology developed at ESO and now applied to most of the world's current large telescopes. The ESO 3.6-metre telescope is now home to the world's foremost extrasolar planet hunter: HARPS (High Accuracy Radial velocity Planet Searcher), a spectrograph with unrivalled precision.
Bio: Tony Darnell is the owner of Deep Astronomy website and a host for the same hangout channel in Youtube. He has worked in the field of astronomy all my life, his first job was at a school district planetarium in Boulder, Colorado. With the exception of a stint in the Army in the 1980's he heas worked in many aspects of astronomical research.
Most of his time has been spent writing software to retrieve, process and analyze data taken from telescopes. He has worked with data from some of the world's largest ground-based and space-based telescopes: from the four meter Blanco telescope in Chile to the Hubble Space Telescope.
Astronomy education has always been his passion and he has written articles for DeepAstronomy.space website and produce astronomy videos for YouTube on the DeepAstronomy channel.
Today's sponsor: Big thanks to our Patreon supporters this month: Frank Tippin, Brett Duane, Jako Danar, Joseph J. Biernat, Nik Whitehead, Timo Sievänen, Steven Jansen, Casey Carlile, Phyllis Simon Foster, Tanya Davis, Rani B, Lance Vinsel, Steven Emert.
Immerse yourself in the web of life under a symphony of starlight in Costa Rica with Paul Sutter. Check it out at: http://astrotours.co/365days
Please consider sponsoring a day or two. Just click on the "Donate" button on the lower left side of this webpage, or contact us at signup@365daysofastronomy.org.
Or please visit our Patreon page: https://www.patreon.com/365DaysOfAstronomy
End of podcast:
365 Days of Astronomy
=====================
The 365 Days of Astronomy Podcast is produced by Planetary Science Institute. Audio post-production by Richard Drumm. Bandwidth donated by libsyn.com and wizzard media. You may reproduce and distribute this audio for non-commercial purposes. Please consider supporting the podcast with a few dollars (or Euros!). Visit us on the web at 365DaysOfAstronomy.org or email us at info@365DaysOfAstronomy.org. This year we will celebrates the Year of Everyday Astronomers as we embrace Amateur Astronomer contributions and the importance of citizen science. Join us and share your story. Until tomorrow! Goodbye!