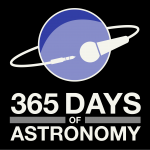 Date: September 22, 2009
Title: The First Female Radio Astronomer

Podcaster: The Ordinary Guy from the Brains Matter podcast
Organization: Brains Matter http://www.brainsmatter.com
Description: The first female in radio astronomy was the Australian physicist, Ruby Payne Scott. Not only was she a female pioneer in this area, but one of the first radio astronomers of either gender. Today's episode pays tribute to Ruby and gives a bit of a background on who she was.
Bio: The Brains Matter podcast has been producing and communicating science stories and interviews since September 2006. The show is based out of Melbourne, Australia, and takes an everyday person's perspective of science in easy-to-understand language.
Today's sponsor: This episode of "365 Days of Astronomy" is sponsored by Countless Screaming Argonauts. We're just two guys talking to anyone about everything and we'd like to dedicate this episode to the memory of John Glenn, who inspired kids like us to think about the stars. We can be found at csapodcast.blogspot.com. We're on iTunes.
Transcript:
Hello everyone – I'm the Ordinary Guy from the Brains Matter podcast. You can listen to shows not just on astronomy, but also on science, curiosities, and general knowledge at www.brainsmatter.com.
We have a long history of optical astronomy. It's 400 years now since Thomas Harriot first used the telescope to look at the moon – followed a few months later by Galileo. But these aren't the only telescopes that are in use. Another common type of telescope is the radio telescope.
Let's have a bit of a look into radio astronomy. There has been a lot of work in that area over time, but let's not forget Ruby Payne Scott. An Australian physicist who was born in Grafton, New South Wales on May 28, 1912.
She was not only a very important physicist and astronomer, but is thought to have been the first female radio astronomer.
As a youngster, she showed a lot of interest and talent in maths and science. She graduated from the University of Sydney with a BSc in 1933, and a Diploma of Education in 1938, after winning two scholarships. She was actually one of the only females, or sometimes even the only female, in her classes.
A female physicist was seen as a bit of an oddity in those days, but ironically, the outbreak of the second world war turned out to be of benefit to her. She worked for the Commonwealth Scientific Industrial Research Organisation – or the CSIRO – although it was called the CSIR back in those days – on top secret work investigating radar.
At the end of the war, she worked on a radioastronomy experiment with Joseph Pawsey at the University of Sydney grounds in 1944, and in 1945, Ruby conduced some very important early radio astronomy observations at Dover Heights in Sydney.
It was through these radio astronomy observations that she discovered three of the five categories of solar bursts originating in the solar corona, and made very important contributions to the techniques of radio astronomy. Her techniques were, in the future, used to warn of incoming solar storms that threatened technology infrastructure.
Unfortunately, due to the fact that radio astronomy wasn't published in journals at that time, her discoveries were not appreciated for decades.
Despite her mild mannered, bespectacled appearance, she was an advocate for women's rights, and partly because of this, it is thought she was a member of the Communist Party of Australia – and as a result, Australia's intelligence agency, ASIO kept a file on her from 1948 to 1959. Ruby was a very determined woman and while she worked at the CSIR frequently broke regulations on women's dress code, smoking, and even dared to demand equal treatment from the males; so much so, that she was treated as just one of the guys in the labs.
Ruby lived with Bill Hall in the 1940s, and, shockingly, made no bones about living with a man. That was not the done thing in the 1940s, and of course, once again, it put her up against the establishment. Until November 1966, there was a rule in the public service in Australia that married women were required to resign. Eventually it was found out that Ruby was indeed married… and that she had hidden her marriage to Bill for six years – how did they find out? Well, they found out because Ruby fell pregnant. ASIO claims she was dismissed from the CSIR, but other reports say she retired due to the rule. But she was almost immediately brought back by the CSIRO on a temporary basis, at full pay.
In her later life, Ruby turned to education and became a school teacher, and was fondly remembered by her students. In fact, the school she taught at in Sydney was recently visited by a biographer of Ruby, and they had no idea of her importance and her previous achievements.
Ruby never changed her name, keeping her maiden name. Even after her secret marriage was no longer secret, she continued to keep her name. 
Ruby died on the 25th of May 1981, 3 days before her 69th birthday from Alzheimers disease. She is survived by her daughter Fiona Hall, who is an artist, and her son Professor Peter Hall, who is a well regarded mathematician.
We ought to thank Ruby for her scientific mind and leadership that helped to lay the foundations of radio astronomy for the future.
End of podcast:
365 Days of Astronomy
=====================
The 365 Days of Astronomy Podcast is produced by the New Media Working Group of the International Year of Astronomy 2009. Audio post-production by Preston Gibson. Bandwidth donated by libsyn.com and wizzard media. Web design by Clockwork Active Media Systems. You may reproduce and distribute this audio for non-commercial purposes. Please consider supporting the podcast with a few dollars (or Euros!). Visit us on the web at 365DaysOfAstronomy.org or email us at info@365DaysOfAstronomy.org. Until tomorrow…goodbye.