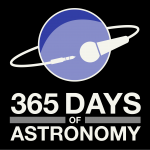 Date: July 23, 2009
Title: Everything Old is New Again

Podcaster: Roz Brown and Dennis Ebbets from Ball Aerospace & Technologies Corp.
Organization: Ball Aerospace & Technologies Corp.
www.ballaerospace.com
Description: The final servicing repair mission to the Hubble Space Telescope was a 13-day undertaking in May 2009 that proved still more successful than NASA had envisioned. Atlantis astronauts installed two new instruments, repaired two others, and replaced a number of components, such as batteries and insulation. The first images from the new instruments are expected to be released in September. Roz Brown talks to Ball Aerospace astronomer Dennis Ebbets about what we might expect from Hubble's makeover.
Bio: Ball Aerospace & Technologies Corp. supports critical missions of important national agencies such as the Department of Defense, NASA, NOAA and other U.S. government and commercial entities. The company develops and manufactures spacecraft, advanced instruments and sensors, components, data exploitation systems and RF solutions for strategic, tactical and scientific applications. Roz Brown is the Media Relations Manager for Ball Aerospace.
Today's sponsor: This podcast is sponsored by Gerry Guild, aspiring amateur astronomer in Western New York, who dedicates this episode to his daughter, Meghan in memory of Galileo Galilei and Charles Darwin whose curiosity and steadfast dedication to discovery and truth changed the way we see the world. Meghan, Thank you for rekindling my love for astronomy, geology, evolutionary biology, and all the disciplines they entail. This has meant more to me than you may ever know. Thank You!
Transcript:
Ball Aerospace: Everything Old is New Again
Hubble Podcast – July 23, 2009
Roz Brown: We're all aware of the phenomenal images and science returned by the Hubble Space Telescope since its launch in April 1990. The People's Telescope – as it's affectionately called – has let us see more distant galaxies than ever anticipated because NASA astronauts have made five trips to the telescope in the past 30 years to deliver and install new and improved instruments. Ball Aerospace astronomer, Dennis Ebbets has been involved with the Hubble program since the early 1980s. Thirty years later, he says the scientific discoveries from Hubble continue to amaze him.
Dennis Ebbets: The one that I find the most satisfy, is that Hubble was able to make observations of very distant galaxies, and measure very precisely the distances to those galaxies and it was also able to measure the rate of expansion – how fast those galaxies were moving away from us – and the combination of how big the universe is now and how rapidly its expanding apart allows you to infer essentially the age of the universe or at least how long since that expansion began. And that was a number that people have been working toward since the 1920s – when Edwin Hubble – after whom the telescope is named first discovered the expansion of the universe back then. And even after 70 years it was very controversial as to what that age was and then the Hubble Space Telescope was proposed and designed as one of its major objectives to make observations that would improve the estimates of the size of the universe and the age and they did that.
RB: Ebbets says a key project concentrated observing time and brain power on getting that number right:
DE: Just about ten years ago, it was 1999 actually that they announced that they had a number that they were satisfied with and they had a number for the expansion rate of the universe and from that you could infer the age of the universe and that age turned out to be about 13 billion years.
RB: The current theory and observations have revised that number upward a bit – to 13.5 to 14 billion years. Ebbets says Hubble is ultimately successful because it engaged people across the globe – there are very few people who don't know Hubble.
DE: You may be hard-pressed even just to find people on the street or in a shopping mall or in a school who didn't know about Hubble so it has increased the awareness and the appreciation in the general public for science and astronomy and the space program and what it is we do and I think that's a very positive thing also.
RB: During the May 2009 servicing mission, astronauts installed two new instruments – one being the Cosmic Origins Spectrograph. COS will allow astronomers to look at distant objects in the universe called Quasars.
DE: They were discovered back in the 1960s. We now know that they are the central region, the nuclei of very active galaxies and it's thought that they all have black holes – large super massive black holes in the center and that's what's producing the very brilliant light.
RB: Ebbets says that means COS may allow scientists to examine some of the earliest, most pristine, least-contaminated material in the universe.
RB: The second instrument installed during the recent servicing mission was the Wide Field Camera 3. Tucked inside are the most advanced detectors ever flown in space – again designed to return still more dramatic science via Hubble. But some discoveries attributed to Hubble were never anticipated. Mathematical algorithms and computer software developed to process and improve Hubble's image quality produced unexpected benefits.
DE: Believe it or not, the basis of some of those algorithms was adopted from software that was used for medical imaging like CAT scans and it has gone back the other way. A lot of the algorithms and the improvements to the software that were made in response to the Hubble have now gone back into the medical imaging field. So anybody who has had a CAT scan or a mammogram or anything like that in the way of medical imaging in the last couple of years has almost certainly benefited from the software, the visualization tools that were developed partly for Hubble and other science instruments.
RB: Ebbets says it's hard to imagine how many hundreds of thousands of people have had medical images taken with the hardware technology that was developed for Hubble and spun-off into the civilian market and other commercial applications. No wonder it's called the People's Telescope. For scientists, the knowledge we have gained from the Hubble Space Telescope cannot be underestimated.
DE: Knowledge is good. Knowledge is useful in its own right and I don't have to justify too hard that its worthwhile understanding and knowing things and knowing the truth about the world we live in and how vast the universe is.
RB: Ebbets says the fact that just 30 years after Hubble was launched the age of the universe has been so narrowly defined is remarkable.
DE: Just think about it. Twenty years ago there were some people who thought the universe might be as young as eight or 10 billion years and there were people who had other reasons for believing that the universe was 18 or 20 billion years old. Now you might say well it's only a factor of two, so what. Two? It's a factor 10 billion – its 10 billion years difference there – that's not a very precise number. To think that we can conceive of measuring something like the age of the universe and that we can make measurements that can derive a number that we believe – that we think we believe – to an accuracy of 10 percent is just an astonishing thing to me. It's a tribute to humanity's intelligence and everything. That we can conceive of asking a question like that and then imagining a way to make the measurement and then building the hardware and doing the analysis and coming up with an answer is just an astonishing thing.
RB: The astonishing Hubble Space Telescope. Stayed tuned for new images coming in September. I'm Roz Brown.
End of podcast:
365 Days of Astronomy
=====================
The 365 Days of Astronomy Podcast is produced by the New Media Working Group of the International Year of Astronomy 2009. Audio post-production by Preston Gibson. Bandwidth donated by libsyn.com and wizzard media. Web design by Clockwork Active Media Systems. You may reproduce and distribute this audio for non-commercial purposes. Please consider supporting the podcast with a few dollars (or Euros!). Visit us on the web at 365DaysOfAstronomy.org or email us at info@365DaysOfAstronomy.org. Until tomorrow…goodbye.