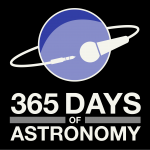 Date: July 14, 2009
Title: Telescope 400

Podcaster: Robin Scagell of Telescope 400
Organization: Telescope 400 www.telescope400.org.uk
Description: Several years ago, the organisers of Britain's National Astronomy Weeks decided that 2009 would be a good year to have another NAW, this time to celebrate the 400th anniversary of the first telescopic observation of the Moon by Thomas Harriot. Then we heard that other folk were also planning to celebrate the whole year for astronomy. In the end, we chose to concentrate on the day of Harriot's first observation, at Syon Park in West London where he lived. The day itself is 26 July, and this show describes the background and plans for the event we're calling Telescope 400.
Bio: Telescope 400 is organised by the National Astronomy Week committee, which comprises representatives from many of the leading astronomical organisations in the UK. National Astronomy Weeks are held in the UK from time to time to generate interest in astronomy.
Today's sponsor: This episode of "365 Days of Astronomy" is sponsored by AAVSO.
Transcript:
Hello. Robin Scagell here. We all know that this is the International Year of Astronomy, celebrating 400 years of the use of the telescope. But in Britain we're celebrating the actual 400th anniversary a bit earlier than everybody else — on Sunday, 26 July to be precise. The day is being marked by an event called Telescope 400, held at Syon House, a stately home in West London close to the River Thames and Kew Gardens, and former home of one Thomas Harriot, who actually made the first-ever recorded observation of the Moon through a telescope.
But who was this shadowy figure, Thomas Harriot, whose observations we're celebrating? The podcast for 14 January, by Dr Allan Chapman, tells us more about his actual observations and why he didn't publicise them, but what about his background? Ann Mills has written a book about Harriot.
Ann Mills: Harriot as a young man was a brilliant mathematician and he came to the attention of Sir Walter Raleigh who was a significant person in the Elizabethan court. The Elizabethan court at that time was a place of culture and science, and England was growing as a power, and one of the big endeavours of that era was to launch an expedition into the New World. Sir Walter Raleigh was obviously the instigator of that and very much in favour of Elizabeth I and he wanted somebody who had a bright, energetic, lively scientific brain that would be able to go on that expedition and manage all the scientific experiments. Harriot was his man, and because of all those incredible, remarkable skills that Harriot had, he was able to go on that expedition and carry out all the investigations and analyses — looking at minerals, plants, animals…. He did an awful lot of work in surveying the whole territory of the Roanoke Island which was where the expedition went.
So when you look at the maps of the American coast from that period, all the survey work was actually Harriot's work. And one of the significant things he did which again makes me think he must have been a truly outstanding young man was that he liaised with the native Indians, in their language, learnt their language, and consequently was able to learn an awful lot about American culture. But he did that in the space of a year, so they had no common language but he managed to understand their language and then speak it, and then taught them English as well.
Robin: Syon House is also not as well known as a place of great discovery as Pisa or Venice, so I went along there to find out what can be seen at the site itself. The house is a great mansion, now owned by the Duke of Northumberland and open to the public. These days it lies under the flightpath to Heathrow airport, so anyone who has flown into Heathrow has probably been right over it.
Robin at Syon: I'm here with Teresa Grafton who's chairing the committee for Telescope 400. We're standing here outside Syon House — just where was it that Harriot actually made his historic observation — do we know?
Teresa Grafton: We don't know exactly where his residence was. We know he had a house very close to where we're standing now; unfortunately, it doesn't exist any longer, but we must be within yards of where that house was, and this is where we propose to have the memorial which will we hope tell a lot of people just exactly who this man was and what he did.
Robin: Now, we're within a few feet here of the River Thames — well, it's just over the other side of the house there. This was a completely different sort of location from what it is today — we've got planes going overhead from time to time — so what would have it been like in Harriot's day?
Teresa: It would have been a lot more rural than it is, although it's still a very peaceful… barring the planes of course, one of which is approaching us as I speak. In fact pictures of the house at the time, one of which will be represented on this memorial plaque, does show a very different type of building….
Robin: Because this place has been rebuilt several times since Harriot was here, hasn't it?
Teresa: It has indeed, yes.
Robin: What's the reason for actually having the memorial in this spot here?
Teresa: The reason is, and why we're coming here on the 26th of July, is that at 9 o'clock in the evening on July 26th, so that's the same day but in 1609, Thomas Harriot became the first person ever to make an astronomical observation using a telescope, and that's several months before Galileo started to make his observations. We want to mark this event.
Robin: At the moment there isn't any indication that Harriot was here at all, is there, so what are we going to put up here?
Teresa: Well, we're going to put up a memorial to him which I hope will give people some idea of the background — people will be able to see the drawing he made of the Moon, as he saw it then, reproduced on this plaque, along with other sketches he made of the Moon, and also for example his sunspots, some of his many sunspot observations. Harriot was a true scientist of the Renaissance, but he's very much an unsung hero as far as the history of astronomy and science is concerned. Most people have never even heard of him, though the age in which he lived was shot through with very famous figures and events — for example, the Gunpowder Plot with which he was of course implicated, though cleared.
He was a man who lived in interesting times. We wanted this memorial to reflect the excitement of those times and also introduce people who've never heard of him to the wide-ranging achievements of the man himself.
Robin: Tell us more about what will actually happen at Telescope 400 itself.
Teresa: The memorial's going to be unveiled towards the end of a whole day of activities here, which we hope will give people of all ages and levels of interest the chance to learn something of Thomas Harriot's life and his work, and get close to some real telescopes, and being a daytime event, we're hoping if the Sun's out to do some solar observing, which I think people might find very enjoyable, a bit of a novelty, and we're also having some replica telescopes so that people can look through and see the kind of view that Harriot would have been able to get through the kind of optics available when he was making telescopes himself.
Other things that are happening that day — we're having a mobile planetarium, they'll run shows throughout the day in the wonderful Great Conservatory here at Syon; people will be able to make model sundials and star finders to take home — that's something we hope children will enjoy doing; there'll be a water rocket competition; a rolling programme of talks and demonstrations and some exhibitions of Harriot's drawings and observations and some contemporary photographic images of the Sun and Moon which we hope people will enjoy looking at.
Well, after the memorial is unveiled by Lord Egremont we are going to have a lecture and a reception; now the lecturer is Dr Allan Chapman of Oxford University and he has studied Thomas Harriot, and his lecture's called "Thomas Harriot — the Englishman who beat Galileo" which I think is quite a nice controversial title and I think it's going to be very interesting; and that will be followed by a reception here at Syon where we'll have something to eat and drink and some music from Harriot's time. All in all we hope it will be a very pleasant conclusion to a day which will hopefully heighten Harriot's profile.
Robin: And who's going to pay for it all?
Teresa: Ah, very good question. We're very fortunate, we were given a grant by the Royal Astronomical Society. They've been sponsoring a number of projects for the International Year of Astronomy 2009.
Robin: And you can find out more by going to www.telescope400.org.uk
End of podcast:
365 Days of Astronomy
=====================
The 365 Days of Astronomy Podcast is produced by the New Media Working Group of the International Year of Astronomy 2009. Audio post-production by Preston Gibson. Bandwidth donated by libsyn.com and wizzard media. Web design by Clockwork Active Media Systems. You may reproduce and distribute this audio for non-commercial purposes. Please consider supporting the podcast with a few dollars (or Euros!). Visit us on the web at 365DaysOfAstronomy.org or email us at info@365DaysOfAstronomy.org. Until tomorrow…goodbye.