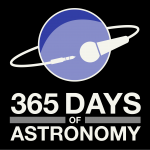 Date: June 25, 2009
Title: Galileo's Telescope

Podcaster: The Adler Planetarium
Organization: The Adler Planetarium
Description: In 1609 when Galileo Galilei had fine-tuned his new instrument and turned it toward the night sky he revolutionized modern science. How great of an impact has his invention had on modern science and how did his discoveries change the way that we look at the night sky?
Bio: The Adler Planetarium — America's First Planetarium — was founded in 1930 by Chicago business leader Max Adler. The museum is home to three full-size theaters, including the all-digital projection Definiti® Space Theater, the Sky Theater which utilizes a Zeiss optical projector, and the Universe 3D Theater. It is also home to one of the world's most important antique instrument collections. The Adler is a recognized leader in science education, with a focus on inspiring young people, particularly women and minorities, to pursue careers in science.
Today's sponsor: This episode of 365 Days of Astronomy is brought to you by Joseph Brimacombe.
Transcript:
Nancy
Welcome to a special edition of the Adler Planetarium's Bi-weekly podcast, Adler Night and Day. The Adler Night and Day podcast provides listeners with a glimpse of what you can see in the night sky, as well as updates on recent solar weather and riveting conversation. For the 365 days of Astronomy, daily podcast of the IYA, we'll be concentrating on the riveting conversation!
Without further ado, I'm your host Nancy…
Mark
And I'm Mark, and today we're joined on Adler Night and Day by Dr. Michael Smutko of the Adler Planetarium. Welcome Mike…
Mike
Thanks for having me, it's great to be back!
Mark
Yah, it's good to have you!
Well, today we're going to talk about Galieo. We're celebrating the International Year of Astronomy, which is commemorating the 400th anniversary of Galileo's use of the telescope to study the skies. The common misconception is that he actually invented the telescope, what's the story there?
Mike
Well, part of the reason there's a misconception that Galileo invented the telescope, is that Galileo sold that story himself. Uh, the real truth is that the telescope was invented by the Dutch in at least 1608, in fact there was a patent application for a telescope by a Dutchman named Hans Lippershey in 1608. However, the next year in 1609, Galileo had heard about this and figured out how to make his own telescope and actually improved upon the Dutch design without ever actually having one of his own. So, Galileo really did progress things along but to say that he's the inventor of the telescope is a bit of a stretch.
Nancy
Many people regard Galileo as the father of modern science, do you feel that that's a title he earned rightly?
Mike
Well, prior to Galileo's time, scientists or philosophers and mathematicians would just defer to the experts. People would say that Galileo and Euclid and the classics of Greek philosophy were just so much smarter than we could be today that there was no point in thinking about it ourselves. Ya know, if Aristotle said it was true, it must be true. Galileo really broke with that idea by saying, ya know, Hey, Aristotle, ya he was smart, but he wasn't perfect and we should test things out and see if balls really do fall down like Aristotle said or maybe it behaves differently.
Mark
Well, Galileo wasn't the first astronomer um, there were others before him. What did his observations do that made them special, that advanced science?
Mike
Well, Galileo lived at really a magic time the Copernican idea that the Earth is not the center of the universe had been out for a while but it was lacking in observational evidence which was what Galileo was trying to profess was the important thing in science. And Galileo, while he did not invent the telescope, he gets credit for being one of the first people to turn it up to the night sky and write about what he saw. And some of the things that he saw with his early telescope was just really stuff that no one had ever seen before. He discovered moons around Jupiter. He discovered that the moon wasn't just some flat circle in the sky but that it was 3D, that it had mountains and valleys just like the Earth does and so hey, maybe the moon is a similar kind of place like the Earth and isn't this magical, heavenly thing. Um, perhaps most importantly he discovered that the planet Venus went through phases just like the moon does and the reason that that's so important is because in the old system, the Earth-centered system, Aristotle and Ptolemy, the phases of Venus that, it was impossible to have the phases of Venus that Galileo actually saw. You need to have a sun-centered uh, solar system in order to reproduce the phases of Venus that Galileo saw. So, Galileo took this as some of the first, the best and the first, evidence that Copernicus was actually right.
Mark
Well, that's pretty important.
Nancy
Well, and for all these great observations and writings though, he actually got into quite a bit of trouble in his time. I mean, why, in his time, was he not the great astronomer and scientist that we think of him as today?
Mike
Well, Galileo was a very polarizing personality. He was, he was a showman, uh, he was a smart guy and he knew it, and he loved telling you how smart he was and how stupid you were in comparison to his great intellect. So, he won lots of admirers and he also made lots of enemies along the way. And part of the reason that Galileo got into so much trouble with the Catholic Church was not so much a difference of religion vs. science that it's played up to be today. But rather that he just, he just offended the wrong people. One of the disputes, on of the arguments that people made against Copernicus was saying that, well, the Bible says in certain places that the Sun stood still in the sky and so that means that the Sun must be moving and the Earth must be at rest. And Galileo would say, well no, it's just the way it was written, it's the interpretation, ya know. What the problem is that right around this time was also right after Martin Luther, the Thirty Years War was in full swing at this point, and for someone to who was Catholic in Italy to say that the Church was wrong in this regard and the bible doesn't really mean what it was literally said in the words. That really got Galileo into a lot of trouble. It wasn't so much that the Sun is at the center and that Copernicus was right but the way that Galileo went around doing it, saying, hey ya know think for yourself. Interpret the bible the way that you want to do it. It didn't go well in Rome.
Mark
Well, these uh, revolutionary observations uh, really kind of created a whole new way to observe the night sky did other astronomers jump on the bandwagon immediately?
Mike
Well, not immediately, it was a steady path of progress. Galileo improved telescopes over the course of his life. Uh, his first telescope only had a magnification of about three times, but he improved on that to a factor of about thirty or so by the end of his life. Other astronomers have followed suit since then, telescopes have been getting bigger and bigger and larger in diameter and longer in length to gather more light and also increase their magnifications. And today, the really big breakthroughs are coming not from visible light, the light that our eyes can see, but light in other wavelengths, radio wave lengths, x-ray wave lengths, ultraviolet wavelengths, and all these other parts of the electromagnetic spectrum where there's lots and lots of science, lots and lots of great information. But just that our eyes are not sensitive to. So that's really where I think that the next be wave of discoveries is going to come. Uh, in these wavelengths that our eyes can't see, that today's instruments can.
Nancy
And we look forward to having you back on the show when we get more information! (Laughs)
Mike
Well, I look forward to coming back!
Nancy
Nice, well thank you for joining us today on this very special edition of Adler Night and Day.
Mark
Yes, thanks you, Mike!
Mike
My pleasure.
Nancy
I'd also like to thank the listeners of the 365 Days of Astronomy podcast. To listen to full episode of Adler Night and Day and subscribe to the series and podcast, please visit www.adlerplanetarium.org/podcasts.
End of podcast:
365 Days of Astronomy
=====================
The 365 Days of Astronomy Podcast is produced by the New Media Working Group of the International Year of Astronomy 2009. Audio post-production by Preston Gibson. Bandwidth donated by libsyn.com and wizzard media. Web design by Clockwork Active Media Systems. You may reproduce and distribute this audio for non-commercial purposes. Please consider supporting the podcast with a few dollars (or Euros!). Visit us on the web at 365DaysOfAstronomy.org or email us at info@365DaysOfAstronomy.org. Until tomorrow…goodbye.