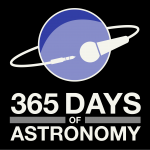 Date: June 24, 2009
Title: Telescopes for Schools

Podcaster: The Society for Popular Astronomy
Organization: The Society for Popular Astronomy
Description: To celebrate the International Year of Astronomy, the Society for Popular Astronomy in the UK thought it would be a great idea to be able to give free telescopes to schools throughout the UK. This show tells the story of how it was done, funded by the Science and Technology Facilities Council, and how the scheme is working out.
Bio: The Society for Popular Astronomy was formed in 1953 as the Junior Astronomical Society, and now has about 3000 members, mostly in the UK. It aims to help beginners to astronomy, through its magazine Popular Astronomy and its unique News Circulars.
Today's sponsor: This episode of 365 Days of Astronomy is brought to you by The Society for Popular Astronomy.
Transcript:
Hello. I'm Robin Scagell of the Society for Popular Astronomy.
Wouldn't it be great if every school child had the chance to look through a telescope at the Moon and planets, like these pupils from Swakeleys School in Hillingdon:
We are going to… talk about our experience… using a telescope. Firstly I thought it was hard to focus and try and get what we wanted, but as we got used to it, it got easier. We saw mountains and craters of the Moon. And we took some pictures using a digital camera as well. It came out really good.
Most kids, in the UK at least, never do get the chance to look through a telescope. Although astronomy is on the National Curriculum, it's entirely based on descriptions of what's up there. Yet as astronomers we know what a fantastic sight the Moon can be through even a small telescope. It can hook you for life. And as we know, astronomy is a great way to learn about science. It covers so many aspects, yet it's fun and still has the element of discovery about it.
At a time when fewer and fewer children are taking up science as a career, it seems to us that we really ought to be getting more schoolchildren interested in astronomy. By 'us' we mean the Society for Popular Astronomy, one of the UK's largest national astronomical societies. We began life in 1953 as the Junior Astronomical Society, to provide a way for beginners to the subject to find their feet before progressing to more advanced societies such as the British Astronomical Association. Our appeal was largely to young people, but also to adults who were starting out in the hobby. Then by 1994 we found that many young people didn't like the idea of being called 'junior', and weren't joining societies anyway, while older people were also put off by the name. So we changed to the Society for Popular Astronomy, in keeping with the name of our magazine, Popular Astronomy.
When we met to discuss what we would do to mark the International Year of Astronomy, the goal of getting telescopes into schools seemed a distant one. Who would pay for them, when school budgets are already spoken for? Would hard-pressed schoolteachers be keen enough to use them, given that practical astronomy inevitably means after-school sessions? How would we help them to use the telescope and construct lessons, particularly for those who had never used a telescope themselves?
We raised the topic at IYA steering group meetings. We were very pleased to find that our ideas were getting the approval of professional astronomers, also concerned at the lack of astronomy teaching in schools. We managed to source a telescope from the Far East that could be imported and distributed for a reasonable price — a basic 70 mm refractor on altazimuth mount. With the backing of professional colleagues, we approached the UK's science funding body, the Science and Technology Facilities Council, STFC. To our delight, they agreed with us that this was a worthwhile project, and in fact it became one of the UK's major IYA initiatives. They were particularly keen that telescopes should go out to secondary schools, that is for children over the age of 11, because while many kids are excited by astronomy when they're younger, they often lose interest in science when they are at the crucial career-decision-making stages between 11 and 14.
One thing we didn't know was how many telescopes would be needed. There are something like 4000 secondary schools in the UK. We took our telescope to science fairs and asked for feedback. Would it be too much to hope that 1000 of the schools would want a telescope? The feedback was positive, so that's the figure we aimed for.
STFC agreed to come up with the sum of £50,000, which is about US$75,000, just enough for 1000 telescopes. But what about the other problems — helping school teachers make use of them? Here, the Royal Astronomical Society came to the rescue. They funded a DVD which could be sent out with the telescopes, which covers everything from scratch. It's got a step-by-step description of setting up the telescope, explains the all-important stages of first aligning the finder telescope, and warns against trying to use high powers too soon — all the things that beginners get wrong.
We also recorded interviews with various professional and amateur astronomers, both to give children a flavour of what professional astronomers do and what they can see through the telescope. There are lesson plans and star maps, all in all making what we hope is a really useful package to help teachers get started.
The SPA itself also dug into its own funds to help the project. One of the things we've done is to create a new part of our website entirely devoted to the Moon. This is because the Moon is by far the easiest object for people to observe with a small telescope. It's also one of the few astronomical objects that can be seen from city skies just as well as from the country. It can even be seen during daylight! If you go to www.popastro.com/moonwatch, you'll find masses of information about the Moon, how it got there and even its influence on human culture. There's also an interactive Moon map, which has been annotated by the pupils of Moorside High School in Stoke-on-Trent. Just hover your mouse over the feature you want to know about and you'll find its name and diameter. There are hundreds of craters and other features already labelled.
The telescopes were distributed free of charge in February, and are already being put to use. In March we held the first of several Moonwatches, when the Moon was at its best and could be observed high in the sky. Other weeks are due to follow in the autumn. To get the kids out there observing, the SPA is sponsoring a competition for the best illustration of the Moon, either made using the telescope or showing how the telescope is being put to use, which runs until the end of the year. But what do the kids themselves think of their first view of the Moon through the telescope?
Hello, and what's your name?
My name's Katherine.
What form are you in?
8HG.
What did you think of going and seeing the Moon on the Moonwatch?
It was really interesting and I really enjoyed myself.
Hello, and what's your name?
Emma.
And what form are you in?
8SR
What did you think of going and seeing the Moon at the Moonwatch?
It was very interesting and I learned a lot, and I saw Saturn and its rings and the Moon up close with all its craters and I saw this really big… clump of stars.
So, it can be done. We'll have to wait for some time to find out the legacy of the scheme. But maybe we'll eventually get to hear, perhaps in many years time, a leading scientist — or maybe even a lunar astronaut — say that the thing that changed their life was their first view of the Moon through one of our telescopes.
End of podcast:
365 Days of Astronomy
=====================
The 365 Days of Astronomy Podcast is produced by the New Media Working Group of the International Year of Astronomy 2009. Audio post-production by Preston Gibson. Bandwidth donated by libsyn.com and wizzard media. Web design by Clockwork Active Media Systems. You may reproduce and distribute this audio for non-commercial purposes. Please consider supporting the podcast with a few dollars (or Euros!). Visit us on the web at 365DaysOfAstronomy.org or email us at info@365DaysOfAstronomy.org. Until tomorrow…goodbye.