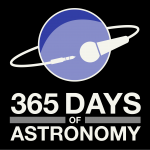 Date: May 23, 2009
Title: A Cheap "Name a Star" Gift for College Graduates

Podcaster: Bruce Palmquist
Organization: Central Washington University Center of Excellence in
Science and Mathematics Education, http://www.cwu.edu/~cesme
Description: As graduation time approaches, everyone is looking for the perfect gift – a gift that is easy to find, inexpensive, and long lasting. The typical "Name a Star" gift is neither easy to find or inexpensive. This podcast is modeled after a commencement speech in which the speaker gives advice to a university graduating class. Graduates from the colleges of arts, business, education, and sciences are given a bright star and constellation myth that relates to their chosen field and is always visible on the anniversary of their graduation.
Bio: Bruce Palmquist is a professor of Science Education and Physics at Central Washington University. He writes a weekly astronomy column for his local newspaper and for the world at
http://theellensburgsky@blogspot.com/.
Today's sponsor: This episode of "365 Days of Astronomy" is sponsored by [brief dramatic pause] Anonymous on behalf of The Onion Router Project. The Onion Router Project provides free, open source software securing privacy on the Internet for all of Earth's inhabitants. Find out more at torproject.org.
Transcript:
Today's commencement speaker needs no introduction. But, since we have to introduce him, I'll make it short. Bruce Palmquist is professor of science education and physics at Central Washington University located in the fairly dark sky site of Ellensburg Washington. He is quite familiar with the sky at his home latitude of 47 degrees north and longitude of 120.5 degrees west. But, he makes no guarantees for other places.
Thank you. Ahhh, college graduation. A time to reflect. A time to look for new opportunities. A time to open all of those graduation gifts. As your commencement speaker for the class of 2009, I'd like to give each one of you a gift. I'd like to name a star after each one of you. Now just wait, it gets better. You've heard of those "name a star" companies.
"Name a star after your mother"
"Name a star after your valentine"
I don't know about you. But if all I gave my valentine was a star name, I'd be on the ground seeing stars. Besides, those companies assign your name to a star so dim, you need a big telescope to find it. Instead, I'm going to assign each college a constellation and a bright star. Then, I'll tell you a myth associated with that constellation. This myth will remind you of how you can serve your community. As a graduate of this great university, you are truly blessed. Your teachers, professors, parents, fellow students and many others that you don't even know have worked hard to help you get to this point in your life. In my opinion, you have an obligation to pay that forward and serve others in your community – wherever that community may be. To help you remember that service obligation, I'll use the same canvas that cultures throughout history have used – the night sky. Just as the ancient Greeks looked at the pattern of stars called Gemini as a reminder of brotherly love, you can look at your stars as a reminder of how you can use your skills to serve others.
I'll briefly tell the story of each constellation, relate that story to service and show you how to find the brightest star in the constellation. That star, and the associated story will be yours…. And, you won't even have to pay $59.99 plus shipping.
College of the Arts: You are the people who interpret the world in unique ways. Then, you share those ways with others. According to Greek mythology, Orpheus charmed everyone he met when he played the lyre or harp. After his wife died tragically, he journeyed to the underworld to charm its inhabitants in an effort to win his wife back to the living world. Your service reminder: use your talent to bring joy to others. The constellation Lyra and its bright star Vega should remind you of the power of the arts. Vega is four fists held upright and at arm's length above the north-northeast horizon at 11 o'clock this graduation season of late May.
I'll describe the location of each star in this way. Make a fist. Hold your arm straight out in front of you. Don't hit the person in the row ahead of you. They might be giving you a job someday. The width of your fist from top to bottom spans an angle of about ten degrees. Star with the top of your fist at eye level. This defines the horizon. Stack your fists up on top of that one four times. The top of your top fist is forty degrees above the horizon. Do this at 11 o'clock in late May looking north-northeast and you'll end up at Vega.
Back to the gifts.
College of Business: You are the future movers and shakers. The future CEOs. The future big donors to this university. Auriga represented a king of Athens who happened to be mobility impaired. Instead of sitting around waiting for others to transport him, he took the initiative to invent the four-wheeled chariot. He solved a problem for a special need. Your service reminder: address the problems of those in the most need. To remind you of that, look to the constellation Auriga. Its bright star Capella is about one fist held upright and at arm's length above the northwest horizon at about 11 o'clock in late May.
College of Education: You are the teachers. The people who guide others to a better place in life. Bootes, the herdsman, was such a person. Bootes' job was to guide the northern constellations to the feeding place and the watering hole. He and his dogs were especially in charge of Ursa Major and Ursa Minor, the greater and lesser bears. Your service reminder: guide others to a better place in life. Look to the constellation Bootes and its bright star Arcturus to remind you of this. Arcturus is six fists held upright and at arm's length above the south horizon at 11 o'clock in late May.
College of the Sciences: You are the people who will systematically study how the world works. Agriculture is an important scientific application. Each year, farmers must use the findings of science to be successful. Who better to represent the College of the Sciences than Virgo, the goddess of the harvest. Virgo looms large in the sky holding an ear of corn in her hand. Your service reminder: study the practical aspects of the scientific world. The ear of corn, and your service reminder, is represented by the bright star Spica. Spica is three fists held upright and at arm's length above the south horizon at 11 o'clock in late May, below and to the right of Arcturus.
Your college degree and the honors that you have earned will open many doors. But, those doors come with the obligation to serve others. Just in case you forget that, look to your star as a reminder.
College of Arts graduates: Vega should remind you to use your talent to bring joy to others.
College of Business graduates: Capella should remind you to address the problems of those in the most need.
College of Education graduates: Arcturus should remind you to guide others to a better place in life.
College of the Sciences graduates: Spica should remind you to study the practical aspects of the scientific world.
Your star will always be visible on and near the anniversary of your university graduation. If you forget where it is located, you can use the interactive sky chart at sky and telescope dot com (that's sky and telescope – all one word – dot com) I urge you to look at your star each anniversary and think about what your time at this university has done for you and what the knowledge and skills you have learned here allow you to do for others.
Hopefully, it will also help you to remember to make a big donation to this university. Thank you!
End of podcast:
365 Days of Astronomy
=====================
The 365 Days of Astronomy Podcast is produced by the New Media Working Group of the International Year of Astronomy 2009. Audio post-production by Preston Gibson. Bandwidth donated by libsyn.com and wizzard media. Web design by Clockwork Active Media Systems. You may reproduce and distribute this audio for non-commercial purposes. Please consider supporting the podcast with a few dollars (or Euros!). Visit us on the web at 365DaysOfAstronomy.org or email us at info@365DaysOfAstronomy.org. Until tomorrow…goodbye.