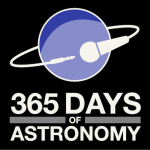 Date:January 1st, 2009
Title: Welcome to the 365 Days of Astronomy Podcast!
Description: We hear from the members of group working behind the scenes, making the 365 Days of Astronomy podcast possible.  They share ideas for would-be contributors on the types of podcasts they'd like to hear.
Bio:The IYA 2009 New Media Working Group is chaired by Dr. Pamela Gay (SIUE/Astronomy Cast) and Michael Koppelman (Slacker Astronomy). They are joined by Emily Lakdawalla (The Planetary Society), Martin Ratcliffe (Sky-Skan), Davin Flateau (University of Cincinnati), Stuart Lowe (Jodrell Bank Centre for Astrophysics), Nancy Atkinson (Universe Today), and Robert Simpson (Orbiting Frog).
Listen now!


Today's Sponsor:  American Astronomical Society
Transcript:
Hi, this is Nancy Atkinson from Universe Today.  Happy New Year!  I'm really excited about the 365 Days of Astronomy Podcast and looking forward to everything we'll be hearing from all of you who have chosen to participate.  If you're thinking about contributing a podcast but can't think of a topic, there's a whole universe of ideas out there — from astronomical phenomena like black holes and gamma ray bursts, to all the different types of stars, to the planets in our solar system and planets in other solar systems, or details of your favorite space mission, whether it be robotic or human spaceflight.  Just choose something that revs you, that lights your fire, that you think is out of this world.  Okay, enough cliches.  But if you chose to participate by just listening, that's OK, too, because we definintely need listeners.  Here's wishing all of you a wonderful 2009, a great 365 days full of astronomy podcasts and a fantastic International Year of Astronomy.
Hi, my name is Emily Lakdawalla and I write the Planetary Society's Blog.  I hope that while everyone else is thinking about stars and galaxies, cosmology and black holes and dark matter, that people won't forget there's a whole backyard for us to explore full of planets, comets, and asteroids and other fun stuff.  There's going to be twenty spacecraft active next year at Mercury, Venus, the Moon, Mars and Saturn.   This year is going to see the 40th anniversary of the Apollo 11 landing on the moon, and there's also going to be two spacecraft crash-landing into the moon.  Saturn is going to go through its equinox, with the sun coming to the north side of the rings for the first time in a decade and Cassini is going to be right there to watch. We're in the middle of the most productive time ever in planetary exploration and I'm looking forward to hearing from both professionals and amateurs about what is going on in our own planetary backyard.
Hello there, I'm Stuart Lowe and I work on the European Space Agency's Planck Spacecraft due to launch in a few months. When I'm not working on that you can find me co-creating the Jodrell Bank Centre for Astrophysics podcast. Working on Planck I'm biased towards the cosmological side of astronomy but I love to hear about everything. Given that this is the International Year of Astronomy I'm particularly keen to hear about astronomy from people, from groups and places that don't usually get a look-in. So, if you know about Australian aboriginal astronomy or India's exploration of the Moon, or perhaps the hunt for cosmic rays in Argentina then get thinking, go along to the website and join up before all the remaining dates get filled. Before I go I'd just like to say a happy International Year of Astronomy and welcome to 364 more days of astronomical podcasts."
Hi – my name is Davin Flateau, astronomy educator, former planetarium director, current astrophysics student at the University of Cincinnati, and writer at theperfectsilence.com.   When I'm not busy trying to explain the proper pronunciation of Uranus to 3rd graders, I love to talk to people about astronomy. I'll be here once a month talking about the latest discoveries about planets around other stars, the long and fascinating history of the discovery of the Universe, and hopefully report on the current emotional state of Pluto.
What can you talk about?  I always thought that some of the most interesting topics have to do with the people right here on planet earth.  I hope that over the next 364 days, we'll hear not only about the amazing discoveries about pulsars, quasars, and black holes, but about what it was like when you first looked through a telescope, what the cosmos means to you, and other ways astronomy has affected your life, and the ones around you.
For the 365 days of astronomy, this is Davin Flateau, and I'll see you on the air.
Oh, and by the way, I say Uranus. (long A)
Hi, happy new year, my name is Martin Ratcliffe I am a former planetarium director, and work for the digital planetarium company, Sky-Skan. In my spare time I write a monthly column for Astronomy magazine, called The Sky this month, and teach an intro course in cosmology for non-science students at Wichita State University. My interest in astronomy is very broad, from using my own backyard telescope for occasional CCD imaging, to learning about the most recent advances in astrophysics. There is a data deluge from mountain top observatories to high flying space telescopes that's both exciting and mind-blowing. Yet if you think the last ten years has been exciting, the next ten will be even more so. The magnificent Sloan Digital Sky survey took eight years to map nearly a million galaxies covering quarter of the sky. In the next decade the Large Synoptic Survey Telescope will record a Sloan Survey every night, of every week, for ten full years – and the data will be accessible from your laptop computer. And there is much much more, from eclipses and planetary missions to the elegant simplicity of contemplating the night sky.
This is Pamela from Astronomy Cast and Southern Illinois University Edwardsville welcoming to the 365 Days of Astronomy Podcast. I'm just one of the many people working behind the scenes making sure audio makes it from our community to your computer everyday of 2009. Part of making this happen is getting volunteers to contribute audio on the things they are passionate about. To me, some of the most interesting show topics touch on the intersection of astronomy and fiction and art. How has astronomy science influenced the plots of everything from Ron Moore's Battlestar Galactica to Kim Stanley Robinson's Red Mars? How has astronomy influenced painters from Picasso to Jan Matejko? In combining fiction and science the sky isn't exactly the limit, but it does offer some great constraints and ideas for story telling. What is it that makes you passionate about astronomy?
Hi, I'm Michael from Slacker Astronomy and you've just heard the voices of some of the people behind the 365 Days of Astronomy podcast from sort of the organizational perspective and they've been doing a great job and they're great folks and you're going to hear their voices again throughout the year in this podcast. And they hopefully gave you some ideas to think about if you are still thinking about contributing to the podcast.
This litany of us trying to get people to participate in this will actually come to an end at some point because at some point we will fill the whole calendar. And I'm excited about that, I'm excited we're going to achieve that and I think we are going to hear a lot of great podcasts.
But my little spiel to you in terms of if you are still thinking about making a podcast is you don't have to be an expert to tell your own story and your own story is more interesting than you think. So if you use a telescope with kids or for yourself or at home or in the city or if you browse Hubble pictures and talk about them. I mean, there's literally — anything you do that sort of demonstrates your enjoyment of astronomy is going to be interesting to people. So your story about your interest in astronomy or your activities in astronomy are the stories we want to hear.
So don't worry about, you know, should i do a podcast on some deep astronomical topic. We'll hear plenty of that and I'm glad we will hear a lot of that. We can also just hear about people like you doing normal and everyday cool and sort of rewarding things in astronomy. Just get out your tape recorder, so to speak, and talk to the people around you that enjoy astronomy, tell your own story about enjoying astronomy and I think you'll be surprised. I think you'll be surprised at what a cool little few minutes podcast you can put together.
So that's my spiel to you and that's maybe — I guess it is, you know — my last spiel to you. Because this starts, this very podcast starts the 365 Days of Astronomy Podcast. And tomorrow, from tomorrow on you're going to hear my voice only in my little podcasts along the way and we're about to hear a lot of other voices and I'm really psyched about that. So Happy New Year! Welcome to the International Year of Astronomy 2009! It's going to be a lot of astronomy coming at you for the next 365 days. And it's gonna be great! So welcome!
365 Days of Astronomy
=====================
The 365 Days of Astronomy Podcast is produced by the New Media Working Group of the International Year of Astronomy 2009. Audio post-production by Preston Gibson. Bandwidth donated by libsyn.com and wizzard media. Web design by Clockwork Active Media Systems. You may reproduce and distribute this audio for non-commercial purposes. Please consider supporting the podcast with a few dollars (or Euros!). Visit us on the web at 365DaysOfAstronomy.org or email us at info@365DaysOfAstronomy.org. Until tomorrow…goodbye.
Save
Save