Breaking News! The Award Winning 365 Days Of Astronomy is proud to announce the project will continue in 2016. This will mark its eighth year of production. 365 Days Of Astronomy started its journey in 2009 as part of the International Year of Astronomy. The idea is to publish one astronomy audio show a day across the year. And next year we will come to you in 366 days!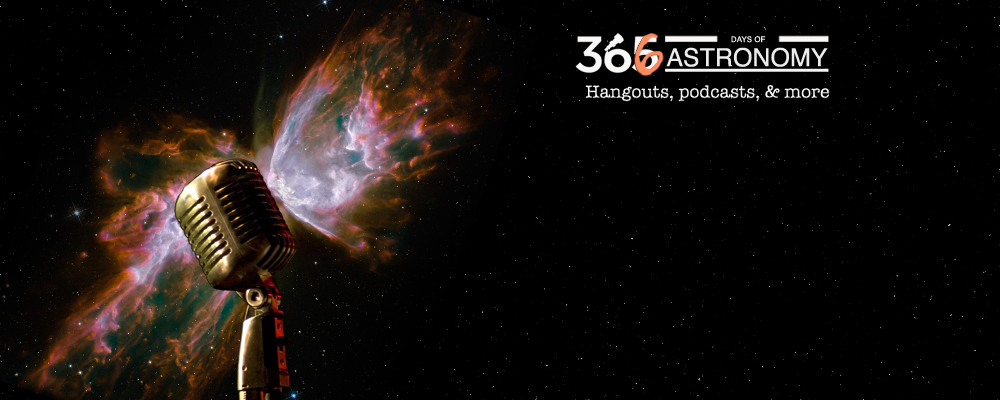 As a legacy project of International Year of Astronomy, 365 Days Of Astronomy will continue to broadcast podcasts which are written, recorded and produced by people around the world. According to executive producer Pamela Gay, "This is a community production that gives voice to astronomers and astronomy lovers from around the world. Through these voices, we learn science, hear new stories of exploration, and get to share in people's passion for our Universe."
In 2009, the project was awarded a Parsec Award as "The Best Infotainment" podcast. It was also nominated for in 2010-2012 for the "Best Fact Behind the Fiction" Parsec Award. In 2015, 365 Days Of Astronomy received a Silver Communicator Award at an international awards program recognizing big ideas communications. Sharing knowledge and experience are central to our programs, and we thank all of our contributors and listeners for taking part in this beautiful journey.
This community contributed show has been downloaded more than 9 million times, and has included roughly 1,000 voices from 6 continents and countless countries. Initially launched as an audio only program, 365 DoA, added video content in 2013. Echoing our origins as part of International Years of Astronomy, in 2015 we joined the celebration of the International Year of Light. We will continue to share astronomy and build awareness of the need to protect dark skies in 2016.
"Astronomy never stops amazing people" says program director Avivah Yamani. "Astronomy is a gateway to science, technology, art and culture. The diversity of cultures around the world can be seen in people's stories related to the sky. How the ancient people used celestial objects for their daily life can give another insight into societies, and teaches us to keep learning and appreciate our culture. Astronomy is not a privilege only for professional and amateur astronomers, but is welcoming to all."
365 Days of Astronomy is a community podcast and YouTube channel that relies on a network of dedicated pod- and youtube- casters across the globe who are willing to share their knowledge and experiences in astronomy with the world. For seven years we have delivered daily content discussing all the varied topics of the constantly changing realm of astronomy. In 2016, we will do this again not only for 365 Days, but for 366 days as it will be a leap year.
The diversity of topics in our shows can be seen as we have addressed: the history of astronomy, the latest news, observing tips, and topics on how the fundamental knowledge in astronomy has changed our paradigms of the world. Cultural astronomy also becomes another interesting topic as we can see the diversity of how every culture engages themselves with celestial objects.
As we prepare for 2016 and our eighth year of production, we seek to add more voices and more content to our community. We are open to audio submissions that address the science, science fiction and cultural stories of astronomy. We're currently looking for content that is anywhere from 10 minutes to an hour in length! We're looking for individuals, organizations, schools, companies, and clubs to sign-up for their audio spot on our calendar. Your voice can be heard alongside our regular series, including among others: Astronomy Cast, Cheap Astronomy, Awesome Astronomy, Alice's AstroInfo, Ask A Spaceman, Globe at Night, Observing with Webb, Realspace, The Google Lunar XPrize Team Hangouts, Cultural Astronomy, Cosmic Perspective, Shaila's Spacecast and The Weekly Space Hangout.
We will once again continue our quest in the podcasting arena, but we need your support to be a success. In 2016, we will once again have our journey under Astrosphere New Media and we seek donations to the 365 Days of Astronomy Podcast through : http://bit.ly/365DoA-2016
The podcast's Producer and Editor, Richard Drumm, says "When we come into the world, we see that it's divided into two parts. From the horizon down we have our family, friends and things we can interact with. From the horizon up we have things we can't touch, but only describe. Science lets us actually touch some astronomical objects such as the Moon, Mars & asteroids, and we can peer into the inner workings of atoms in distant stars and even more distant galaxies. Our podcast helps our listeners keep abreast of the latest developments in astronomy, our favorite science."
The podcast team invites people and organizations to sponsor shows by donating to support one day of the podcast. It costs us about $66 per episode. For $800, you can sponsor one day a month for the entire year. Each day (or set of days) comes with a chance to get your message to the audience included at the beginning and end of the episode. Don't have that much to give? Other sponsorship levels are available, and start as low as $20. These donations are essential to cover the price for editing, posting, and hosting our content.
The 365 Days of Astronomy podcast is heard by 5,000 listeners per day. The show is directed by Avivah Yamani and produced by Richard Drumm. It is part of the CosmoQuest virtual research facility, which invites you to learn and do science at cosmoquest.org
Media Contact:
Avivah Yamani
Project Director
365 Days of Astronomy
email: info@365daysofastronomy.org
For more info, please visit:
365 Days of Astronomy: http://365DaysOfAstronomy.org
facebook: http://facebook.com/365DaysOfAstronomy
twitter: @365DaysOfAstro
google+: https://plus.google.com/+365daysofastronomyOrgPodcast/
Donate to our media program : http://cosmoquest.org/x/365daysofastronomy/donate/