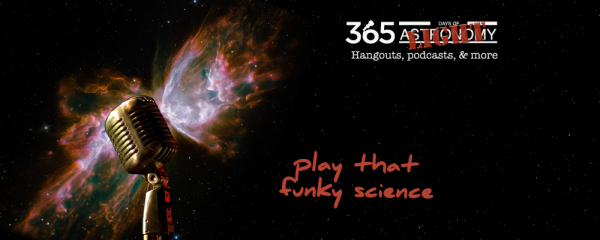 2015 is an important year: UNESCO* has declared it the International Year of Light, and the 365 Days of Astronomy podcast will record its seventh year of daily content – content that focuses on light! This podcast is produced as part of the CosmoQuest virtual research facility through a collaboration with NUCLIO, a non-profit organization coordinating the Galileo Teacher Training Program.
Launched in 2009 as part of the International Year of Astronomy, the 365 Days of Astronomy has produced day after day of content across the years. This community contributed show has been downloaded roughly 8 million times, and has included roughly 1000 voices from 6 continents and countless countries. Initially launched as an audio only program, 365 DoA, added video content in 2013. Now, in 2015, we join the celebration of the International Year of Light and high-light content from the Cosmic Light cornerstone, the IAU cornerstone for the 2015IYL.
"Astronomy is always engaging," says program director Avivah Yamani.  "The beauty of the universe and the excitement to look up to the night sky has inspired people for many decades. Sharing astronomy is not only a privilege for the astronomer, but it can be done by all who love astronomy no matter their background or age. Podcasting gives the feeling of personal engagement."
365 Days of Astronomy is a community podcast and YouTube channel that relies on a network of dedicated podcasters across the globe who are willing to share their knowledge and experiences in astronomy with the world. In 2015, during the celebration of International Year of Light, we will focus our content on the importance of light in astronomy, and its role in helping us understand the universe. We will also partner with dark skies campaigns to build awareness of the effects of light pollution (including radio light pollution!).
For six years, 365 Days Of Astronomy has delivered daily content discussing all the varied topics of the constantly changing realm of astronomy. Shows have addressed; the history of astronomy, the latest news, observing tips, and topics on how the fundamental knowledge in astronomy has changed our paradigms of the world. We've also asked people to talk about the things that inspired them, and to even share their own stories, both of life doing astronomy and of the science fiction that got them imagining a more scientific future.
As we prepare for 2015 and our seventh year of production, we seek to add more voices and more content to our community. We are open to audio submissions that address the science and science fiction of astronomy.  We're currently looking for content that is anywhere from 10 minutes to an hour in length! We're looking for individuals, organizations, schools, companies, and clubs to sign-up for their audio spot on our calendar. Your voice can be heard alongside our regular series, including among others: Astronomy Cast, Cheap Astronomy, Cosmic Chatter, Globe at Night, Observing with Webb, The Apogee Podcast,  The Google Lunar XPrize Team Hangouts, and The Weekly Space Hangout.
"365 Days of Astronomy celebrates the diversity of people who enrich the field of astronomy," says CosmoQuest's Principal Investigator, Pamela L. Gay (Southern Illinois University Edwardsville). "Astronomy isn't just practiced by professional scientists – it is loved and advanced by amatuer astronomers, engineers, artists, and so many others."
We will once again continue our quest in the podcasting arena, but we need your support to be a success. Starting in 2015, we join NUCLIO, a Portuguese non-profit leading many astronomy efforts for the International Year of Light. We seek donations to the 365 Days of Astronomy Podcast through NUCLIO at http://bit.ly/365DoA.
"As far as I can determine, 365 Days of Astronomy is unique in science media circles as it's the only science-oriented truly daily podcast," says show producer Richard Drumm. The quantity of content we offer is absolutely mind bending! Even so, we need to add your voice to ours and tell the world about the awesome universe around us. Join us, won't you?"
The podcast team invites people and organizations to sponsor shows by donating to support one day of the podcast. It costs us about $66 per episode. For $800, you can sponsor one day a month for the entire year. Each day (or set of days) comes with a chance to get  your message to the audience included at the beginning and end of the episode. Don't have that much to give? Other sponsorship levels are available, and start as low as $20. These donations are essential to cover the price for editing, posting, and hosting our content.
The 365 Days of Astronomy podcast is heard by 5,000 listeners per day. In 2009, the project was awarded a Parsec Award as "The Best Infotainment" podcast. It was also nominated for in 2010-2012 for the "Best Fact Behind the Fiction" Parsec award. The show is directed by Avivah Yamani and produced by Richard Drumm. It is part of the CosmoQuest virtual research facility, which invites you to learn and do science at cosmoquest.org
Media Contact:
Avivah Yamani
Project Director
365 Days of Astronomy
email: info@365daysofastronomy.org
For more info, please visit:
365 Days of Astronomy: http://365DaysOfAstronomy.org
facebook: http://facebook.com/365DaysOfAstronomy
twitter:  @365DaysOfAstro
google+: https://plus.google.com/+365daysofastronomyOrgPodcast/
Donate to our media program : http://cosmoquest.org/x/365daysofastronomy/donate/
* UNESCO –  the United Nations Educational, Scientific, and Cultural Organization –  endorsed the 2015IYL in 2012, and the year was proclaimed by the United Nations General Assembly in December 2013. Learn more at http://www.unesco.org/new/en/natural-sciences/science-technology/basic-sciences/physics/the-international-year-of-light-and-light-based-technologies-2015/