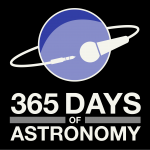 If you use iTunes to listen to 365 Days of Astronomy, you have probably noticed that our daily feed is not showing up, and is listed as "unavailable." Many of you have written us about this issue, and we thank you for writing. We are aware of the problem, and are working with Apple to try and fix it. But it appears we need to go back and fix a problem with all 260 (so far) podcasts, which is taking time.
In the meantime, you can always hear and download the podcasts at our website , or get them via RSS feed.
Also, the weekly version (52 Weeks of Astronomy) — where you get 7 podcasts at once — is still available on iTunes.
We hope to get the problem resolved soon.
And thanks for listening!
IYA New Media Group