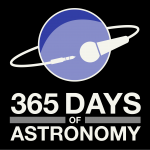 Date: May 26, 2009
Title: Astronomer George Ellery Hale

Podcaster: Scott Kardell from Palomar Observatory
Organization: Palomar Observatory http://palomar-observatory.org
Description: Astronomer George Ellery Hale built the largest telescope in the world four times and has had a profound influence on modern astronomy. This podcast tells some of the story of Hale and the big telescopes he built."
Bio: Scott Kardel received his MS in Astronomy from the University of Arizona and his BS in Physical Science / Secondary Education from Northern Arizona University. For the last two and a half decades he has been working to bring an understanding of science and the universe to a wide range of audiences.
In 2003 he became the Palomar Observatory's first full-time person devoted to public outreach. There he works to bring Palomar's rich history and story of exploration on the road and on the Net to a wide variety of groups throughout Southern California and beyond.
Today's sponsor: This episode of "365 Days of Astronomy" is sponsored by Loch Ness Productions, a unique multimedia production company specializing in cosmically creative content and space music for planetarium and fulldome theaters worldwide. Loch Ness Productions also works with exhibit designers, observatories, science institutions and publishers to bring a love of astronomy, Earth science, and space science to audiences everywhere. On the web at LochNessProductions.com.
Transcript:
Hello and welcome to another edition of the 365 Days of Astronomy podcasts. I am Scott Kardel of the Palomar Observatory.
In some ways, May 25th marks the birthday of Palomar Observatory. It was on that date eighty one years ago that the Rockefeller International Education Board gave a $6,000,000 grant to the California Institute of Technology for the purchase of a site and the construction of an observatory including a 200-inch reflecting telescope.
What may seem odd to anyone looking back on the event is that at the time Caltech did not even have an astronomy department. That's right, they were given what was at the time the world's largest grant for science, to build the world's largest telescope and they didn't even teach astronomy at the school. Why would the Rockefeller board do this? Its simple, they knew the man behind the telescope project: George Ellery Hale.
At that time Hale, who was by preference a solar astronomer, had already had quite the career in building giant telescopes. His first big telescope was the 40-inch refractor at Yerkes Observatory. Completed in 1897, it remains the world's largest refracting telescope. Hale raised the funds from streetcar magnate Charles Tyson Yerkes, Junior a few years earlier and by age 29 Hale was director of the largest telescope in the world.
While he was still director at Yerkes, Hale looked westward and eventually established the Mt. Wilson Solar Observatory in 1904. He resigned his position at Yerkes and risked his own money on the new observatory before Andrew Carnegie and his Carnegie Institution of Washington stepped up to fund operations.
Hale convinced Carnegie to provide for a 60-inch telescope, which was completed in 1908. As the 60-inch was nearing completion, Hale had already set his sights on something bigger. He tapped John D. Hooker for funds to provide a 100-inch mirror. The 100-inch Hooker Telescope was completed in 1917. From 1908 to 1923 Hale was again Hale director of the observatory that had the largest telescopes in the world.
It was at Mt. Wilson that Hale discovered the magnetic nature of sunspots, Harlow Shapley discovered the location of the solar system within the Milky Way galaxy. Also at Mt. Wilson Edwin Hubble discovered that galaxies, then called "spiral nebulae" lie outside of our galaxy and that the universe itself is expanding.
Due to health concerns Hale resigned his position as director in 1923, but he couldn't stay out of the picture for long.
Eventually talk began again about raising money for an even larger telescope. Hale wrote a seven and one half page sales pitch, in the form of an article in Harpers Monthly Magazine. "The Possibilities of Large Telescopes" appeared in their April, 1928 issue. In the article Hale outlined how kings and "American leaders of industry" have long funded observatories and he described the development of the Yerkes and Mt. Wilson telescopes. He then got to the heart of the matter by writing:
"While the gain since Galileo's time seems enormous, the possibilities go far beyond. Starlight is falling on every square mile of earth's surface, and the best we can do at present is to gather up and concentrate the rays that strike and area 100 inches in diameter. "
Hale's 1928 sales pitch outlined advances in engineering and the astronomical problems of the day. He concluded that a "200-inch or even a 300-inch telescope could now be built and used to the great advantage of astronomy."
The sales pitch successfully resonated with the Rockefeller International Education Board and funding was granted to Caltech for what became the 200-inch Hale Telescope at Palomar Observatory. But why Caltech?
Hale had realized that any great observatory needed a strong academic base. Yerkes Observatory was tied to University of Chicago. In California Hale molded the Throop Polytechnic Institute into what is now the California Institute of Technology. Rockefeller's gift to Caltech was because of the reputation and drive of George Ellery Hale.
Hale did not live to see the 200-inch project finished, but he was the life force behind it, which is why it now bears his name.
A recent documentary film, called The Journey to Palomar, highlights Hale's many professional achievements. Hale's legacy continues as modern astronomers at Caltech, and elsewhere, work to build new, giant telescopes. Projects like the Thirty Meter Telescope will again push the frontiers of astronomy in a way that would make Hale proud.
If you would like to see some photos to go with this read podcast, read Hale's 1923 book "The New Heavens" or his 1928 article in Harpers Monthly Magazine, you can find do so by visiting my blog at palomarskies.blogspot.com.
For Palomar Observatory this is Scott Kardel wishing you "clear skies".
End of podcast:
365 Days of Astronomy
=====================
The 365 Days of Astronomy Podcast is produced by the New Media Working Group of the International Year of Astronomy 2009. Audio post-production by Preston Gibson. Bandwidth donated by libsyn.com and wizzard media. Web design by Clockwork Active Media Systems. You may reproduce and distribute this audio for non-commercial purposes. Please consider supporting the podcast with a few dollars (or Euros!). Visit us on the web at 365DaysOfAstronomy.org or email us at info@365DaysOfAstronomy.org. Until tomorrow…goodbye.