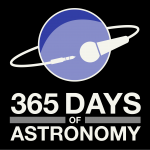 Date: May 16, 2009
Title: Back to the Dark Ages: Responsible Nighttime Lighting

Podcaster: Connie Walker and Rob Sparks
Organization: National Optical Astronomy Observatory (www.noao.edu) and the IYA2009 Dark Skies Working Group (www.darkskiesawareness.org)
Description: With half the world's inhabitants living in cities as of 2008, mankind's urban constellations are fast obscuring nature's stellar constellations. To increase awareness about adverse impacts of excess artificial lighting on local environments, "Dark Skies Awareness" was established as an International Year of Astronomy cornerstone project. Dark Skies Awareness promotes a range of programs and resource materials for a diverse population with diverse needs. Through increased awareness, the programs and resources provide a means to counteract the ongoing loss of a dark night sky for much of the world's population. Come join the podcast to find out more or visit www.darkskiesawareness.org.
Bio: Connie Walker is an astronomer in the Education and Public Outreach group at the National Optical Astronomy Observatory in Tucson, Arizona. She manages the GLOBE at Night program and chairs the Cornerstone Project on Dark Skies Awareness for the International Year of Astronomy.
Rob Sparks taught high school physics and astronomy for 11 years before joining the National Optical Astronomy Education and Public Outreach group. He is a member of the IYA Galileoscope Committee. He lives with cats that have much better night vision than he does. You can read his blog at http://halfastro.wordpress.com.
Today's sponsor: This episode of "365 Days of Astronomy" is sponsored by the American Astronomical Society, the major organization for professional astronomers in North America, whose members remind everyone that One Sky Connects Us All. Find out more or join the AAS at aas.org.
Transcript:
CONNIE: Welcome, everyone, to our podcast on "Back to the Dark Ages: Responsible Nighttime Lighting." My name is Connie Walker and here with me is Rob Sparks. Both of us are in the Education and Public Outreach group at the National Optical Astronomy Observatory.
ROB: Hi, everyone!
CONNIE: Rob, would you believe that more than one-fifth of the world population, two-thirds of the United States population and one half of the European Union population can't see the stars of the Milky Way arch across their night sky anymore?
ROB: Is there something wrong with their eyes? Should they eat more carrots? What's the problem?
CONNIE: Light pollution! Light pollution is excessive artificial light, or plainly, it is too much outdoor light that causes a glow above a city. It is a serious and growing threat. In the U.S., over 10 billion dollars each year is wasted on upward-directed light that escapes "unused" into space. Light pollution impacts not only our shared ability to see a dark night sky, but astronomical research, the economy, ecology, energy conservation, human health, and public safety.
ROB: What can be done to shed light on light pollution?
CONNIE: To spark public interest and increase awareness in redressing light pollution, "Dark Skies Awareness" was established as an International Year of Astronomy cornerstone project. Dark Skies Awareness promotes a range of programs and resource materials for a diverse population with diverse needs.
ROB: What are some of these programs and resources?
CONNIE: There are, for instance, 3 star-hunting programs that invite everyone to become citizen-scientists — students, educators, astronomers and the general public — to measure the darkness of their local night skies and contribute their observations online to a world map of light pollution. Over the last four years these programs successfully conducted campaigns in which more than 47,000 observations were submitted from over 100 countries.
ROB: I've heard of these star-hunts. Together the three programs span the entire year: GLOBE at Night in March, Great World Wide Star Count this October 9th through 23rd, and How Many Stars during the rest of the year. I am going to look these up on my iPhone.
CONNIE: Now you are contributing to "radio frequency interference" or RFI. RFI is the radio equivalent to light pollution. The "Quiet Skies" program, led by the National Radio Astronomy Observatory, introduces the need for quiet skies through 2 activities to observe and measure RFI. The first activity uses a simple AM radio to detect RFI. The second activity uses a digital meter to measure its intensity, which is entered into an online database.
ROB: OK, so Dark Skies Awareness has citizen-science type programs; that's pretty cool. What else does it have?
CONNIE: Well, say you are living in a city and you want to get to a dark site to see lots of stars, be introduced to the wonders of the night sky and perhaps learn a bit about how to counteract the effect of light pollution and why. There are a couple of programs Dark Skies Awareness is offering for just that purpose.
ROB: I think I have heard of one of these. It is called the Dark Skies Discovery Sites or the DSDS program. Astronomy clubs or individuals can earn the official DSDS designation for their location. Here you can learn about light pollution at star parties and observatory open houses at the outskirts of cities.
CONNIE: That's right. And there is also a program for families traveling through National Parks, especially this summer, which focuses on dark skies activities and stargazing. That program is called Nights in the Parks. Activities include meteor watching, telescope viewing, solar viewing, instructional workshops, evening programs, night hikes, nocturnal wildlife watching, tips for protecting dark skies, and storytelling.
ROB: How about a program that involves more artistic creativity?
CONNIE: Well, sure. There is the Earth and Sky Photo Contest that is beginning in May 2009. The photography contest is open to any amateur photographer of any age, anywhere in the world. The special theme of this contest is "Dark Skies Importance"; so the image should impress people about how important and amazing the starry sky is, how it affects our life, and how bad the problem of light pollution has become.
ROB: I should enter some of my night photos!
CONNIE: Sorry, Sparks. Employees of NOAO are not eligible to enter!
ROB: But I am a big fan of dark skies!
CONNIE: You can become a dark skies "groupie" by joining our "Save the Night" group on Facebook or you can become a friend of "Turndownthelight" on MySpace. With Second Life® (SL), adults can see how many stars are gained when going from city to suburban to rural to forest areas at "Astronomy 2009 Island in SL". Informational posters cover energy, safety, wildlife, astronomy and dark sky events like the citizen science projects. In a holodome above this area, there is an urban street that allows visitors to switch between good and bad lighting to see the impact of their actions.
ROB: And I have heard several 365 Days of Astronomy podcasts on dark skies awareness about GLOBE at Night, the Let There Be Night program, the International Dark-Sky Association and Nights in the National Parks, to name a few.
CONNIE: Yes and here we are with another podcast. The "Let There Be Night" podcast you just mentioned was released January 18th. It is an activity-based planetarium show on DVD that is part of Dark Skies Awareness. The Let There Be Night 2-DVD set is also a collection of resources—videos, activities, songs, images, a website, and more—for anyone, but especially dark sky advocates and educators.
ROB: What about downloadable items for the general public, like posters and brochures?
CONNIE: Posters and brochures are wonderful ways for disseminating light pollution education to communities during public events! The International Dark-Sky Association (IDA) has downloadable posters and brochures covering topics on good and bad lighting and on the effects of light pollution on wildlife, energy, astronomy, safety, and glare control.
ROB: What about resources for teachers?
CONNIE: There is an educational kit available through training sessions, which provides the educator, event coordinator or dark sky advocate with a simple but effective light shielding demonstration, a digital night sky brightness meter, and a CD and two DVDs with resources on dark skies education and GLOBE at Night. In fact, on the www.darkskiesawareness.org website, educators can download the classroom activities on dark skies.
ROB: I've seen that light shielding demo. Its pretty dramatic. I have heard it helped convince a city mayor to perform a lighting inventory of her city!
CONNIE: That is true.
ROB: What about homeowners? Say if someone wanted to learn about the proper outdoor lighting to install at home?
CONNIE: There is a program we call the "Great Switch Out". The Great Switch Out program encourages homeowners to remove and replace their residential light fixtures with ones that are energy efficient and dark sky friendly. The International Dark-Sky Association provides a Homeowner's Guide to Outdoor Lighting on fixture recommendations and where to buy them.
ROB: Now I know what to buy to replace that floodlight on my garage that my neighbor keeps complaining about, and I might even save a few bucks on my electric bill! Are there events that people can get involved in that raise awareness about light pollution?
CONNIE: Absolutely. You might have heard of National Dark-Sky Week or NDSW, an annual event that occurs in April in the U.S., during which people are encouraged to turn out unnecessary outdoor lights to reduce light pollution. This year, NDSW and the Starlight Initiative collaborated in the launch of the "World Night in Defense of Starlight" as the first night of the International Dark Sky Week and that was April 20-26, 2009.
ROB: And there is GLOBE at Night and the Great World Wide Star Count that are both 2-week events inviting the public to monitor their night sky brightness. And similarly the How Many Stars program that runs all year-round.
CONNIE: Yes, and this year we had over 15,300 measurements submitted to GLOBE at Night! A podcast on www.darkskiesawareness.org describes the success of GLOBE at Night 2009 and follows spirited campaigns in 4 cities.
ROB: Wasn't Earth Hour on the last night of GLOBE at Night?
CONNIE: Yes, hundreds of millions of people in over 4000 cities in 88 countries turned their lights off from 8:30-9:30pm on Saturday, March 28, 2009 to make an unprecedented and highly visible global statement in support for action on climate change, energy conservation and light pollution.
ROB: Are there other international efforts – perhaps to establish protected areas?
CONNIE: Yes, to promote the establishment of specially protected areas for natural night skies and to honor exceptional commitment to dark skies preservation, the International Dark-Sky Association and the Starlight Initiative have established special "certification" programs. Communities, parks and reserves, that achieve program goals, can become official International Dark Sky places.
ROB: OK. I am officially exhausted talking about all of these programs on Dark Skies Awareness. I need a nap.
CONNIE: You know that good lighting design helps people sleep better at night!
ROB: And where does someone go on-line to find out how to get involved in any of these programs and who masterminded the programs?
CONNIE: You can become more enlightened (intellectually, that is) by visiting www.darkskiesawareness.org. Thank-you, Rob and Everyone out there, for joining us today on our podcast: "Back to the Dark Ages: Responsible Nighttime Lighting". This is Connie Walker…
ROB: And Rob Sparks…
ROB AND CONNIE: signing off and wishing you clear and dark skies ahead.
End of podcast:
365 Days of Astronomy
=====================
The 365 Days of Astronomy Podcast is produced by the New Media Working Group of the International Year of Astronomy 2009. Audio post-production by Preston Gibson. Bandwidth donated by libsyn.com and wizzard media. Web design by Clockwork Active Media Systems. You may reproduce and distribute this audio for non-commercial purposes. Please consider supporting the podcast with a few dollars (or Euros!). Visit us on the web at 365DaysOfAstronomy.org or email us at info@365DaysOfAstronomy.org. Until tomorrow…goodbye.