Podaster: Shane and Chris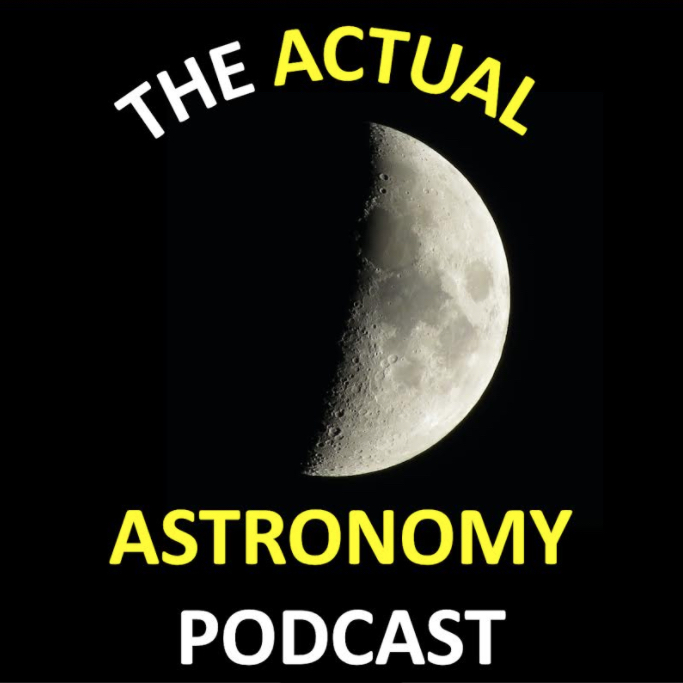 Title: The Observer's Calendar for November 2023
Organization: Actual Astronomy
Link : https://actualastronomy.podbean.com/
Description: The Actual Astronomy Podcast presents The Observer's Calendar for November 2023. In this episode we'll talk about Jupiter at opposition and the Moon pairs with Venus, Saturn, Neptune, Jupiter and Uranus then M45 late this month.
Bio: Shane and Chris are amateur astronomers who enjoy teaching astronomy classes and performing outreach where they help the eyes of the public to telescope eyepieces.
Today's sponsor: Big thanks to our Patreon supporters this month: Paul M. Sutter, Chris Nealen, Frank Frankovic, Frank Tippin, Jako Danar, Michael Freedman, Nik Whitehead, Rani Bush, Ron Diehl, Steven Emert, Brett Duane, Don Swartwout, Vladimir Bogdanov, Steven Kluth, Steve Nerlich, Phyllis Foster, Michael W, James K Wood, Katrina Ince, Cherry Wood.
Please consider sponsoring a day or two. Just click on the "Donate" button on the lower left side of this webpage, or contact us at signup@365daysofastronomy.org.
Please visit our Patreon page: https://www.patreon.com/365DaysOfAstronomy
or you can consider to sponsor a day of our podcast : https://cosmoquest.org/x/365daysofastronomy/product/sponsor-an-episode-of-365-days-of-astronomy/
Transcript:
Jupiter at opposition, some meteor showers in the Observers Calendar for November 2023 on Episode 369 of Actual Astronomy. I'm Chris and joining me is Shane. We are amateur astronomers who love looking up at the night sky and this podcast is for everyone who enjoys going out under the stars.
It was Bob who sent me the zoom.earth link. HE sent this great image of M31 this week too!
* Moon pairs with Venus, Saturn, Neptune, Jupiter and Uranus then M45 late this month.
Nov 3rd – Jupiter at Opposition – Great Sketch from Gerry on our RASC list serve showing the double shadow transit from the 18/19th of Oct. He used drops of white out for the Moons giving this amazing three dimensional effect.
Listener Jim sent us images he captured in an 8-inch telescope showing the transit. Thanks for that Jim.
What is opposition? What can you see?
Nov 5th – Last quarter Moon
November 6th – Moon, Regulus and Venus congregate in Dawn sky – photographic opportunity
Nov 9th – Venus within 1-degree of the Moon, Occultation for Northern Canada, Iceland, Greenland Northern Europe
Nov. 12th – North Taurid Meteors Peak, radiant is just below the Pleiades.
You get about 5-10 meteors per hour.
According to Don Macholz, Asteroid 2004 TG 10 is the meteor shower's parent body.
The theory is that 20,000 years ago, a larger object broke up, creating Comet Encke and some other asteroids as well as meteor showers. Scientists named this group of objects after the most dominant member of the group: Comet Encke. So these objects are called, the Encke Complex.
Nov. 13 – new moon
Saturday Nov. 18th – Leonid Meteor Shower peaks – no outburst expected this year but you might see 15-20 per hour.
Periodic Comet Tempel-Tuttle, officially known as 55P/Temple-Tuttle, is responsible for the Leonid meteor shower. William Tempel of Marseilles Observatory in France discovered this comet on the evening of Decembder 19, 1865. Lost and recovered in 1965, it can be faint, 16th magnitude.
Nov. 20 – Saturn is 3-degrees north of the first quarter Moon
Nov. 22 – Neptune 1.5 degrees north of the Moon, so great time to spot it
Nov. 25 – Jupiter 3-degrees S of the Moon
Nov. 26 – Uranus 3-degrees S of the Moon
Nov. 27 – Moon just over 1-degree south of Pleiades! So with your binoculars you can check out the brighter cluster members and lunar craters in the same field!
Comets
Mike and I spent a long time searching for 12P/Pons-Brooks as it's been in an outburst…we may have seen it but it was only 11.3 magnitude.
* Comet Encke is in the morning sky i Leo and worth hunting down if you have an 8-inch or larger scope.
Concluding Listener Message: Dear listeners, please subscribe and do us a favour and share the show with the other stargazers you know. You can always send us your show ideas, observations and questions to actualastronomy@gmail.com , thank you for listening.
End of podcast:
365 Days of Astronomy
=====================
The 365 Days of Astronomy Podcast is produced by Planetary Science Institute. Audio post-production by Richard Drumm. Bandwidth donated by libsyn.com and wizzard media. You may reproduce and distribute this audio for non-commercial purposes.
This show is made possible thanks to the generous donations of people like you! Please consider supporting to our show on Patreon.com/365DaysofAstronomy and get access to bonus content.
After 10 years, the 365 Days of Astronomy podcast is entering its second decade of sharing important milestone in space exploration and astronomy discoveries. Join us and share your story. Until tomorrow! Goodbye!