Podcaster: Shane and Chris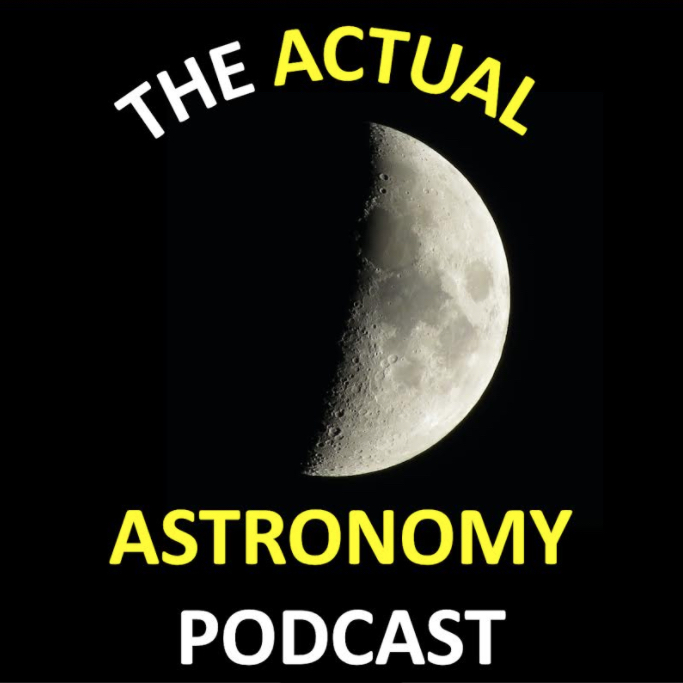 Title: An Observing Guide to Jupiter and Saturn
Organization: Actual Astronomy
Link : https://actualastronomy.podbean.com/
Description:  The Actual Astronomy Podcast presents An Observing Guide to Jupiter and Saturn.  In this episode Chris and Shane discuss what equipment you will need to see these planets including Jupiter's Moons and the Great Red Spot as well as Saturn's Rings.
Bio: Shane and Chris are amateur astronomers who enjoy teaching astronomy classes and performing outreach where they help the eyes of the public to telescope eyepieces.
Today's sponsor: Big thanks to our Patreon supporters this month: Paul M. Sutter, Chris Nealen, Frank Frankovic, Frank Tippin, Jako Danar, Michael Freedman, Nik Whitehead, Rani Bush, Ron Diehl, Steven Emert, Brett Duane, Don Swartwout, Vladimir Bogdanov, Steven Kluth, Steve Nerlich, Phyllis Foster, Michael W, James K Wood, Katrina Ince, Cherry Wood.
Please consider sponsoring a day or two. Just click on the "Donate" button on the lower left side of this webpage, or contact us at signup@365daysofastronomy.org.
Please visit our Patreon page: https://www.patreon.com/365DaysOfAstronomy
or you can consider to sponsor a day of our podcast : https://cosmoquest.org/x/365daysofastronomy/product/sponsor-an-episode-of-365-days-of-astronomy/
Transcript:
An Observing Guide to Jupiter and Saturn on Episode 357 of the Actual Astronomy podcast. I'm Chris and joining me is Shane. We are amateur astronomers who love looking up at the night sky and this podcast is for everyone who enjoys going out under the stars.
Patreon Support thanks to: Rob who is new and John N who renewed.
Thanks to Eric – We received some Hoodies from a Eric,or as Shane might call them Bunny Hugs .I have to get this out to you Shane.
I received a giant planisphere from Alister….I had mentioned wanting one for my observatory and he kindly sent me one he had.
Also, Eric sent us some Clear Skies…stickers and some Calgary RASC centre stickers
Did you get out observing
I've been out with my 12×36 IS looking for the comet and observing Jupiter, M45, M42, Orion's Belt, the Moon etc.
I keep forgetting to look at Saturn
Speaking of Saturn, Shane you suggested we do some observing guides for Saturn and Jupiter, Great Idea!
We'll Start with Saturn since it's first up
Currently Located in Aquarius
Just past Opposition Aug 27th, so perfectly placed in evening sky
Rises before Sunset so it's high enough to observe as soon as it's dark
Naked eye – looks like a bright yellowish star
Binoculars – out of round…might see "ears" with higher power
Telescope – Mind blowing rings
Saturn is crawling up the ecliptic, now just at -12 – degrees so more favourably placed than the past decade!
We're 9-degrees off plane from the rings now revealing the north polar region, they'll be edge on in 2025. But this is the last year to get a great look at the rings until 2027!
You can see at least 5 Moons , check out the S&T tool.
How to Observe it?
Eyepieces? Filters? & Magnifications
Jim wrote us, as did many others regarding the passing of our friend Blake. We appreciate all your kid words. Jime wrote:
Chris and Shane, I noticed an opportunity in October that may interest you and your listeners. I see that the shadow of both Io and Ganymede should be visible on Jupiter from 5:57 to 7:41 Universal Time on Friday October 20th. Io will also transiting Jupiter during most of this period. It will be especially well placed here in the Pacific time zone from about 10 pm to 11:30 pm local time on Thursday October 19th when Jupiter will be up around 40 degrees. I am hoping to observe it on my 115mm refractor and capture an image if the seeing cooperates.
Thank you for your tribute to Blake Nancarrow and all his contributions. It inspires me to expand my targets to include double star observations. – Jim
An observing Guide to Jupiter:
Jupiter is in Southern Aries
Reaches Opposition Nov. 1-2
Need to be up early until after that date
Naked eye looks like a pale orange star
Binoculars show a mostly featureless disk but the Moons as galileo saw them.
I've been enjoying watching the Moons in binos.
Telescopes can show a wealth of detail on the disk from bands and festoons to the GRS.
Use S&T tools to ID the Moons and determines visibility of GRS
https://skyandtelescope.org/observing/interactive-sky-watching-tools/transit-times-of-jupiters-great-red-spot/
Image Daryl Archer
Eyepieces? Filters? & Magnifications
Concluding Listener Message: Dear listeners, please subscribe and do us a favour and share the show with the other stargazers you know. You can always send us your show ideas, observations and questions to actualastronomy@gmail.com , thank you for listening.
End of podcast:
365 Days of Astronomy
=====================
The 365 Days of Astronomy Podcast is produced by Planetary Science Institute. Audio post-production by Richard Drumm. Bandwidth donated by libsyn.com and wizzard media. You may reproduce and distribute this audio for non-commercial purposes.
This show is made possible thanks to the generous donations of people like you! Please consider supporting to our show on Patreon.com/365DaysofAstronomy and get access to bonus content.