Podcaster: Shane and Chris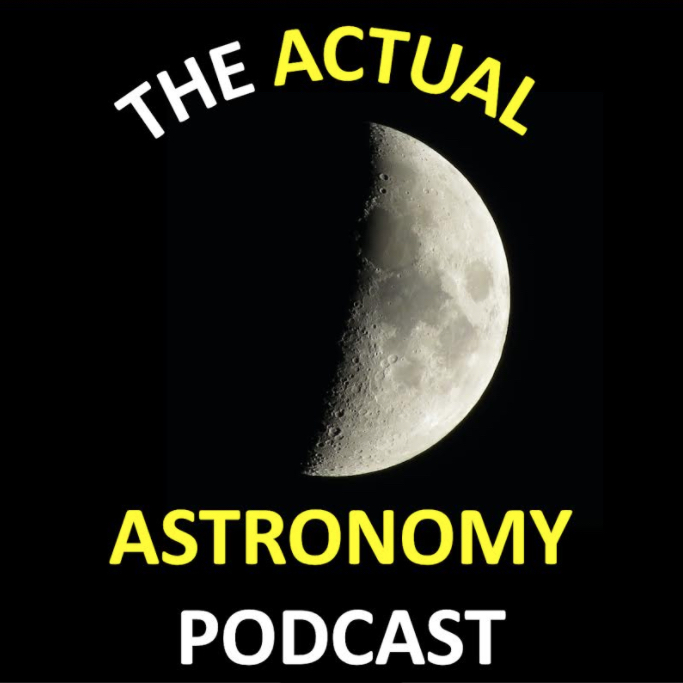 Title: Objects to Observe in the July 2023 Night Sky
Organization: Actual Astronomy
Link : https://actualastronomy.podbean.com/
Description: The Actual Astronomy Podcast presents Objects to Observe in the July 2023 Night Sky.  In this episode we'll talk about watching the Planets Mars, Venus, Mercury and our Moon in the evening sky as well as other sights to see in the June Night Sky. We go over some of the pairings of the Moon and Jupiter, Saturn, and Venus during its greatest illumination extent. We also take a look at one of the best globular clusters, Messier 4, for those who get their binoculars or telescopes out to a dark sky.
Bio: Shane and Chris are amateur astronomers who enjoy teaching astronomy classes and performing outreach where they help the eyes of the public to telescope eyepieces.
Today's sponsor: Big thanks to our Patreon supporters this month: Paul M. Sutter, Chris Nealen, Frank Frankovic, Frank Tippin, Jako Danar, Michael Freedman, Nik Whitehead, Rani Bush, Ron Diehl, Steven Emert, Brett Duane, Don Swartwout, Vladimir Bogdanov, Steven Kluth, Steve Nerlich, Phyllis Foster, Michael W, James K Wood, Katrina Ince, Cherry Wood.
Please consider sponsoring a day or two. Just click on the "Donate" button on the lower left side of this webpage, or contact us at signup@365daysofastronomy.org.
Please visit our Patreon page: https://www.patreon.com/365DaysOfAstronomy
or you can consider to sponsor a day of our podcast : https://cosmoquest.org/x/365daysofastronomy/product/sponsor-an-episode-of-365-days-of-astronomy/
Transcript:
Intro:   Objects to Observe in the July 2023 Night Sky on Episode 342 of the Actual Astronomy podcast. I'm Chris and joining me is Shane. We are amateur astronomers who love looking up at the night sky and this podcast is for everyone who enjoys going out under the stars.
Did you get any observations in Shane or have any astronomy news in your life?
My Observatory Construction has begun! The first step was for the builder to dig a hole for me to put all my money in…just kidding, that's for the pier. We went down 40 inches and hit a boulder, good news since that's as far as we planned to dig and it'll make a solid footing. The soil was exceptionally dry despite the rain and should therefore keep water from collecting around the post.
This is the time of year to start looking for noctilucent clouds.
July 1 – First week of July you can try spotting Arcturus during the day with an unaided eye.
July 3rd – Full Moon
July 7th (really after midnight on the 6th) – Saturn and Moon 3-degrees apart after midnight on the 6th
Also on the 7th – Venus at greatest illumination extent this evening.
Also on July 7th – The asteroid 15 Eunomia shines at magnitude 8.8
Eunomia is a large asteroid in the inner asteroid belt, discovered by Annibale de Gasparis in July 1851, and named after Eunomia, representing order and law in Greek mythology.
Eunomia is the largest stony (S-type) asteroid, with a diameter of 250 km, and is about 300 km across.
Eunomia's orbits with a period of 4.3 years.
July 11th – Moon & Jupiter but you'll need to be much farther west, like Japan, Hawaii, New Zealand.
July 17th – Full Moon and Perseids begin – peak is August 13th
July 19th – Mars, Mercury, Venus and Moon form a broken "W" in Western sky after sunset.
July 20th Mars and Moon 3-degrees apart
July 22nd – Pluto reaches opposition at magnitude 14.4 and is about 1.5 degrees south of M75
July 25th – Lunar Straight Wall visible
July 26th – Mercury and Venus in evening twilight
July 29th – South Delta Aquarid Meteor Shower Peaks
Comets: Nothing brighter than 10.5 magnitude.
Feature Deep Sky Object Messier 4 or M4.
M 4 is a globular cluster in the constellation Scorpius, at magnitude 5.6 it is very bright but due to it glides low over the southern horizon from Canada.
M 4 was discovered by Philippe Loys de Cheseaux in 1746, and included in Lacaille's catalogue. Charles Messier catalogued it in 1764, that's where it gets the "M" designation and was the first to resolve it into a "cluster of very small faint stars." M 4 was the only globular cluster Messier could resolve with his modest instruments, and thus the first globular cluster to be resolved.
Amateur Observation
M 4 is one of the easiest globular clusters to find, being just over 1° west (right) of Antares the eye of the Scorpion and is larger than the full moon. Antares is the bright red star travelling along the southern horizon here in Canada.
A diffuse patch in binoculars a 4-inch telescope begins to resolve as a mass of glittering individual stars, the brightest of which are of magnitude 10.8.
Through even small instruments, good conditions reveal a central "bar" of 11th-magnitude stars running north to south through the middle cluster and first noted by William Herschel in 1783. The core is bright, though less concentrated than those of other globular clusters, and well-resolved through star chains meandering about the centre.
For more advanced amateurs. Nearby and even closer to Antares (only 30′ NW), is the fainter globular cluster NGC 6144 (magnitude 10.4, 3.3′ in diameter) can be found. To observe it, Antares should be excluded from the field of view, so that it cannot outshine that faint globular.
Do you have anything to add Shane?
Concluding Listener Message: Thanks for listening, you can reach us at actualastronomy@gmail.com
End of podcast:
365 Days of Astronomy
=====================
The 365 Days of Astronomy Podcast is produced by Planetary Science Institute. Audio post-production by Richard Drumm. Bandwidth donated by libsyn.com and wizzard media. You may reproduce and distribute this audio for non-commercial purposes.
This show is made possible thanks to the generous donations of people like you! Please consider supporting to our show on Patreon.com/365DaysofAstronomy and get access to bonus content.
After 10 years, the 365 Days of Astronomy podcast is entering its second decade of sharing important milestone in space exploration and astronomy discoveries. Join us and share your story. Until tomorrow! Goodbye!