Podcaster: Shane and Chris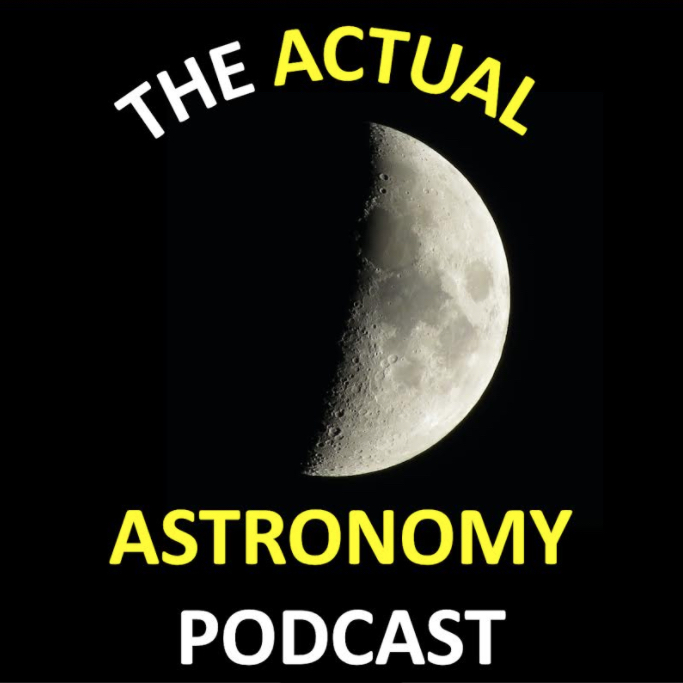 Title: Objects to Observe in the January 2023 Night Sky
Organization: Actual Astronomy
Link : https://actualastronomy.podbean.com/
Description: The Actual Astronomy Podcast presents Objects to Observe in the January 2023 Night Sky. In this episode we'll talk about the Moon pairing up with Venus & Saturn then Jupiter and it gets so close to to Mars and Uranus it passes over them for some lucky observers just not Shane and I.
Bio: Shane and Chris are amateur astronomers who enjoy teaching astronomy classes and performing outreach where they help the eyes of the public to telescope eyepieces.
Today's sponsor: Big thanks to our Patreon supporters this month: Rob Leeson, David Bowes, Brett Duane, Benett Bolek, Mary Ann, Frank Frankovic, Michael Freedman, Kim Hay, Steven Emert, Frank Tippin, Rani Bush, Jako Danar, Joseph J. Biernat, Nik Whitehead, Michael W, Cherry Wood, Steve Nerlich, Steven Kluth, James K Wood, Katrina Ince, Phyllis Foster, Don Swartwout, Barbara Geier, Steven Jansen, Donald Immerwahr
Please consider sponsoring a day or two. Just click on the "Donate" button on the lower left side of this webpage, or contact us at signup@365daysofastronomy.org.
Please visit our Patreon page: https://www.patreon.com/365DaysOfAstronomy
or you can consider to sponsor a day of our podcast : https://cosmoquest.org/x/365daysofastronomy/product/sponsor-an-episode-of-365-days-of-astronomy/
Transcript:
The Objects to Observe in the January 2023 Night Sky in Episode 287 of the Actual Astronomy Podcast. I'm Chris and joining me is Shane. We are amateur astronomers who love looking up at the night sky and this podcast is for anyone who wants to know what they can see in the sky this month.
In this episode we'll talk about the Moon pairing up with Venus & Saturn then Jupiter and it gets so close to to Mars and Uranus it passes over them for some lucky observers just not Shane and I. Oh and just to let those listening on the 365 Days of Astronomy you can catch all 8 Actual Astronomy Podcasts by subscribing in Apple Podcasts, Spotify or any podcatching app.
Shane How can someone get going in visual astronomy?
Chart, Red LED, 10-Degrees using fist, Nightwatch
We have some occultations this month, what is an occultation?
What can we see this month?
Jan 1 Occultation of Uranus by the Moon for Eastern NA just after dark and UK Europe etc. in early AM.
January 3rd – Another Occultation of Mars by the Moon
Favoured regions would be West Coast of NA just before dawn on the 3rd. Maybe those in Japan and Alaska have the best shot at seeing it.
January 6th – Full Moon and Double Shadow Transits on Jupiter but again this is going to be best for areas West of us.
January 8th – Pallas at opposition –
When discovered by the German astronomer Heinrich Wilhelm Matthäus Olbers on 28 March 1802, Pallas was considered to be a planet but in actuality turned out to be the second asteroid to have been discovered, after Ceres. Pallas is the 3rd largest asteroid and has a mineral composition similar to carbonaceous chondrite meteorites, like Ceres. Like Vesta and Ceres Pallas appears to be one of only 3 intact bodies from the early stage of planetary formation to survive within the inner solar system.
January 12th – Mars Stationary – It will now resume it's westward motion among the stars. Remains in Taurus this month, still high overhead and should still be putting on a great show for telescope viewers.
January 15th – Last quarter Moon
January 21st – new Moon
January 22nd – Venus 0.4 S of Saturn – New Moon Alert 2% Illuminated and just 24hrs old for Eastern NA, we get it a few hours later but still a sub 30hr moon so an extremely thin crescent. For those far west of us the Moon will be close to the pair of planets.
January 25th – Moon and Jupiter just a few degrees apart all evening and as close as 1.8 degrees for some east of us. Great wide field refractor target.
January 28th – First quarter Moon
January 29th – Uranus less than a degree from the Moon and an occultation for those farther north, So maybe even like Edmonton?
January 30 – Mercury Greatest Elongation visible in morning sky.
January 31 – Mars and the Moon less than a degree apart. Occultation for S. USA, Mexico, S. America and NZ.
Comets- C/2022 E3 (ZTF): A binocular comet! In Serpens Caput at magnitude 9.1. Forecast to brighten.
C/2017 K2 (PANSTARRS): A southern hemisphere evening comet visible in small scopes in Pavo with a magnitude of 8.
C/2020 V2 (ZTF): A small scope comet in Cephus shining dimly at mag. 10.5
Featured Constellation – Auriga the Charioteer
Auriga, the Charioteer, has been known from ancient times and appeared in Ptolemy's 2nd C. AD Almagest. Auriga is usually shown as a man holding the reins of a chariot in his left hand, and a goat and its young in the right hand.
Marked by the Bright Star Capella and her 3 Kid goats Auriga's a sort of oddly shaped pentagon that once identified becomes a guidepost amongst the autumn and winter stars. Boarding the Northern Milky-Way makes Auriga among the finest constellations for binocular clusters & small scope nebulae.
Main Deep Sky attractions are M38 the Starfish Cluster, M36 the Pinwheel, and M 37, perhaps the best set of 3 open clusters in the Messier catalogue easily visible with binoculars and even the naked eye under a dark sky. However, one of my favourite binocular asterisms often goes unmarked on the chart and that is the Leaping Minnow, a set of naked eye stars appearing as a tiny squished dipper just a binocular field west of M38. With a small telescope and some filters one can hunt down the flaming star and some other nebulae in the same field.
Anything to add Shane?
Thanks to everyone for listening, please subscribe in your podcatching software to catch all 8 of our shows each month.
End of podcast:
365 Days of Astronomy
=====================
The 365 Days of Astronomy Podcast is produced by Planetary Science Institute. Audio post-production by Richard Drumm. Bandwidth donated by libsyn.com and wizzard media. You may reproduce and distribute this audio for non-commercial purposes.
This show is made possible thanks to the generous donations of people like you! Please consider supporting to our show on Patreon.com/365DaysofAstronomy and get access to bonus content.
After 10 years, the 365 Days of Astronomy podcast is poised to enter its second decade of sharing important milestone in space