Podcaster: Steve Nerlich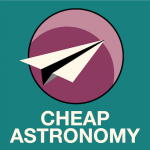 Title: Cheap Astronomy – Dear CA 087: Periodic table & Props up a Rocket
Organization: Cheap Astronomy
Links: http://cheapastro.com
Description: Cheap Astronomy investigates the periodic table and then props up a rocket.
– Why is the abundance of elements not ranked by atomic number?
So, the most abundant element in the Universe is hydrogen, atomic number 1, the second most abundant element is helium, atomic number 2. But are lithium, atomic number 3, and beryllium atomic number 4 the next most abundant? No – not even a little bit. After helium it's oxygen, atomic number 8, carbon, atomic number 6 neon, atomic number 10 and then iron atomic number 26.
– What's involved in 'clearing the tower'
The announcement that (insert mission name here) has cleared the tower mostly derives from NASA mission protocols and some Hollywood embellishment. With most human crewed missions NASA Launch Control in Florida has been in charge of the mission up and including the launch, which may include mission aborts due to bad weather or even launch malfunctions that might require activating the escape system that rescues the astronauts.
Bio: Cheap Astronomy offers an educational website where you can get more Big Bang for your buck.
Today's sponsor: Big thanks to our Patreon supporters this month: Rob Leeson, David Bowes, Brett Duane, Benett Bolek, Mary Ann, Frank Frankovic, Michael Freedman, Kim Hay, Steven Emert, Frank Tippin, Rani Bush, Jako Danar, Joseph J. Biernat, Nik Whitehead, Michael W, Cherry Wood, Steve Nerlich, Steven Kluth, James K Wood, Katrina Ince, Phyllis Foster, Don Swartwout, Barbara Geier, Steven Jansen, Donald Immerwahr
Please consider sponsoring a day or two. Just click on the "Donate" button on the lower left side of this webpage, or contact us at signup@365daysofastronomy.org.
Please visit our Patreon page: https://www.patreon.com/365DaysOfAstronomy
or you can consider to sponsor a day of our podcast : https://cosmoquest.org/x/365daysofastronomy/product/sponsor-an-episode-of-365-days-of-astronomy/
End of podcast:
365 Days of Astronomy
=====================
The 365 Days of Astronomy Podcast is produced by Planetary Science Institute. Audio post-production by Richard Drumm. Bandwidth donated by libsyn.com and wizzard media. You may reproduce and distribute this audio for non-commercial purposes.
This show is made possible thanks to the generous donations of people like you! Please consider supporting to our show on Patreon.com/365DaysofAstronomy and get access to bonus content.