Podcaster: Host : Fraser Cain; Guest: Dr. Karl Stapelfeldt, Dr. Leah Jenks, Dr. Paul Byrne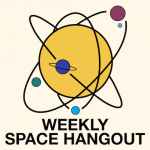 Title: The Science of the L1527 "Butterfly" with Dr. Karl Stapelfeldt
Link: Cosmoquest: http://cosmoquest.org
Description:
Today's story:
More updates from Artemis 1.
An asymmetry detected in the distribution of galaxies.
Mars occulted by the Moon!
A bizarre gamma ray burst that breaks all the rules!
Host: Fraser Cain ( @fcain )
Special Guest: During our November 16th show, Carolyn Collins Petersen introduced us to the hourglass/butterfly of L1527, an image captured by JWST using its onboard NIRCam. (You can read the original story here: https://www.nasa.gov/feature/goddard/…) This week we are joined by Dr. Karl Stapelfeldt, Chief Scientist for NASA's Exoplanet Exploration Program at JPL who will help us understand the science behind this amazing structure.
Karl earned a B.S.E. in Aerospace Engineering and Engineering Physics at Princeton University, and a Ph.D. in Astrophysics at Caltech. His career at NASA includes positions at both the Jet Propulsion Laboratory and most recently at the Goddard Space Flight Center, where he has served as the Chief of Goddard's Exoplanets and Stellar Astrophysics Laboratory since 2011.
Karl's NASA science contributions include project science roles for the Hubble and Spitzer Space Telescopes and science observations using the Herschel Space Observatory. He served as chair of the Exoplanet-Coronagraph Probe-Scale Science and Technology Definition Team, and as a member of the Astrophysics Subcommittee of the NASA Advisory Council.
Regular Guests:
Today's sponsor: Big thanks to our Patreon supporters this month: Rob Leeson, David Bowes, Brett Duane, Benett Bolek, Mary Ann, Frank Frankovic, Michael Freedman, Kim Hay, Steven Emert, Frank Tippin, Rani Bush, Jako Danar, Joseph J. Biernat, Nik Whitehead, Michael W, Cherry Wood, Steve Nerlich, Steven Kluth, James K Wood, Katrina Ince, Phyllis Foster, Don Swartwout, Barbara Geier, Steven Jansen, Donald Immerwahr
Please consider sponsoring a day or two. Just click on the "Donate" button on the lower left side of this webpage, or contact us at signup@365daysofastronomy.org.
Or please visit our Patreon page: https://www.patreon.com/365DaysOfAstronomy
End of podcast:
365 Days of Astronomy
=====================
The 365 Days of Astronomy Podcast is produced by Planetary Science Institute. Audio post-production by Richard Drumm. Bandwidth donated by libsyn.com and wizzard media. You may reproduce and distribute this audio for non-commercial purposes.
This show is made possible thanks to the generous donations of people like you! Please consider supporting to our show on Patreon.com/365DaysofAstronomy and get access to bonus content.
After 10 years, the 365 Days of Astronomy podcast is poised to enter its second decade of sharing important milestone in space exploration and astronomy discoveries. Join us and share your story. Until tomorrow! Goodbye!