Podcaster: Callum Griffiths ; Guests: Dr David Prinsloo, Professor Heino Falcke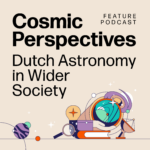 Title: Cosmic Perspectives: Dutch Astronomy in Wider Society – Part 3: ASTRON
Organization: Leiden University
Produced by: Callum Griffiths and Aoife Taylor
Executive Producer: Prof. Pedro Russo
Sound Production: Jesse Stoel
Graphic Design: Aneta Margraf-Druć
Made by Heliocentric Productions for Leiden Observatory with funding from the Dutch Science Council.
Link : https://anchor.fm/cosmicperspectives
Description:
Cosmic Perspectives: Dutch Astronomy in Wider Society is a feature podcast that explores the beneficial impact of Dutch astronomy on society, from building positive international relationships to the transfer of life-changing technology. Cosmic Perspectives is funded by the Dutch Science Council Science Diplomacy Fund, and follows the experiences of four renowned astronomers based in the Netherlands.
Join our host, science communicator Callum Griffiths, as he delves behind the scenes of some of the biggest astronomical endeavours in recent decades with those involved to uncover new perspectives. Professor George Miley (Leiden University) recounts stories of astronomy building bridges between conflicting nations, and details his dream for providing a global citizen perspective. Professor Heino Falcke (Radboud University) details the benefits and challenges of uniting the world around capturing the first image of a Black Hole. Professor Ewine van Dishoeck (Leiden University) discusses the diplomacy and technology behind the James Webb Space Telescope. And Dr David Prinsloo (ASTRON) discusses how the Universe really is the best testing ground for innovation.
For the third episode we discuss about relationship building through astronomy from two influential researchers in the field of radio astronomy.
Dr David Prinsloo (ASTRON) discusses how the Universe really is the best testing ground for innovation.
Professor Heino Falcke (Radboud University)
Bio: Callum Griffiths is a science communicator and digital producer for Heliocentric Productions and Life Science Centre in the UK. Through his work, he creates podcasts, planetarium shows and other media about science and in particular space. His Master's in astronomy from the University of Leiden in the Netherlands helps him to tell exciting stories about the Universe and all the wonders it contains.
Today's sponsor: Big thanks to our Patreon supporters this month: Rob Leeson, David Bowes, Brett Duane, Benett Bolek, Mary Ann, Frank Frankovic, Michael Freedman, Kim Hay, Steven Emert, Frank Tippin, Rani Bush, Jako Danar, Joseph J. Biernat, Nik Whitehead, Michael W, Cherry Wood, Steve Nerlich, Steven Kluth, James K Wood, Katrina Ince, Phyllis Foster, Don Swartwout, Barbara Geier, Steven Jansen, Donald Immerwahr
Please consider sponsoring a day or two. Just click on the "Donate" button on the lower left side of this webpage, or contact us at signup@365daysofastronomy.org.
Or please visit our Patreon page: https://www.patreon.com/365DaysOfAstronomy
End of podcast:
365 Days of Astronomy
=====================
The 365 Days of Astronomy Podcast is produced by Planetary Science Institute. Audio post-production by Richard Drumm. Bandwidth donated by libsyn.com and wizzard media. You may reproduce and distribute this audio for non-commercial purposes.
This show is made possible thanks to the generous donations of people like you! Please consider supporting to our show on Patreon.com/365DaysofAstronomy and get access to bonus content.