Podcaster: Host : Fraser Cain; Guest: Zaven Arzoumanian, Keith Gendreau, Dr. Leah Jenks, Pam Hoffman, Dave Dickinson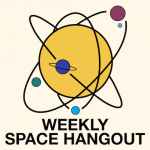 Title: NICER Maps a Neutron Star with Zaven Arzoumanian & Keith Gendreau
Link: Cosmoquest: http://cosmoquest.org
Description:
Today's story:
The LUCY Mission passes Earth!
China's first orbiting solar observatory!
Everything coming up in space!
The first map of the night sky!
A potential dark matter signal.
JWST's Pillars!
Host: Fraser Cain ( @fcain )
Special Guest: Pulsars have baffled scientists for decades, including how they work and what form matter takes within a pulsar. Using data collected by the Neutron Star Interior Composition Explorer (NICER) Mission between July 2017 and December 2018, scientists have not only been able to make the most precise size measurements of Pulsar J0030+0451 (located 1,100 light-years away in the constellation Pisces), but they have also mapped hotspots located on its surface. This week we are joined by Dr. Zaven Arzoumanian and Dr. Keith Gendreau, members of the Goddard Team that mapped J0030 and co-authors of "Focus on NICER Constraints on the Dense Matter Equation of State" published in the Astrophysical Journal Letters in December, 2019. (https://iopscience.iop.org/journal/20….
Zaven is the Deputy Principal Investigator and Science Lead for NICER.
Keith is Principal Investigator NICER. Be sure to follow him on Twitter: https://twitter.com/keithgendreau
Regular Guests:
Today's sponsor: Big thanks to our Patreon supporters this month: Rob Leeson, David Bowes, Brett Duane, Benett Bolek, Mary Ann, Frank Frankovic, Michael Freedman, Kim Hay, Steven Emert, Frank Tippin, Rani Bush, Jako Danar, Joseph J. Biernat, Nik Whitehead, Michael W, Cherry Wood, Steve Nerlich, Steven Kluth, James K Wood, Katrina Ince, Phyllis Foster, Don Swartwout, Barbara Geier, Steven Jansen, Donald Immerwahr
Please consider sponsoring a day or two. Just click on the "Donate" button on the lower left side of this webpage, or contact us at signup@365daysofastronomy.org.
Or please visit our Patreon page: https://www.patreon.com/365DaysOfAstronomy
End of podcast:
365 Days of Astronomy
=====================
The 365 Days of Astronomy Podcast is produced by Planetary Science Institute. Audio post-production by Richard Drumm. Bandwidth donated by libsyn.com and wizzard media. You may reproduce and distribute this audio for non-commercial purposes.
This show is made possible thanks to the generous donations of people like you! Please consider supporting to our show on Patreon.com/365DaysofAstronomy and get access to bonus content.
After 10 years, the 365 Days of Astronomy podcast is poised to enter its second decade of sharing important milestone in space exploration and astronomy discoveries. Join us and share your story. Until tomorrow! Goodbye!