Podcaster: Host : Fraser Cain; Guest: Dr. Ashwin Vasavada, Dr. Nick Castle, Allen Versfeld, Pam Hoffman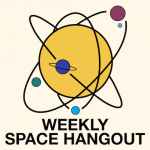 Title:Weekly Space Hangout – Piquing Our Curiosity with Dr. Ashwin Vasavada
Link: Cosmoquest: http://cosmoquest.org
Description:
Today's story:
New information from Perseverance in Jezero Crater.
The DART Mission. Obviously!
What to see in the fall skies.
Looking at lunar glass to understand Earth's impact record.
SLS doesn't launch because of hurricane Ian.
Host: Fraser Cain ( @fcain )
Special Guest: On August 5, 2022, a plucky little rover named Curiosity celebrated its 10th Anniversary on the surface of Mars. Since being lowered on Mars that summer day it has continued to exceed all mission expectations. For ten years, Curiosity has called Gale Crater and the foothills of Mount Sharp "home," all while wandering around the name of science and traveling nearly 18 miles (29 kilometers) and ascending 2,050 feet (625 meters). What have we been able to learn about Mars during this decade? And what lies ahead for the "Little Rover that Could?" Join us tonight as Dr. Ashwin Vasavada brings piques our "Curiosity" and answers these questions.
Dr. Ashwin Vasavada is a planetary scientist at the NASA Jet Propulsion Laboratory in Pasadena, California. Currently he is the Project Scientist for NASA's Curiosity rover that began development in 2003 and just completed its tenth year on the surface of Mars. He now leads the international team of scientists as they explore Gale Crater. He also has participated in the operation and analysis of data from several other NASA spacecraft missions, including the Galileo mission to Jupiter, the Cassini mission to Saturn, and the Lunar Reconnaissance Orbiter. He holds a B.S. in Geophysics and Space Physics from UCLA and a Ph.D. in Planetary Science from Caltech.
You can stay up to date with Curiosity by visiting the project's web site https://mars.nasa.gov/msl and by following it on both Twitter (https://twitter.com/MarsCuriosity) and Instagram (https://www.instagram.com/marscuriosity/).
Regular Guests:
Today's sponsor: Big thanks to our Patreon supporters this month: Rob Leeson, David Bowes, Brett Duane, Benett Bolek, Mary Ann, Frank Frankovic, Michael Freedman, Kim Hay, Steven Emert, Frank Tippin, Rani Bush, Jako Danar, Joseph J. Biernat, Nik Whitehead, Michael W, Cherry Wood, Steve Nerlich, Steven Kluth, James K Wood, Katrina Ince, Phyllis Foster, Don Swartwout, Barbara Geier, Steven Jansen, Donald Immerwahr
Please consider sponsoring a day or two. Just click on the "Donate" button on the lower left side of this webpage, or contact us at signup@365daysofastronomy.org.
Or please visit our Patreon page: https://www.patreon.com/365DaysOfAstronomy
End of podcast:
365 Days of Astronomy
=====================
The 365 Days of Astronomy Podcast is produced by Planetary Science Institute. Audio post-production by Richard Drumm. Bandwidth donated by libsyn.com and wizzard media. You may reproduce and distribute this audio for non-commercial purposes.
This show is made possible thanks to the generous donations of people like you! Please consider supporting to our show on Patreon.com/365DaysofAstronomy and get access to bonus content.
After 10 years, the 365 Days of Astronomy podcast is poised to enter its second decade of sharing important milestone in space exploration and astronomy discoveries. Join us and share your story. Until tomorrow! Goodbye!