Podcaster: Shane and Chris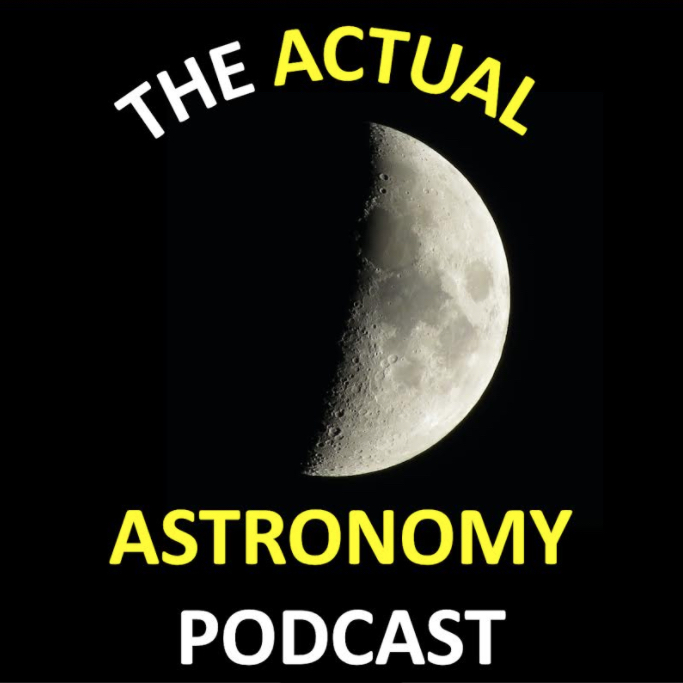 Title: Objects to Observe in the October 2022 Night Sky
Organization: Actual Astronomy
Link : https://actualastronomy.podbean.com/
Description: The Actual Astronomy Podcast presents Objects to Observe in the October 2022 Night Sky and places a focus on how to get the most out of the Great Jupiter Opposition and the happenings overhead. This month we have several pairings between the Moon and Planets and we also talk about when and how to observe the bands and storms on Jupiter as well as what asteroid we are on the lookout for this month.
Bio: Shane and Chris are amateur astronomers who enjoy teaching astronomy classes and performing outreach where they help the eyes of the public to telescope eyepieces.
Today's sponsor: Big thanks to our Patreon supporters this month: Rob Leeson, David Bowes, Brett Duane, Benett Bolek, Mary Ann, Frank Frankovic, Michael Freedman, Kim Hay, Steven Emert, Frank Tippin, Rani Bush, Jako Danar, Joseph J. Biernat, Nik Whitehead, Michael W, Cherry Wood, Steve Nerlich, Steven Kluth, James K Wood, Katrina Ince, Phyllis Foster, Don Swartwout, Barbara Geier, Steven Jansen, Donald Immerwahr
Please consider sponsoring a day or two. Just click on the "Donate" button on the lower left side of this webpage, or contact us at signup@365daysofastronomy.org.
Please visit our Patreon page: https://www.patreon.com/365DaysOfAstronomy
or you can consider to sponsor a day of our podcast : https://cosmoquest.org/x/365daysofastronomy/product/sponsor-an-episode-of-365-days-of-astronomy/
Transcript:
Welcome to Episode 261 of the Actual Astronomy Podcast, the Objects to observe in the October 2022 Night Sky. I'm Chris and joining me is Shane. We are amateur astronomers who love looking up at the night sky and this podcast is for anyone who likes going out under the stars.
A comet, Jupiter at it's best in 70 years and more..
and it's flying to the pole.
Article on Earth and Sky .org by Don Macholz they updated
Passes within 10-degrees of Polaris at the end of January but will be at it's best, possible brighter than 5th magnitude, when it passes through Draco in January
Jupiter was at Opposition on September 26th so this is now prime time to observe the largest planet in our solar system as it now is well placed rising high at Sunset, look East into Pisces
What can we see on Jupiter?
October 3rd, first quarter Moon & Lunar Straight Wall visible
October 5th – Saturn 4 degrees North of the Moon … further for us
October 7th Neptune is 4 degrees North of Moon
October 8th – Morning Sky – Mercury greatest Elongation West 18-degrees from sun. Best morning apparition this year.
October 8th Jupiter NW of the Moon by ~ 4 degrees
October 9th – full Moon in Pisces
October 11th/12th Uranus Occultation by Moon
12th Double Shadow Transit on Jupiter…but you need to be West of us…maybe Bill would see it…Hawaii etc.
October 14th/15th Moon and Mars in same binocular field.
October 16 – Io Shadow Transit on Jupiter
October 17th – Last quarter Moon
October 18th – 230 Athamanthis Opposition & mag. 9.9
Athamantis (minor planet designation: 230 Athamantis) is a large main-belt asteroid that was discovered by K. de Ball on September 3, 1882, in Bothkamp. It was his only asteroid discovery….named after Athamantis, daughter of Athamas the mythical Greek king of Orchomenus.
October 19th – Double Shadow Transit but I think the UK this time is favoured
October 20/21 – Orionid Meteor Shower Peak – Comet Halley
October 23rd -Zodiacal Light Visible in East for next 2 weeks
October 25th new Moon & Partial Solar Eclipse -Scandinavia, Eastern EU.
Thanks Shane and to everyone for listening, be sure to subscribe in your podcatching software. You can reach us at actualastronomy@gmail.com.
End of podcast:
365 Days of Astronomy
=====================
The 365 Days of Astronomy Podcast is produced by Planetary Science Institute. Audio post-production by Richard Drumm. Bandwidth donated by libsyn.com and wizzard media. You may reproduce and distribute this audio for non-commercial purposes.
This show is made possible thanks to the generous donations of people like you! Please consider supporting to our show on Patreon.com/365DaysofAstronomy and get access to bonus content.
After 10 years, the 365 Days of Astronomy podcast is poised to enter its second decade of sharing important milestone in space