Podcaster: Dr Jacinta Delhaize and Dr Daniel Cunnama ; Guest: Dr Moses Mogotsi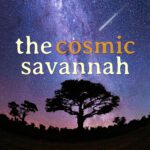 Title: Cosmic Savannah – Ep. 036: Another Year in Review
Link : www.thecosmicsavannah.com
@cosmicsavannah (twitter, facebook & instagram)
Description:
Jacinta and Dan talk through some of their favourite moments, from our Special Solar Eclipse Episode to our wonderful series of Mini-Episodes created by The Cosmic Savannah Podcasting Bootcamp trainees!
The Cosmic Savannah had the opportunity to explore the rich diversity of African Astronomy including The Travelling Telescope, a Bamboo Planetarium, indigenous /Xam Starlore and to meet the exciting young astronomers coming out of the continent!
Of course, there was no shortage of exciting science, MeerKAT producing some more excellent results with Jacinta at the forefront!
We hope you've enjoyed listening to this past year and we look forward to joining you again for more awesome African Astronomy!
Bio: Dr Jacinta Delhaize and Dr Daniel Cunnama are astronomers based in Cape Town, South Africa. Jacinta is a Research Fellow at the University of Cape Town. She spends her time using huge radio telescopes to study gas and black holes in distant galaxies. Daniel is the Science Engagement Astronomer at the South African Astronomical Observatory. He likes to use large supercomputers to create simulations of galaxies. Both Jacinta and Daniel love to promote the incredible astronomy happening across the African continent.
Indiphile Madletyana, a high school student from Hermanus, South Africa. Indiphile, inspired by the AstroQuiz competition, has taken his love of astronomy to the public by creating his own videos explaining astronomy concepts. His channel is called AstroLearnTV.
Thabo Maliea who excelled in the Eskom Expo for Young Scientists and recently won an award at the 2021 Taiwan International Science Fair (TISF). Thabo talks about his experience, and his plans to study astronomy at the University of Cape Town.
Reikantseone Diretse from the University of Cape Town and Sumari Hattingh from North-West University.
Today's sponsor: Big thanks to our Patreon supporters this month: Rob Leeson, David Bowes, Brett Duane, Benett Bolek, Mary Ann, Frank Frankovic, Michael Freedman, Kim Hay, Steven Emert, Frank Tippin, Rani Bush, Jako Danar, Joseph J. Biernat, Nik Whitehead, Michael W, Cherry Wood, Steve Nerlich, Steven Kluth, James K Wood, Katrina Ince, Phyllis Foster, Don Swartwout, Barbara Geier, Steven Jansen, Donald Immerwahr
Please consider sponsoring a day or two. Just click on the "Donate" button on the lower left side of this webpage, or contact us at signup@365daysofastronomy.org.
Please visit our Patreon page: https://www.patreon.com/365DaysOfAstronomy
or you can consider to sponsor a day of our podcast : https://cosmoquest.org/x/365daysofastronomy/product/sponsor-an-episode-of-365-days-of-astronomy/
End of podcast:
365 Days of Astronomy
=====================
The 365 Days of Astronomy Podcast is produced by Planetary Science Institute. Audio post-production by Richard Drumm. Bandwidth donated by libsyn.com and wizzard media. You may reproduce and distribute this audio for non-commercial purposes.
This show is made possible thanks to the generous donations of people like you! Please consider supporting to our show on Patreon.com/365DaysofAstronomy and get access to bonus content.