Podcaster: Host : Fraser Cain; Guest: Dr. Moiya McTier, Dr. Morgan Rehnberg, Dave Dickinson, Dakota Tyler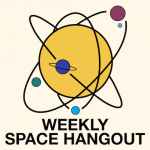 Title:Weekly Space Hangout – Season Premiere! How to Teach Grown-Ups About Pluto with Dean Regas
Link: Cosmoquest: http://cosmoquest.org
Description:
Today's story:
DART impacting next week!
Insight sensed some meteorites.
Gravity has remained constant.
Vespera review?
Korea Pathfinder lunar orbiter.
JWST problem…
Host: Fraser Cain ( @fcain )
This week we are super excited to welcome Dr. Moiya McTier ( https://www.moiyamctier.com/ & @GoAstroMo ) to the Weekly Space Hangout – this time as our special guest! In 2019, Moiya joined the Weekly Space Hangout as one of our first Early Career Journalists, and in April, 2021, she extended our WSH tradition of producing PhDs. On August 16th, Moiya's "autobiographical" book, The Milky Way was published, and this week she is here to tell us all about it.
Moiya grew up in the middle of the woods of rural Pennsylvania without running water. From there, she went to Harvard University where she became the first person in the school's long history to study both astrophysics and folklore & mythology.
On April 7, 2021, Moiya earned her PhD in astronomy at Columbia University in New York City, after her successful thesis defense. Moiya researched how the Milky Way's structure influences exoplanet populations.
Outside of research, Moiya has written a science fiction novel, designed an exhibit for the New York Hall of Science, and given more than 100 talks and performances about science.
You can learn more about Moiya on her website https://www.moiyamctier.com/. Be sure to follow her on Twitter (https://twitter.com/GoAstroMo), Instagram (https://www.instagram.com/goastromo/), and Facebook (https://www.facebook.com/moiya.mctier).
Regular Guests:
Today's sponsor: Big thanks to our Patreon supporters this month: Rob Leeson, David Bowes, Brett Duane, Benett Bolek, Mary Ann, Frank Frankovic, Michael Freedman, Kim Hay, Steven Emert, Frank Tippin, Rani Bush, Jako Danar, Joseph J. Biernat, Nik Whitehead, Michael W, Cherry Wood, Steve Nerlich, Steven Kluth, James K Wood, Katrina Ince, Phyllis Foster, Don Swartwout, Barbara Geier, Steven Jansen, Donald Immerwahr
Please consider sponsoring a day or two. Just click on the "Donate" button on the lower left side of this webpage, or contact us at signup@365daysofastronomy.org.
Or please visit our Patreon page: https://www.patreon.com/365DaysOfAstronomy
End of podcast:
365 Days of Astronomy
=====================
The 365 Days of Astronomy Podcast is produced by Planetary Science Institute. Audio post-production by Richard Drumm. Bandwidth donated by libsyn.com and wizzard media. You may reproduce and distribute this audio for non-commercial purposes.
This show is made possible thanks to the generous donations of people like you! Please consider supporting to our show on Patreon.com/365DaysofAstronomy and get access to bonus content.
After 10 years, the 365 Days of Astronomy podcast is poised to enter its second decade of sharing important milestone in space exploration and astronomy discoveries. Join us and share your story. Until tomorrow! Goodbye!