Podcaster: Host : Fraser Cain; Guest: Dean Regas, Dr. Morgan Rehnberg, Dr. Nick Castle, C.C. Petersen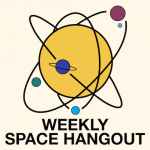 Title:Weekly Space Hangout – Season Premiere! How to Teach Grown-Ups About Pluto with Dean Regas
Link: Cosmoquest: http://cosmoquest.org
Description:
Today's story:
Has SLS launched? No.
Perseverance producing oxygen on Mars.
How science fiction inspired astronomers.
Host: Fraser Cain ( @fcain )
Special Guest: Welcome back to another season of the Weekly Space Hangout! In our season's premiere, we are excited to welcome back to the show our good friend Dean Regas from the Cincinnati Observatory! Dean has just released his new book "How to Teach Grown-Ups about Pluto" which is a light-hearted guide to Pluto's discovery and demotion that puts KIDS in charge! You can view the trailer for the book on YouTube ( https://youtu.be/p3_l5ZWjpwg ) and learn more about it — including how to get your own copy — here https://books.britannica.com/bookshop/how-to-teach-grown-ups-about-pluto/.
Dean is a renowned educator, author, national popularizer of astronomy and an expert in observational astronomy. He has been the Astronomer for the Cincinnati Observatory since 2000.
From 2010-2019 Dean was the co-host of the PBS program Star Gazers. He is the author of five books including "Facts From Space!" and "100 Things to See in the Night Sky". Dean is a Contributing Editor to Sky and Telescope Magazine and a contributor to Astronomy Magazine, where he won 2008 "Out-of-this-World" Award for astronomy education. Dean has written over 160 astronomy articles for the Cincinnati Enquirer, blogged for the Huffington Post and is regularly featured on television and radio. Dean is a frequent guest on National Public Radio's Science Friday with Ira Flatow and NPR's Here & Now. He also hosts an astronomy podcast called "Looking Up!"
Dean has developed his skills as a dynamic writer and public speaker who brings the complicated field of astronomy down to Earth for students of all ages.
Regular Guests:
Today's sponsor: Big thanks to our Patreon supporters this month: Rob Leeson, David Bowes, Brett Duane, Benett Bolek, Mary Ann, Frank Frankovic, Michael Freedman, Kim Hay, Steven Emert, Frank Tippin, Rani Bush, Jako Danar, Joseph J. Biernat, Nik Whitehead, Michael W, Cherry Wood, Steve Nerlich, Steven Kluth, James K Wood, Katrina Ince, Phyllis Foster, Don Swartwout, Barbara Geier, Steven Jansen, Donald Immerwahr
Please consider sponsoring a day or two. Just click on the "Donate" button on the lower left side of this webpage, or contact us at signup@365daysofastronomy.org.
Or please visit our Patreon page: https://www.patreon.com/365DaysOfAstronomy
End of podcast:
365 Days of Astronomy
=====================
The 365 Days of Astronomy Podcast is produced by Planetary Science Institute. Audio post-production by Richard Drumm. Bandwidth donated by libsyn.com and wizzard media. You may reproduce and distribute this audio for non-commercial purposes.
This show is made possible thanks to the generous donations of people like you! Please consider supporting to our show on Patreon.com/365DaysofAstronomy and get access to bonus content.
After 10 years, the 365 Days of Astronomy podcast is poised to enter its second decade of sharing important milestone in space exploration and astronomy discoveries. Join us and share your story. Until tomorrow! Goodbye!