Podcaster: Host : Fraser Cain; Guest: Lori Garver , Dr. Alex Teachey, Marie-Liis Aru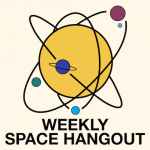 Title: Weekly Space Hangout: Former NASA Deputy Administrator Lori Garver and Her New Memoir "Escaping Gravity"
Link: Cosmoquest: http://cosmoquest.org
Description:
Today's story:
ESA's comet interceptor mission approval.
The Gaia data release redux!
Host: Fraser Cain ( @fcain )
Special Guest: This week we are honored to welcome former NASA Deputy Administrator Lori Garver to the Weekly Space Hangout. Her new memoir, Escaping Gravity (Diversion Books, June 21, 2022), offers a "first-hand account of how a handful of revolutionaries managed to outmaneuver the system of political patronage and bureaucracy that threatened the space agency and the future of human spaceflight. From inside NASA, Garver drove changes to policies and programs that enabled competition that challenged the expensive and ineffective traditional systems at the exact time the capabilities and resources of the private sector began to mature."
Lori Garver led the NASA transition team for President-elect Obama and served as Deputy Administrator of NASA from 2009 – 2013. Lori is a Senior Fellow at Harvard Kennedy School's Belfer Center for Science and International Affairs, an Executive in Residence at Bessemer Venture Partners, and a member of the Board of Directors for Hydrosat.
Garver founded Earthrise Alliance, a philanthropic organization utilizing satellite data to address climate change, and co-founded the Brooke Owens Fellowship, an internship and mentorship program for collegiate women. Previous senior executive positions include former General Manager of the Air Line Pilots Association, Vice President of the Avascent Group, Associate Administrator for Policy at NASA, and Executive Director of the National Space Society. Garver is the recipient of the 2021 Public Service Award for AIAA, the 2021 Heinlein Award for the National Space Society, the 2020 Lifetime Achievement Award for Women in Aerospace, and has been awarded three NASA Distinguished Service Medals.
Lori holds a B.A. in Political Economy from Colorado College and an M.A. in Science, Technology, and Public Policy from George Washington University.
Be sure to visit the Escaping Gravity website (https://diversionbooks.com/books/escaping-gravity/) to learn more about the book, including how to order your own copy.
You can also learn more about Lori by visiting her website (https://www.lorigarver.com/) as well as her NASA webpage (https://www.nasa.gov/about/highlights/garver_bio.html)
Follow Lori on Twitter (https://twitter.com/Lori_Garver), Facebook (https://www.facebook.com/lori.b.garver), and LinkedIn (https://www.linkedin.com/in/lori-garver-64695362/%29.
Regular Guests:
Today's sponsor: Big thanks to our Patreon supporters this month: Rob Leeson, David Bowes, Brett Duane, Benett Bolek, Mary Ann, Frank Frankovic, Michael Freedman, Kim Hay, Steven Emert, Frank Tippin, Rani Bush, Jako Danar, Joseph J. Biernat, Nik Whitehead, Michael W, Cherry Wood, Steve Nerlich, Steven Kluth, James K Wood, Katrina Ince, Phyllis Foster, Don Swartwout, Barbara Geier, Steven Jansen, Donald Immerwahr
Please consider sponsoring a day or two. Just click on the "Donate" button on the lower left side of this webpage, or contact us at signup@365daysofastronomy.org.
Or please visit our Patreon page: https://www.patreon.com/365DaysOfAstronomy
End of podcast:
365 Days of Astronomy
=====================
The 365 Days of Astronomy Podcast is produced by Planetary Science Institute. Audio post-production by Richard Drumm. Bandwidth donated by libsyn.com and wizzard media. You may reproduce and distribute this audio for non-commercial purposes.
This show is made possible thanks to the generous donations of people like you! Please consider supporting to our show on Patreon.com/365DaysofAstronomy and get access to bonus content.
After 10 years, the 365 Days of Astronomy podcast is poised to enter its second decade of sharing important milestone in space exploration and astronomy discoveries. Join us and share your story. Until tomorrow! Goodbye!