Podcaster: Shane and Chris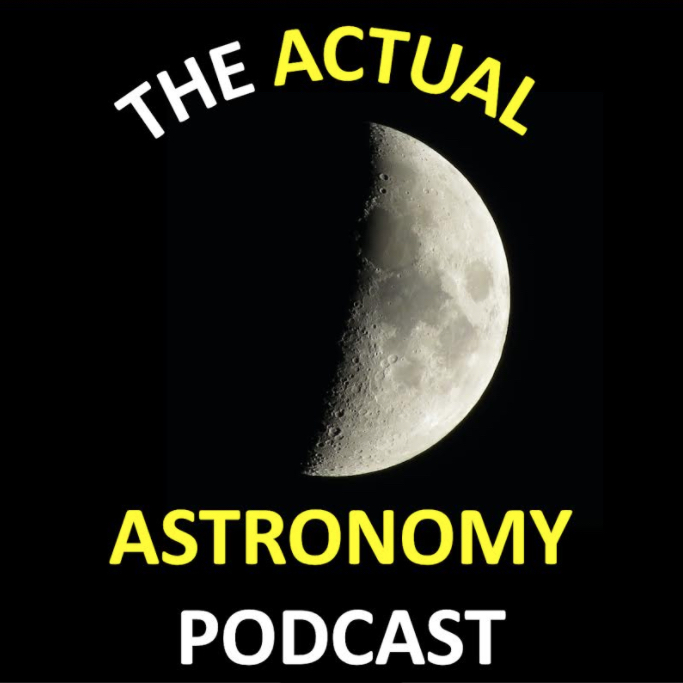 Title: Episode 230 Observing Double Stars
Organization: Actual Astronomy
Link : https://actualastronomy.podbean.com/
Description: The Actual Astronomy Podcast presents Episode 230 Observing Double Stars. In this episode we talk double stars with special guest observer Blake Nancarrow who is the National Observing Chair for the RASC. From easy splits to tough cuts we review some of Blake's favourites and talk about the list he has authored for observers of all levels. But we begin with his recent adventures as an astronomer in residence at Killarney Provincial Park.
Bio: Shane and Chris are amateur astronomers who enjoy teaching astronomy classes and performing outreach where they help the eyes of the public to telescope eyepieces.
Today's sponsor: Big thanks to our Patreon supporters this month: Rob Leeson, David Bowes, Brett Duane, Benett Bolek, Mary Ann, Frank Frankovic, Michael Freedman, Kim Hay, Steven Emert, Frank Tippin, Rani Bush, Jako Danar, Joseph J. Biernat, Nik Whitehead, Michael W, Cherry Wood, Steve Nerlich, Steven Kluth, James K Wood, Katrina Ince, Phyllis Foster, Don Swartwout, Barbara Geier, Steven Jansen, Donald Immerwahr
Please consider sponsoring a day or two. Just click on the "Donate" button on the lower left side of this webpage, or contact us at signup@365daysofastronomy.org.
Please visit our Patreon page: https://www.patreon.com/365DaysOfAstronomy
or you can consider to sponsor a day of our podcast : https://cosmoquest.org/x/365daysofastronomy/product/sponsor-an-episode-of-365-days-of-astronomy/
Transcript:
Welcome to Episode 230 of the Actual Astronomy Podcast. I'm Chris and joining me is Shane. We are amateur astronomers who love looking up at the night sky and this podcast is for anyone who likes going out under the stars.
First we have a big thank you to a recent patreon supporter Chris. We do have some ongoing costs to create the show and appreciate any support people make to help cover these expenses.
Now onto the show!
Today we have a special guest today the Royal Astronomical Society of Canada's Observing Chair Blake Nancarrow who is going to talk with us about double star observing. He's the author of the Binary Universe as well in the Journal & blog.lumpy darkness.com. Blake Nancarrow is a life-long science, astronomy, & space-flight enthusiast. He bought his first telescope in 1990 and immediately took it on camping trips. Blake is just back from a stint as the Astronomer in Residence at Killarney Park.
Thanks for coming on the Show Blake!
Blake and I worked on several projects over the years so it's great to finally have you on the show. I am a past Nat Obs. Chair and Blake sat on the Comm. when I had the helm and I've been much happier as a regular comm. Member with Blake running the show, he's far more organised than I am and has a wonderful way of engaging fellow observers and comm. members. I was following your recent adventures as the AIR at Killarney Park can you tell us a little about your experience there?
The Double-Star Observing List with Blake Nancarrow what motivated you to make the list?
It's been very successful! many observers are into double stars.
Let's talk about double star basics like – what are they? different kinds or doubles? your favourites? tips and tricks for observing them?
Perhaps we can touch on gear people might wish to use, naked and and binocular doubles etc.
Have you ever used an astrometric eyepiece to measure doubles? If no, we won't ask. If yes, any tips?
What else do you like to observe?
Thanks Shane and to everyone for listening, we're always excited to get observing emails to actualastronomy@gmail.com and we're on patreon and appreciate any support people may be willing to provide us through there.
End of podcast:
365 Days of Astronomy
=====================
The 365 Days of Astronomy Podcast is produced by Planetary Science Institute. Audio post-production by Richard Drumm. Bandwidth donated by libsyn.com and wizzard media. You may reproduce and distribute this audio for non-commercial purposes.
This show is made possible thanks to the generous donations of people like you! Please consider supporting to our show on Patreon.com/365DaysofAstronomy and get access to bonus content.