Podcaster: Host : Fraser Cain ; Guest: Dr. Simone Scaringi, Dr. Morgan Rehnberg, Dr. Leah Jenks, C.C. Petersen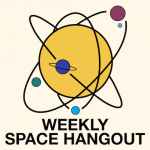 Title: Weekly Space Hangout – Small — But Powerful — Micronovae with Dr. Simone Scaringi
Link: Cosmoquest: http://cosmoquest.org
Description:
Today's story:
A new Hubble competitor from China.
Perseverance lost contact with Ingenuity!
What will the EHT be announcing?
What you can do with lunar soil.
CO2 frost avalanches on Mars.
Host: Fraser Cain ( @fcain )
Special Guest: Astronomers recently announced that, with the help of the ESO VLT, they had observed a new type of small — yet powerful — stellar explosion: a Micronova. The study, which was published in "Nature" on April 20 [https://www.eso.org/public/news/eso2207/?lang], was led by Dr. Simone Scaringi, astronomer at Durham University in the UK. We are pleased to welcome Simone to tonight's WSH to tell us more about this exciting discovery.
Simone earned his undergraduate BSc in Mathematics with Astronomy at the University of Southampton, after which he obtained both a M.Phil and PhD also from Southampton in the Astronomy group (2010). He spent the next two years at Radboud University Nijmegen, Netherlands, as a postdoctoral fellow before moving to KU Leuven, Belgium, in 2012 with a FWO Pegasus Marie Curie fellowship. In 2015 Simone joined the Max-Planck-Institute for Extraterrestrial Physics in Garching, Germany where he held a Humboldt fellowship.
In 2017 Simone was appointed lecturer at the University of Canterbury in New Zealand, and in 2018 he moved to the United States as an Assistant Professor at Texas Tech University in Lubbock, USA. Since 2020 he has been an Assistant Professor in the Centre for Extragalactic Astronomy at Durham University.
Simone's primary research interests are accretion physics across the scales, compact objects, time-series analysis, machine learning, and Galactic photometric surveys.
You can learn more about Simone and his research by visiting his faculty website at Durham University [https://www.durham.ac.uk/staff/simone-scaringi/] as well as his personal website [http://www.astro.dur.ac.uk/~simo/].
You can also follow him on Facebook [https://www.facebook.com/frozensimo] as well as Twitter [https://twitter.com/AstroSimo], although he admits to rarely using Twitter!
Regular Guests:
Today's sponsor: Big thanks to our Patreon supporters this month: Rob Leeson, David Bowes, Brett Duane, Benett Bolek, Mary Ann, Frank Frankovic, Michael Freedman, Kim Hay, Steven Emert, Frank Tippin, Rani Bush, Jako Danar, Joseph J. Biernat, Nik Whitehead, Michael W, Cherry Wood, Steve Nerlich, Steven Kluth, James K Wood, Katrina Ince, Phyllis Foster, Don Swartwout, Barbara Geier, Steven Jansen, Donald Immerwahr
Please consider sponsoring a day or two. Just click on the "Donate" button on the lower left side of this webpage, or contact us at signup@365daysofastronomy.org.
Or please visit our Patreon page: https://www.patreon.com/365DaysOfAstronomy
End of podcast:
365 Days of Astronomy
=====================
The 365 Days of Astronomy Podcast is produced by Planetary Science Institute. Audio post-production by Richard Drumm. Bandwidth donated by libsyn.com and wizzard media. You may reproduce and distribute this audio for non-commercial purposes.
This show is made possible thanks to the generous donations of people like you! Please consider supporting to our show on Patreon.com/365DaysofAstronomy and get access to bonus content.
After 10 years, the 365 Days of Astronomy podcast is poised to enter its second decade of sharing important milestone in space exploration and astronomy discoveries. Join us and share your story. Until tomorrow! Goodbye!