Podcaster: Dr. Al Grauer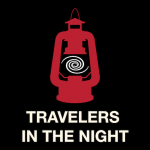 Title: Travelers in the Night 165E & 166E: Flying Peanut & Monster Telescope
Organization: Travelers in The Night
Link : Travelers in the Night ; @Nmcanopus
Description: Today's 2 topics:
For 16 years, since its discovery at Lowell Observatory, humans knew 1999 JD6 only as a strange, spinning, moving point of light in the night sky.
The design of this new telescope (ELT) promises to deliver objects 15 times fainter than currently operating very large telescopes.
Bio: Dr. Al Grauer is currently an observing member of the Catalina Sky Survey Team at the University of Arizona. This group has discovered nearly half of the Earth approaching objects known to exist. He received a PhD in Physics in 1971 and has been an observational Astronomer for 43 years. He retired as a University Professor after 39 years of interacting with students. He has conducted research projects using telescopes in Arizona, Chile, Australia, Hawaii, Louisiana, and Georgia with funding from NSF and NASA.
He is noted as Co-discoverer of comet P/2010 TO20 Linear-Grauer, Discoverer of comet C/2009 U5 Grauer and has asteroid 18871 Grauer named for him.
Today's sponsor: Big thanks to our Patreon supporters this month: Rob Leeson, David Bowes, Ron Diehl, Brett Duane, Benett Bolek, Mary Ann, Frank Frankovic, Michael Freedman, Kim Hay, Steven Emert, Frank Tippin, Rani Bush, Jako Danar, Joseph J. Biernat, Nik Whitehead, Semyon Torfason, Michael W, Cherry Wood, Steve Nerlich, Steven Kluth, James K Wood, Katrina Ince, Phyllis Foster, Don Swartwout, Barbara Geier, Steven Jansen
Please consider sponsoring a day or two. Just click on the "Donate" button on the lower left side of this webpage, or contact us at signup@365daysofastronomy.org.
Or please visit our Patreon page: https://www.patreon.com/365DaysOfAstronomy
Transcript:
165E: Flying Peanut
For 16 years, since its discovery at Lowell Observatory, humans knew 1999 JD6 only as a strange, spinning, moving point of light in the night sky. It orbits the Sun once every 303 days on a path that brings it relatively close to Mercury, Venus, and Earth.  In the far distant future this small world is likely to collide with one of these planets, or the Sun, or be ejected completely from the solar system.
This mile in diameter asteroid came close to Mercury in 1990 and the Earth and Venus in 2015.  1999 JD6 actually comes much closer to Venus than it does to Earth.   We will need to keep track of this one to make sure that its orbit is not changed by one of these encounters to make it come closer to our home planet.
Recently NASA researchers projected a RADAR beam from Goldstone, California, bounced this signal off of asteroid 1999 JD6 as it zipped past the Earth, and collected the radio waves it reflected with a large radio dish near Greenback, West Virginia. 
The reflected radio waves were used to create a movie of 1999 JD6 as it spins on its axis of rotation every seven and a half hours.  This RADAR movie reveals 1999 JD6 to be two asteroids in contact with each other giving the object a peanut shape.
Strangely enough 1 in 6 Earth approaching objects are like 1999 JD6 in that they are really two separate objects whose tiny forces of gravity keep them in contact as they orbit the Sun. 
166E: Monster Telescope
Imagine a monster telescope that can collect 37 million times more light than can enter your eye.  A huge telescope with this capability, planned by the European scientific community, will sit atop a 10,000 foot high mountain in the high dry desert of northern Chile.
The construction of this new facility started in 2014 and is scheduled to be completed in 2024. 
The design of this new telescope promises to deliver objects 15 times fainter than currently operating very large telescopes. The images will be much sharper than are currently being obtained with the Hubble Space Telescope.  The data obtained by the planned extremely large telescope are likely to reveal interesting details of how the Universe began and how it might end. 
The largest telescopes currently on Earth have imaged planets circling other stars but are unable to tell us much about the small rocky exoplanets.  The new European monster telescope will allow scientists to discover water and organic molecules in the atmospheres of the Earth sized planets orbiting other stars.  This new telescope will also probe solar systems in formation to discover how the building blocks of our world came together.
Closer to home a telescope with these capabilities will allow researchers to measure the size and composition of objects which come near to planet Earth.
When humans come up with a new capability to view the Universe exciting discoveries are a result.  Stay tuned.
For Travelers in the Night this is Dr. Al Grauer.
End of podcast:
365 Days of Astronomy
=====================
The 365 Days of Astronomy Podcast is produced by Planetary Science Institute. Audio post-production by Richard Drumm. Bandwidth donated by libsyn.com and wizzard media. You may reproduce and distribute this audio for non-commercial purposes.
This show is made possible thanks to the generous donations of people like you! Please consider supporting to our show on Patreon.com/365DaysofAstronomy and get access to bonus content.
After 10 years, the 365 Days of Astronomy podcast is entering its second decade of sharing important milestone in space exploration and astronomy discoveries. Join us and share your story. Until tomorrow! Goodbye!