Podcaster: Shane and Chris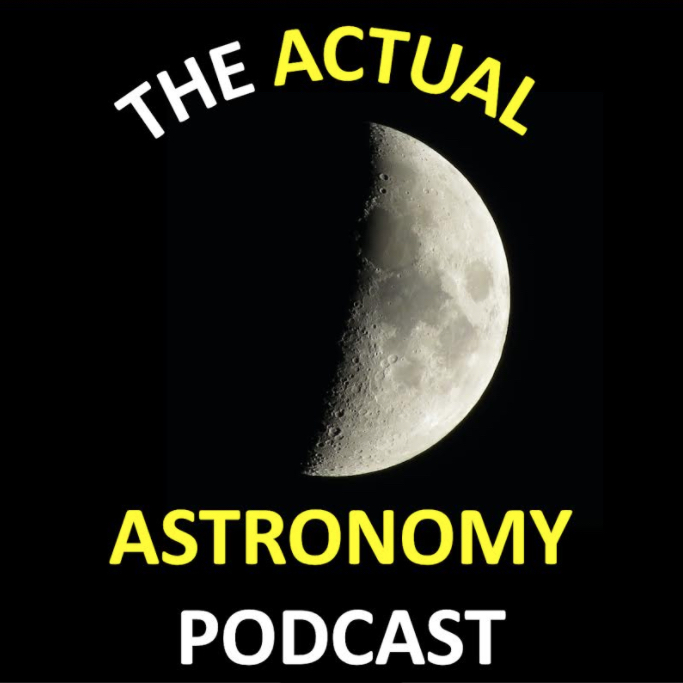 Title: Looking Up With Don
Organization: Actual Astronomy
Link : https://actualastronomy.podbean.com/
Description: The Actual Astronomy Podcast presents Looking Up With Don. In this episode we are joined by guest podcast Don Machholz from the Looking Up With Don Podcast. Don Machholz has been interested in astronomy since he was a boy. As a teen he hunted down all the Messier Objects using a 6-inch reflector and soon after began searching for comets and is now the most successful living visual discoverer of comets. Join Chris and Shane as they discuss everything with Don from his self-built 6-inch binoculars to the Messier Marathon which he helped found and popularize.
Bio: Shane and Chris are amateur astronomers who enjoy teaching astronomy classes and performing outreach where they help the eyes of the public to telescope eyepieces.
Today's sponsor: Big thanks to our Patreon supporters this month: Rob Leeson, David Bowes, Ron Diehl, Brett Duane, Benett Bolek, Mary Ann, Frank Frankovic, Michael Freedman, Kim Hay, Steven Emert, Frank Tippin, Rani Bush, Jako Danar, Joseph J. Biernat, Nik Whitehead, Semyon Torfason, Michael W, Cherry Wood, Steve Nerlich, Steven Kluth, James K Wood, Katrina Ince, Phyllis Foster, Don Swartwout, Barbara Geier, Steven Jansen
Please consider sponsoring a day or two. Just click on the "Donate" button on the lower left side of this webpage, or contact us at signup@365daysofastronomy.org.
Please visit our Patreon page: https://www.patreon.com/365DaysOfAstronomy
or you can consider to sponsor a day of our podcast : https://cosmoquest.org/x/365daysofastronomy/product/sponsor-an-episode-of-365-days-of-astronomy/
Transcript:
Welcome to Episode 204 of the Actual Astronomy Podcast, today we are "Looking Up" with Don Machholz (Ma coles). I'm Chris and joining me is Shane. We are amateur astronomers who love looking up at the night sky and this podcast is for anyone who likes going out under the stars.
This episode is brought to you by our Patreon Supporter Henry! Thanks Henry!
Brief introduction:
Don Machholz has been interested in astronomy since he was a small boy growing up in Virginia. As a teen he hunted down all the Messier Objects using a 6-inch reflector and soon after began searching for comets.
Don has become widely known as the most successful living visual discoverer of 12 comets including 96P/Machholz, 141/PMachholz, C/2004 Q2 and Comet C/2018 V1 (Machholz-Fujikawa-Iwamoto). He has received many awards and last year 2021 he received the Leslie C. Peltier Award from the Astronomical league for these discoveries.
He has authored many books and articles including "The Observing Guide to the Messier Marathon" but the first dedicated observing book I bought was his "Messier Marathon Observer's Guide Handbook and Atlas" 🙂
He is also a podcaster, you can find him by looking up "Looking Up with Don" and he has a great website. https://donmachholz.com/
Welcome to the Actual Astronomy Podcast Don!
Brief Banter:
How is your weather?
We have a lot of the same listeners and many people suggested we have you on the show.
But this isn't the first time we've spoken. You kindly joined us over the phone as our first virtual guest speaker at a club meeting about a dozen years ago.
At the time Shane had just become president and I offered to help arrange speakers and as a result we ended up going for the odd pint of beer and having chats that eventually turned into this podcast!
First set of questions:
Your podcast "Looking Up with Don" is one of the few other visual observing podcasts, can you tell us how you got started podcasting and anything else about the podcast you wish to share?
Let's talk briefly about equipment:
I see a beautiful 18-inch scope in your photos on your website donmachholz.com. Can you tell us about this telescope?
You have had a wide assortment of instruments, can you tell us about some of your favourites?
Let's talk Messier Marathon:
What are the Messier Objects and why should someone observe them?
What is the Messier Marathon?
What are the ideal dates for doing the Marathon?
Are some latitudes better suited than others?
Are there other times of year that can work?
Do you still Marathon? Have you completed it with the 18-inch?
If we have time
Comet Hunting:
You are known as The Comet Hunter, how did you get started?
Why do you search?
How do you search?
I've been to the PanStarrs telescope, do automated surveys make for steep competition?
End of podcast:
365 Days of Astronomy
=====================
The 365 Days of Astronomy Podcast is produced by Planetary Science Institute. Audio post-production by Richard Drumm. Bandwidth donated by libsyn.com and wizzard media. You may reproduce and distribute this audio for non-commercial purposes.
This show is made possible thanks to the generous donations of people like you! Please consider supporting to our show on Patreon.com/365DaysofAstronomy and get access to bonus content.
After 10 years, the 365 Days of Astronomy podcast is poised to enter its second decade of sharing important milestone in space exploration and astronomy discoveries. Join us and share your story. Until tomorrow! Goodbye!