Podcaster: Host : Fraser Cain ; Guest: Michael Foley, Dr. Nick Castle, Beth Johnson, Dave Dickinson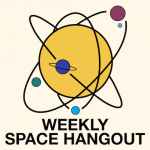 Title: Weekly Space Hangout – How the Sun's Local Bubble Drives Nearby Star Formation with Michael Foley
Link: Cosmoquest: http://cosmoquest.org
Description:
Today's story:
Parker Solar Probe's photo of Venus.
The ATLAS asteroid telescope is operational!
Dead planets crashing into dead stars.
The youngest pair of asteroids.
SpaceX lost 40 StarLinks.
Where do Jupiter's aurorae come from?
Host: Fraser Cain ( @fcain )
Special Guest: This week we are airing Fraser's prerecorded interview with Michael Foley, co-author of a recently published paper that talks about how the local bubble around the Sun drives nearby star formation. You can watch Carolyn Collins Petersen talk about this research during the January 19, 2022, WSH News Roundup (https://youtu.be/A_QcGmGBYDk?t=1737)
Michael Foley is a fourth-year NSF Graduate Research Fellow at the Harvard-Smithsonian Center for Astrophysics where he works with magnetohydrodynamics simulations of stellar feedback and turbulence.
Mike earned his undergraduate degree in Physics and Mathematics at the University of Notre Dame where he conducted research on supernovae, exoplanets, and primordial nucleosynthesis.
In addition to his research, Mike is very passionate about science education and equity/inclusion initiatives. In his free time, enjoys enjoy literature, soccer, volleyball, chess, and traveling.
Be sure to visit Mike's Harvard webpage (https://scholar.harvard.edu/michaelfoley/home) and you can read the research paper about the Local Bubble on arXiv here: https://arxiv.org/ftp/arxiv/papers/2201/2201.05124.pdf
Regular Guests:
Today's sponsor: Big thanks to our Patreon supporters this month: Rob Leeson, David Bowes, Ron Diehl, Brett Duane, Benett Bolek, Mary Ann, Frank Frankovic, Michael Freedman, Kim Hay, Steven Emert, Frank Tippin, Rani Bush, Jako Danar, Joseph J. Biernat, Nik Whitehead, Semyon Torfason, Michael W, Cherry Wood, Steve Nerlich, Steven Kluth, James K Wood, Katrina Ince, Phyllis Foster, Don Swartwout, Barbara Geier, Steven Jansen
Please consider sponsoring a day or two. Just click on the "Donate" button on the lower left side of this webpage, or contact us at signup@365daysofastronomy.org.
Or please visit our Patreon page: https://www.patreon.com/365DaysOfAstronomy
End of podcast:
365 Days of Astronomy
=====================
The 365 Days of Astronomy Podcast is produced by Planetary Science Institute. Audio post-production by Richard Drumm. Bandwidth donated by libsyn.com and wizzard media. You may reproduce and distribute this audio for non-commercial purposes.
This show is made possible thanks to the generous donations of people like you! Please consider supporting to our show on Patreon.com/365DaysofAstronomy and get access to bonus content.
After 10 years, the 365 Days of Astronomy podcast is poised to enter its second decade of sharing important milestone in space exploration and astronomy discoveries. Join us and share your story. Until tomorrow! Goodbye!