Podcaster: Host : Fraser Cain ; Guest: Nicole Stott, Dr. Morgan Rehnberg, Dave Dickinson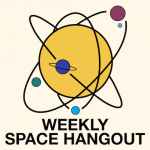 Title: Weekly Space Hangout – Astronaut & Artist Nicole Stott & Her First Book "Back to Earth"
Link: Cosmoquest: http://cosmoquest.org
Description:
Today's story:
James Webb, James Webb & James Webb.
Comet Leonard.
Tianwen-1's space selfie in Mars orbit!
[Editor Rich: I'm not sure that there's anything we can do about the audio dropout problem till Fraser can move into his new house/studio next summer. Please bear with us while we try to be flexible. Thank you!]
Host: Fraser Cain ( @fcain )
Special Guest: To ring in 2022 on Weekly Space Hangout we are pleased and excited to welcome Nicole Stott to the show. Nicole is an astronaut, aquanaut, artist, mom, and now author of her first book Back to Earth: What Life In Space Taught Me About Our Home Planet – And Our Mission To Protect It. She creatively combines the awe and wonder of her spaceflight experience with her artwork to inspire everyone's appreciation of our role as crewmates here on Spaceship Earth.
Nicole is a veteran NASA Astronaut with two spaceflights and 104 days living and working in space as a crewmember on both the International Space Station and the Space Shuttle. Personal highlights of her time in space were performing a spacewalk (10th woman to do so), flying the robotic arm to capture the first HTV, working with her international crew in support of the multi-disciplinary science onboard the orbiting laboratory, painting a watercolor (now on display at the Smithsonian Air and Space Museum), and of course the life-changing view of our home planet out the window.
Nicole is also a NASA Aquanaut. In preparation for spaceflight, she was a crewmember on an 18-day saturation dive mission at the Aquarius undersea laboratory.
Nicole believes that the international model of peaceful and successful cooperation we have experienced in the extreme environments of space and sea holds the key to the same kind of peaceful and successful cooperation for all of humanity here on Earth.
On her post-NASA mission, she is a co-founder of the Space for Art Foundation (https://www.spaceforartfoundation.org/) — uniting a planetary community of children through the awe and wonder of space exploration and the healing power of art.
You can read Nicole's full NASA biography here: https://www.nasa.gov/sites/default/files/atoms/files/stott-np.pdf
Regular Guests:
Today's sponsor: Big thanks to our Patreon supporters this month: Rob Leeson, David Bowes, Ron Diehl, Brett Duane, Benett Bolek, Mary Ann, Frank Frankovic, Michael Freedman, Kim Hay, Steven Emert, Frank Tippin, Rani Bush, Jako Danar, Joseph J. Biernat, Nik Whitehead, Semyon Torfason, Michael W, Cherry Wood, Steve Nerlich, Steven Kluth, James K Wood, Katrina Ince, Phyllis Foster, Don Swartwout, Barbara Geier, Steven Jansen
Please consider sponsoring a day or two. Just click on the "Donate" button on the lower left side of this webpage, or contact us at signup@365daysofastronomy.org.
Or please visit our Patreon page: https://www.patreon.com/365DaysOfAstronomy
End of podcast:
365 Days of Astronomy
=====================
The 365 Days of Astronomy Podcast is produced by Planetary Science Institute. Audio post-production by Richard Drumm. Bandwidth donated by libsyn.com and wizzard media. You may reproduce and distribute this audio for non-commercial purposes.
This show is made possible thanks to the generous donations of people like you! Please consider supporting to our show on Patreon.com/365DaysofAstronomy and get access to bonus content.
After 10 years, the 365 Days of Astronomy podcast is poised to enter its second decade of sharing important milestone in space exploration and astronomy discoveries. Join us and share your story. Until tomorrow! Goodbye!