Podcaster: Rob Webb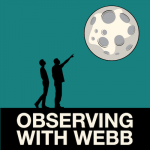 Title: Observing With Webb in January 2022
Organization: Physics teacher at Pequea Valley High School
Link: http://mrwebb.podbean.com ;
https://sites.google.com/site/mrwebbonline/ ;
http://www.youtube.com/user/MrWebbPV
https://sites.google.com/site/pvplanetarium/home
follow me : @MrWebbPV on Twitter and Instagram
This podcast is found on: Podbean page, Stitcher, and iTunes. There's also a video version on YouTube Channel. and I can be found on Twitter and Instagram as @mrwebbpv
The Pequea Valley Planetarium and its events and updates are on Facebook, Twitter, and Instagram as @pvplanetarium.
Description:
Why get out there in the cold of January? It's a time of transitions and wonder. We've got a meteor showers, plenty of lunar encounters, planets changing, and very long nights.
Today's sponsor: Big thanks to our Patreon supporters this month: Rob Leeson, David Bowes, Ron Diehl, Brett Duane, Benett Bolek, Mary Ann, Frank Frankovic, Michael Freedman, Kim Hay, Steven Emert, Frank Tippin, Rani Bush, Jako Danar, Joseph J. Biernat, Nik Whitehead, Semyon Torfason, Michael W, Cherry Wood, Steve Nerlich, Steven Kluth, James K Wood, Katrina Ince, Phyllis Foster, Don Swartwout, Barbara Geier, Steven Jansen
Please consider sponsoring a day or two. Just click on the "Donate" button on the lower left side of this webpage, or contact us at signup@365daysofastronomy.org.
Or please visit our Patreon page: https://www.patreon.com/365DaysOfAstronomy
Transcript:
Why get out there in the cold of January? It's a time of transitions and wonder. We've got a meteor showers, plenty of lunar encounters, planets changing, and very long nights.
Welcome to Observing With Webb, where a high school astronomy teacher tells you what you're looking at, why it's so cool, and what you should check out later this month…at night.
Naked-eye PLANETS…
Sunset – Saturn, Jupiter
Saturn, Jupiter (SW) – Throughout December, Saturn and Jupiter will appear in the Southwest right as it gets dark, but each night they will get lower in the sky and set earlier and earlier. Jupiter will be the bright point of light on the left, with Saturn about 15˚ to the right. You can anticipate Saturn getting lost in dusk by the first week of January, Jupiter by the end.
Throughout the night – None
Morning – Mars?, then Venus
Mars (SE) – Mars starts December VERY low on the morning SE horizon. It'll be interesting to see what day we will finally be able to see it clearly in the dawn twilight. In fact, it doesn't even progress much higher throughout January, staying about 10-15˚ above the horizon. Mars will be a challenge, but should get easier in the new year.
Venus (SE) – Keep an eye out after 6:30am midway through January, looking SE. The super-bright object low on the horizon will be Venus. It will keep getting a little higher and rising earlier each day. This time of Venus being a "morning star" will last until September.
EVENTS…
January
New Moon – 2nd (darkest skies)
Evening Crescents (look West after Sunset)
First Quarter Moon – 9th (Visible until midnight)
Evening Gibbous (Mostly lit, after Sunset)
Full Moon – 17th (Visible all night)
Waning Gibbous (Mostly lit, rises later at night)
Last Quarter Moon – 25th (Visible from midnight into the morning)
Morning Crescents (look East in the AM)
January 1st – Mercury Appears – Mercury doesn't make much of an appearance these two months, however, you might be able to catch it this evening. Watch the sun set, find Venus (super bright in the SW), and just 8˚ to the left and little bit up from Venus will be the winged messenger Mercury. Mercury will still be in that spot for a few days, but it's hard to find once Venus disappears.
January 3rd – 6th – Close Encounter – Moon, Mercury, Saturn, Jupiter – Similar to December, a great string of lunar encounters! The planetary setup has changed a bit, with bright Jupiter easiest to find in the SW. Saturn is 20˚ (two fist-widths) down and to the right, with Mercury (if you can see it) about 7˚ below and to the right of Saturn. Starting on the 3rd, a very thin crescent Moon joins this party. On the 3rd, if you have binoculars, find the Moon just 5˚ below Mercury. Each night the Moon will move to the left 13˚, and get a bit thicker. Hence, on the 4th, it will be 4˚ to the left of Saturn. On the 5th 6˚ below Jupiter. Finally, on the 10th, the Moon starts migrating away from our bright planets, being about 10˚ away from Jupiter, making a nice, but oddly-spaced, line up of celestial objects.
January 3rd & 4th – Quadrantid Meteor Shower – This shower's peak lasts only around 4 hours, but there are still some meteors to be seen on either side of the peak, especially since the Moon is not lit up this time around. Hence, getting out in the early mornings (3am) these two days is likely to modestly pay off. Follow the same advice as the Geminids, except that the radiant is in a space in between the stick figure constellations of Ursa Major, Bootes, and Draco. This space is a former constellation known as Quadrans Muralis.
January 29th – Close Encounter – Moon, Venus, Mars – After 5:30am, but before sunrise, find a great view of the SE horizon, and you'll find a VERY thin crescent Moon, with the very bright Venus just 13˚ to the left. If you're good, you'll be able to spot ruddy red Mars in between the two, but closer to the Moon. Bring binoculars.
CONSTELLATIONS…
Use a sky map from www.skymaps.com to help you out.
After Dinner:
Cassiopeia, Andromeda, & Perseus -Look pretty much straight up you'll be able to see Andromeda curving off of one corner of Pegasus. If your skies are decently dark, you might catch the faint fuzz that is the Andromeda Galaxy. Cassiopeia will be relatively easy to find as the "W" in the sky, whose right angle points right to Andromeda and her galaxy. Perseus is the other cornucopia-shaped constellation, but opposite of Andromeda, with its curves emptying out toward the Pleiades
Before Bed:
Taurus & the Pleiades – Look almost straight up, but down toward the South a little bit and you'll find the lovely cluster of stars known as the Pleiades, the Seven Sisters, Subaru, or the mini-mini-dipper. You can easily see 5 or 6 of them with the unaided eye, and perhaps a 7th, depending on light pollution and your eyes. To the left about 5˚ will be the V constellation of Taurus the bull, with bright red Aldebaran as its brightest, and one eye of the bull. Oh, and if you follow a line connecting these two to the left about 10˚, you'll find Orion.
Before Work:
Leo – Look South, halfway up the sky, to find the backward question mark and right triangle that is Leo the Lion.
Don't forget this podcast is found on my Podbean page, Stitcher, and iTunes. There's also a video version on my YouTube Channel and I can be found on Twitter and Instagram as @mrwebbpv. The Pequea Valley Planetarium and its events and updates are on Facebook, Twitter, and Instagram as @pvplanetarium.
End of podcast:
365 Days of Astronomy
=====================
The 365 Days of Astronomy Podcast is produced by Planetary Science Institute. Audio post-production by Richard Drumm. Bandwidth donated by libsyn.com and wizzard media. You may reproduce and distribute this audio for non-commercial purposes.
This show is made possible thanks to the generous donations of people like you! Please consider supporting to our show on Patreon.com/365DaysofAstronomy and get access to bonus content.
After 10 years, the 365 Days of Astronomy podcast is poised to enter its second decade of sharing important milestone in space exploration and astronomy discoveries. Join us and share your story. Until tomorrow! Goodbye!