Podcaster: Host : Fraser Cain ; Guest: Megan Russell, Dr. Nick Castle, C.C. Petersen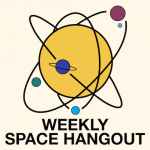 Title: Weekly Space Hangout – Volcanism on Venus & Ice on Mars with PSI's Megan Russell
Link: Cosmoquest: http://cosmoquest.org
Description: This week we are featuring our first News Roundup of the season. We originally had a guest lined up, but he has had to reschedule due to illness, so we get to spend the hour talking news, news, and more news!
Today's story:
Mars is coming out of conjunction.
More information on Perseverance.
Water rules on Europa.
William Shatner flies to space.
LUCY launches!
Exoplanets discovered by their auroras! Yay LOFAR
Host: Fraser Cain ( @fcain )
Special Guest: This week we are very pleased to welcome Megan Russell ( @meguh78 ) from the Planetary Science Institute to the WSH.
Since starting at the Planetary Science Institute in March, Megan has gone from exploring volcanism on Venus to assisting in the search for ice on Mars. She is currently a Science Team Member and on the operations team for the Mars Reconnaissance Orbiter (MRO) Shallow Radar (SHARAD) experiment, and a System Analyst with the Colorado Shallow Radar Processing System (CO-SHARPS) team. Megan is also working on a Mars Subsurface Water Ice Mapping project.
After completing her BSc in Space Science at York University, Megan moved to Vancouver to work at PhotoSat, an Earth remote sensing company, as a Project Manager/Satellite and GIS Data Consultant. She then completed her MSc in Geophysics/Planetary Science at UBC with Dr. Catherine L. Johnson and worked as a teaching assistant and research associate in the department.
Megan's past research experience has involved delving into the world of volcanism on the planet Venus via geophysical investigations. She used observations collected from orbit during the Magellan mission (1990-1994) to help determine characteristics about the surface and subsurface, and tie this into the planet's evolution. To accomplish this, she used radar surface images, radar altimetry and high-resolution elevation maps created from stereo radar photos.
You can learn more about Megan and her research by visiting her PSI website:  https://https://www.psi.edu/about/staffpage/mrussell
Regular Guests:
Today's sponsor: Big thanks to our Patreon supporters this month: Rob Leeson, David Bowes, Brett Duane, Benett Bolek, Mary Ann, Frank Frankovic, Michael Freedman, Kim Hay, Steven Emert, Frank Tippin, Rani Bush, Jako Danar, Joseph J. Biernat, Nik Whitehead, Michael W, Cherry Wood, Steve Nerlich, Steven Kluth, James K Wood, Katrina Ince, Phyllis Foster, Don Swartwout, Barbara Geier, Steven Jansen
Please consider sponsoring a day or two. Just click on the "Donate" button on the lower left side of this webpage, or contact us at signup@365daysofastronomy.org.
Or please visit our Patreon page: https://www.patreon.com/365DaysOfAstronomy
End of podcast:
365 Days of Astronomy
=====================
The 365 Days of Astronomy Podcast is produced by Planetary Science Institute. Audio post-production by Richard Drumm. Bandwidth donated by libsyn.com and wizzard media. You may reproduce and distribute this audio for non-commercial purposes.
This show is made possible thanks to the generous donations of people like you! Please consider supporting to our show on Patreon.com/365DaysofAstronomy and get access to bonus content.
After 10 years, the 365 Days of Astronomy podcast is poised to enter its second decade of sharing important milestone in space exploration and astronomy discoveries. Join us and share your story. Until tomorrow! Goodbye!