Podcaster: Host : Fraser Cain ; Guest: Joshua Stoff, Dr. Kimberly Cartier, Dr. Alex Teachey, Chris Carr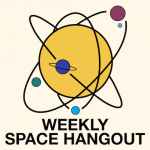 Title: Weekly Space Hangout – Guest: Joshua Stoff, Curator of the Cradle of Aviation Museum
Link: Cosmoquest: http://cosmoquest.org
Description: Today's story:
Evidence for the first circum-trinary exoplanet.
All of the missions that are coming up:
BepiColombo (SP) does a Mercury flyby.
LandSat 9 to study Earth.
Lucy to Jupiter's Trojans.
South Korea will launch the commercial Nuri mission.
NASA's DART mission!
JWST launches Dec 18th. Maybe.
The Milky Way's broken arm.
Host: Fraser Cain ( @fcain )
Special Guest: Joshua Stoff is the longtime Curator of the Cradle of Aviation Museum, a major Air & Space museum on Long Island, in the greater New York area. He has been curator there since 1982 and has entirely developed the collection and the exhibits for them.
The museum focuses on the history of aviation and spaceflight as it relates to Long Island, covering its contributions, manufacturers, events, and personalities. Thus they have assembled a collection of 75 aircraft and spacecraft, most of them locally produced.
Josh is also the author of 20 books on aviation & space history, including two on the Grumman Lunar Module program. He has made numerous appearances on TV on the History, Science, & Discovery channels, as well as on others, as an "Aerospace Historian." He is also pleased to appear on the Weekly Space Hangout!
Regular Guests:
Today's sponsor:  Big thanks to our Patreon supporters this month: Rob Leeson, David Bowes, Brett Duane, Benett Bolek, Mary Ann, Frank Frankovic, Michael Freedman, Kim Hay, Steven Emert, Frank Tippin, Rani Bush, Jako Danar, Joseph J. Biernat, Nik Whitehead, Michael W, Cherry Wood, Steve Nerlich, Steven Kluth, James K Wood, Katrina Ince, Phyllis Foster, Don Swartwout, Barbara Geier, Steven Jansen
Please consider sponsoring a day or two. Just click on the "Donate" button on the lower left side of this webpage, or contact us at signup@365daysofastronomy.org.
Or please visit our Patreon page: https://www.patreon.com/365DaysOfAstronomy
End of podcast:
365 Days of Astronomy
=====================
The 365 Days of Astronomy Podcast is produced by Planetary Science Institute. Audio post-production by Richard Drumm. Bandwidth donated by libsyn.com and wizzard media. You may reproduce and distribute this audio for non-commercial purposes.
This show is made possible thanks to the generous donations of people like you! Please consider supporting to our show on Patreon.com/365DaysofAstronomy and get access to bonus content.
After 10 years, the 365 Days of Astronomy podcast is poised to enter its second decade of sharing important milestone in space exploration and astronomy discoveries. Join us and share your story. Until tomorrow! Goodbye!