Podcaster: Host : Fraser Cain ; Guest: Ashley Walker, Dr. Moiya McTier, Dave Dickinson, Allen Versfeld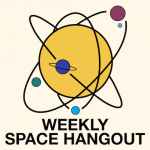 Title: Weekly Space Hangout – Celebrating #BlackInAstro with Ashley Walker
Link: Cosmoquest: http://cosmoquest.org
Description: Today's story:
The mystery of Betelgeuse solved. Again.
New information on the Chinese Zhurong rover.
A strange blinking star near the heart of the MW.
Naked eye Nova Herculis!
Host: Fraser Cain ( @fcain )
Special Guest: As we prepare to celebrate #BlackInAstro week, (and Juneteenth!) the WSH is excited to welcome Ashley Walker, founder and organizer of #BlackInAstro, to the show.
Ashley Lindalia Walker is a planetary astrochemist and science communicator. She received her BS in Chemistry from Chicago State University, where she became the first astrochemist in the university's history.
Ashley has interned at Harvard University, Johns Hopkins University, and NASA Goddard Space Flight Center. Her research interests include planetary atmospheres of extraterrestrial planets and moons within our solar system as well as exoplanetary systems. Currently she is a PhD student at Howard University.
She has been featured in an array of interviews which includes Scientific American, BBC America's "Space Week", Katie Couric's "Thank you Notes", and Faces of NASA. She advocates for students of color and highlights Black scientists during Black History Month. She is also the founder of #BlackInAstro week, co-founder of #BlackInChem and #BlackInPhysics week, a committee member for AAS CSMA and the Women Of Color Project.
Be sure to follow Ashley on Twitter (https://twitter.com/That_Astro_Chic) and Instagram (https://www.instagram.com/that_astro_chic/).
Don't forget to visit the Black In Astro website (https://www.blackinastro.com/) to learn more
Regular Guests:
Today's sponsor: Big thanks to our Patreon supporters this month: David Bowes, Dustin A Ruoff, Brett Duane, Kim Hay, Nik Whitehead, Timo Sievänen, Michael Freedman, Paul Fischer, Rani Bush, Karl Bewley, Joko Danar, Steven Emert, Frank Tippin, Steven Jansen, Barbara Geier, Don Swartwout, James K. Wood, Katrina Ince, Michael Lewinger, Phyllis Simon Foster, Nicolo DePierro, Tim Smith.
Please consider sponsoring a day or two. Just click on the "Donate" button on the lower left side of this webpage, or contact us at signup@365daysofastronomy.org.
Or please visit our Patreon page: https://www.patreon.com/365DaysOfAstronomy
End of podcast:
365 Days of Astronomy
=====================
The 365 Days of Astronomy Podcast is produced by Planetary Science Institute. Audio post-production by Richard Drumm. Bandwidth donated by libsyn.com and wizzard media. You may reproduce and distribute this audio for non-commercial purposes.
This show is made possible thanks to the generous donations of people like you! Please consider supporting to our show on Patreon.com/365DaysofAstronomy and get access to bonus content.
After 10 years, the 365 Days of Astronomy podcast is poised to enter its second decade of sharing important milestone in space exploration and astronomy discoveries. Join us and share your story. Until tomorrow! Goodbye!