Podcaster: Host : Fraser Cain ; Guest: Dr. Jay L. Nadeau, Dr. Moiya McTier, Dave Dickinson, Pam Hoffman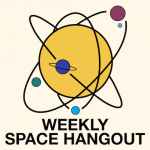 Title: Weekly Space Hangout : Looking for Microbial Life in Space With Dr. Jay L. Nadeau
Link: Cosmoquest: http://cosmoquest.org
Description: Today's story:
A lunar satellite constellation.
Last night's lunar eclipse!
Another eclipse! Annular this time.
Europa may have deep sea volcanoes.
Host: Fraser Cain ( @fcain )
Special Guest: This week we welcome Dr. Jay L. Nadeau to the Weekly Space Hangout. Jay is an Associate Professor in the Physics department at Portland State University and the founder of the Nadeau Lab (​https://motility.research.pdx.edu/index.html) where they research nanoparticles, fluorescence imaging, and develop instrumentation for the detection of life elsewhere in the solar system.
Prior to PSU, she was associate professor of biomedical engineering and physics at McGill University (2004–2015) and a Research Professor at Caltech (2015-2017). Before McGill, she was a member of the Jet Propulsion Laboratory's Center for Life Detection, and previous to that a Burroughs-Wellcome postdoctoral scholar in the laboratory of Henry A. Lester at Caltech. She received her PhD in physics from the University of Minnesota in 1996.
The Nadeau Lab receives funding from NASA, the NSF, private foundations, and industry. The group features chemists, microbiologists, roboticists, physicists, and physician-scientists, all learning from each other and hoping to speak each other's language. A believer in bringing biology to physicists as well as physics to biologists, Jay teaches upper-division courses in Biophysics, Statistical Mechanics, and Quantum Mechanics. She also teaches Radiation Physics in the OHSU Medical Physics program. She is the author of two textbooks, Introduction to Experimental Biophysics and Truly Tricky Graduate Physics Problems, and a popular science photo book, Going To MARS: Science in Canada's High Arctic.
Jay is committed to fostering diversity and inclusion in STEM, and seeks to broaden the pipeline into physics by creating new courses and programs that are friendly to people who are coming to physics after other careers or majors, to working professionals including teachers, and to underrepresented students. She is a member of the International Society for Optics and Photonics (SPIE), the American Association of Physics Teachers (AAPT), the American Physical Society, and the American Chemical Society.
Regular Guests:
Today's sponsor: Big thanks to our Patreon supporters this month: David Bowes, Dustin A Ruoff, Brett Duane, Kim Hay, Nik Whitehead, Timo Sievänen, Michael Freedman, Paul Fischer, Rani Bush, Karl Bewley, Joko Danar, Steven Emert, Frank Tippin, Steven Jansen, Barbara Geier, Don Swartwout, James K. Wood, Katrina Ince, Michael Lewinger, Phyllis Simon Foster, Nicolo DePierro, Tim Smith.
Please consider sponsoring a day or two. Just click on the "Donate" button on the lower left side of this webpage, or contact us at signup@365daysofastronomy.org.
Or please visit our Patreon page: https://www.patreon.com/365DaysOfAstronomy
End of podcast:
365 Days of Astronomy
=====================
The 365 Days of Astronomy Podcast is produced by Planetary Science Institute. Audio post-production by Richard Drumm. Bandwidth donated by libsyn.com and wizzard media. You may reproduce and distribute this audio for non-commercial purposes.
This show is made possible thanks to the generous donations of people like you! Please consider supporting to our show on Patreon.com/365DaysofAstronomy and get access to bonus content.
After 10 years, the 365 Days of Astronomy podcast is poised to enter its second decade of sharing important milestone in space exploration and astronomy discoveries. Join us and share your story. Until tomorrow! Goodbye!