Podcaster: Host : Fraser Cain ; Guest: Dr. Ethan Schaler, Michael Rodruck, Dave Dickinson, Beth Johnson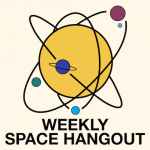 Title: Weekly Space Hangout : Robotics On Mars With Dr. Ethan Schaler
Link: Cosmoquest: http://cosmoquest.org
Description: Today's story:
The first Chinese rover on Mars.
Deep water on Neptune & Uranus.
Tidal tails out in the Universe.
The upcoming total Lunar eclipse.
Host: Fraser Cain ( @fcain )
Special Guest: This week we are pleased to welcome Dr. Ethan Schaler to the Weekly Space Hangout. Ethan is a Robotics Mechanical Engineer in the Robotic Actuation and Sensing Group at NASA's Jet Propulsion Laboratory.
Ethan has backgrounds in Electrical Engineering (PhD), Mechanical Engineering (BS), and Micro/Nanotechnology (MPhil), and collaborates with researchers in a variety of disciplines to design, model, fabricate, and characterize new robotic systems at micrometer- to meter-scales.
In the flight world, Ethan is a member of the Robotic Arm team in the Sampling and Caching Subsystem for the Mars 2020 mission, where he's focused on testing / operating the rover's robotic arm and built-in force-torque sensor. In the research world, he's built flexible grippers, miniature legged robots, and high-voltage actuators. Lately, he's also been brainstorming ideas for new robots to explore unique corners of our solar system.
You can learn more about Ethan and stay up to date with his projects by visiting his JPL Website: https://www-robotics.jpl.nasa.gov/people/Ethan_Schaler/ and the M2020 Website: https://mars.nasa.gov/people/profile/?id=23310 You can also follow him on Linked-In: https://www.linkedin.com/in/ethanschaler/
Regular Guests:
Today's sponsor: Big thanks to our Patreon supporters this month: David Bowes, Dustin A Ruoff, Brett Duane, Kim Hay, Nik Whitehead, Timo Sievänen, Michael Freedman, Paul Fischer, Rani Bush, Karl Bewley, Joko Danar, Steven Emert, Frank Tippin, Steven Jansen, Barbara Geier, Don Swartwout, James K. Wood, Katrina Ince, Michael Lewinger, Phyllis Simon Foster, Nicolo DePierro, Tim Smith.
Please consider sponsoring a day or two. Just click on the "Donate" button on the lower left side of this webpage, or contact us at signup@365daysofastronomy.org.
Or please visit our Patreon page: https://www.patreon.com/365DaysOfAstronomy
End of podcast:
365 Days of Astronomy
=====================
The 365 Days of Astronomy Podcast is produced by Planetary Science Institute. Audio post-production by Richard Drumm. Bandwidth donated by libsyn.com and wizzard media. You may reproduce and distribute this audio for non-commercial purposes.
This show is made possible thanks to the generous donations of people like you! Please consider supporting to our show on Patreon.com/365DaysofAstronomy and get access to bonus content.
After 10 years, the 365 Days of Astronomy podcast is poised to enter its second decade of sharing important milestone in space exploration and astronomy discoveries. Join us and share your story. Until tomorrow! Goodbye!