Podcaster: Host : Fraser Cain ; Guest: Dr. Tanya Harrison, Dr. Morgan Rehnberg, Dr. Moiya McTier, C.C. Petersen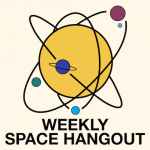 Title: Weekly Space Hangout : Exploring Mars With Professional Martian Dr. Tanya Harrison
Link: Cosmoquest: http://cosmoquest.org
Description: Today's story:
Sounds in space!
A bottle of wine aged in space.
Strange supernova. SN 2019 YVR
Ingenuity!
Recent volcanic activity on Mars.
Chinese Mars rover will happen soon!
Host: Fraser Cain ( @fcain )
Special Guest: This week we are excited to welcome "Professional Martian" Dr. Tanya Harrison to the WSH. Tanya is a respected Mars expert who worked as a geoscientist and mission operations specialist on multiple NASA Mars missions over the past 13 years, including the Opportunity, Curiosity, and Perseverance rovers, and the Mars Reconnaissance Orbiter. A thought leader in the commercial space sector from her previous role as Director of Research for Arizona State University's NewSpace Initiative, she currently works as the Director of Science Strategy for the federal arm of the Earth observing satellite company Planet Labs.
Tanya holds a Ph.D. in Geology with a Specialization in Planetary Science and Exploration from the University of Western Ontario. There, her research focused on the formation and evolution of features on Mars called gullies, and what they can tell us about the recent climate history of the Red Planet. She also holds a Masters in Earth and Environmental Sciences from Wesleyan University, and a B.Sc. in Astronomy and Physics from the University of Washington. Her honours include two NASA Group Achievement Awards, the Amelia Earhart Fellowship for women in aerospace and the Vanier Canada Graduate Scholarship, Canada's most prestigious doctoral award. She was also named one of Via Satellite's Young People to Watch of 2018, and a Future Space Leader in 2019.
Dr. Harrison has appeared in documentaries for channels such as National Geographic and The Weather Channel, regularly appears on radio interviews with the BBC, and has written on space-related topics for outlets including Slate, Canada's The Globe and Mail, the Houston Chronicle, and Astronomy magazine. Her first non-academic book, For All Humankind (2019, Mango Publishing) highlights international memories of the day of the Apollo 11 Moon landing and made the #1 release on Amazon's Aeronautics and Astronautics book list.
Committed to fostering the next generation of space professionals, Tanya is active in mentorship, education, and outreach initiatives. She serves on the Board of Advisors for Explore Mars and Students for the Exploration and Development of Space (SEDS), and the Board of Governors for the National Space Society. She is also a co-founder of the Zed Factor Fellowship, an initiative to increase diversity, inclusion, and accessibility in the aerospace sector through internship opportunities, mentorship, and community engagement.
Outside of her life in space, Tanya is also a professional photographer, public transit enthusiast, and chronic creative. She currently resides in Washington DC and Toronto, where she can usually be found with a camera and NASA stickers in hand.
You can find Tanya prolifically tweeting about all things Mars, space, and Canada on Twitter as @tanyaofmars (https://twitter.com/tanyaofmars​)
To learn more about Tanya, visit her website https://www.tanyaharrison.com/​ , and you can read her blog at https://tanyaofmars.medium.com/​.
Regular Guests:
Today's sponsor: Big thanks to our Patreon supporters this month: David Bowes, Dustin A Ruoff, Brett Duane, Kim Hay, Nik Whitehead, Timo Sievänen, Michael Freedman, Paul Fischer, Rani Bush, Karl Bewley, Joko Danar, Steven Emert, Frank Tippin, Steven Jansen, Barbara Geier, Don Swartwout, James K. Wood, Katrina Ince, Michael Lewinger, Phyllis Simon Foster, Nicolo DePierro, Tim Smith.
Please consider sponsoring a day or two. Just click on the "Donate" button on the lower left side of this webpage, or contact us at signup@365daysofastronomy.org.
Or please visit our Patreon page: https://www.patreon.com/365DaysOfAstronomy
End of podcast:
365 Days of Astronomy
=====================
The 365 Days of Astronomy Podcast is produced by Planetary Science Institute. Audio post-production by Richard Drumm. Bandwidth donated by libsyn.com and wizzard media. You may reproduce and distribute this audio for non-commercial purposes.
This show is made possible thanks to the generous donations of people like you! Please consider supporting to our show on Patreon.com/365DaysofAstronomy and get access to bonus content.
After 10 years, the 365 Days of Astronomy podcast is poised to enter its second decade of sharing important milestone in space exploration and astronomy discoveries. Join us and share your story. Until tomorrow! Goodbye!