Podcaster: Host : Fraser Cain ; Guest: Dr. Ronald Mallett, Dr. Brian Koberlein, Dr. Alex Teachey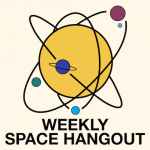 Title: Weekly Space Hangout – Guest: Dr. Ronald Mallett
Link: Cosmoquest: http://cosmoquest.org
Description: Today's story:
A really good measurement of Dark Energy.
China launches the core module of its space station.
StarShip SN15 NO GO BOOM!
Host: Fraser Cain ( @fcain )
Special Guest: This week we are airing Fraser's prerecorded interview with Dr. Ronald Mallett, Professor Emeritus and Research Professor of Physics at the University of Connecticut in Storrs.
Ron received his B.S., M.S., and Ph.D. in physics from the Pennsylvania State University. In 1975 he joined the physics faculty at the University of Connecticut in Storrs. His research interests include black holes, general relativity, quantum cosmology, and relativistic astrophysics. As part of his research, Ron has hypothesized that a rotating ring laser could, via frame dragging, sufficiently twist space and time to mimic the conditions inside a rotating Black Hole, potentially allowing a binary message (encoded in a neutrino stream) to be sent back in time. You can learn more about the theory behind Ron's hypothesis in this January 2020 Popular Mechanics article: https://www.popularmechanics.com/scie…​
Prof. Mallett has published numerous papers on black holes and cosmology in professional journals. His breakthrough research on time travel has been featured extensively in print and broadcast media around the world and has appeared in a feature-length documentary "How to Build a Time Machine" which won Best Documentary at the 2017 Philip K Dick Film Festival in New York City. The documentary is now available on Amazon Prime.
His published memoir "Time Traveler: A Scientist's Personal Mission to Make Time Travel a Reality" has been translated into Korean, Chinese, Japanese and is currently in discussion become a major Hollywood motion picture.
To learn more about Ron and his research, visit his faculty website https://physics.uconn.edu/person/ronald-mallett/
You can also follow Ron on Facebook (https://www.facebook.com/ronald.l.mallett​) and Twitter (https://twitter.com/rlmallett​).
Regular Guests:
Today's sponsor: Big thanks to our Patreon supporters this month: David Bowes, Dustin A Ruoff, Brett Duane, Kim Hay, Nik Whitehead, Timo Sievänen, Michael Freedman, Paul Fischer, Rani Bush, Karl Bewley, Joko Danar, Steven Emert, Frank Tippin, Steven Jansen, Barbara Geier, Don Swartwout, James K. Wood, Katrina Ince, Michael Lewinger, Phyllis Simon Foster, Nicolo DePierro, Tim Smith.
Please consider sponsoring a day or two. Just click on the "Donate" button on the lower left side of this webpage, or contact us at signup@365daysofastronomy.org.
Or please visit our Patreon page: https://www.patreon.com/365DaysOfAstronomy
End of podcast:
365 Days of Astronomy
=====================
The 365 Days of Astronomy Podcast is produced by Planetary Science Institute. Audio post-production by Richard Drumm. Bandwidth donated by libsyn.com and wizzard media. You may reproduce and distribute this audio for non-commercial purposes.
This show is made possible thanks to the generous donations of people like you! Please consider supporting to our show on Patreon.com/365DaysofAstronomy and get access to bonus content.
After 10 years, the 365 Days of Astronomy podcast is poised to enter its second decade of sharing important milestone in space exploration and astronomy discoveries. Join us and share your story. Until tomorrow! Goodbye!