Podcaster: Host : Dr. Pamela Gay ; Guest: Amy Ross, Dr. Brian Koberlein, Pam Hoffman, Molly Wakeling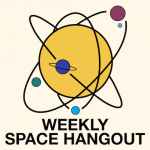 Title: Weekly Space Hangout –  Amy Ross, NASA Spacesuit Designer
Link: Cosmoquest: http://cosmoquest.org
Description: Today's story:
A bonkers month for astronomy.
A Martian Trojan asteroid from the Moon!
The first FRB in our backyard. (So-to-speak)
Europa glows in the dark!
Host: Fraser Cain ( @fcain )
Special Guest: 
This week we are excited to welcome Amy Ross, NASA Space Suit Engineer, to the WSH.
Amy is the team lead for the Exploration Extra-vehicular Mobility Unit (xEMU) Pressure Garment Subsystem (PGS) as well as Space Suit Pressure Garment Technology Development. The team's primary focus is the design, fabrication, qualification testing, and flight hardware delivery of the xEMU PGS in 2023.
As part of her duties with NASA, Amy has, among other things, qualified suits in the Neutral Buoyancy Lab, flown on the Vomit Comet (experiencing zero, Lunar, and Mars gravities), been trained in Space Shuttle Launch pad mode II/IV egress procedures, and served as a Space suit test subject for 12 different space suit design configurations. In 2013, she underwent an Astronaut interview.
Amy earned her Bachelors and Masters degrees in Mechanical Engineering from Purdue University. She went on to earn a Masters in Space Studies from the University of North Dakota.
Trivia tidbit: Amy is the daughter of astronaut Jerry Ross, who has flown in space seven times and conducted nine spacewalks, setting two U.S. records.
You can read more about Amy and her work by visiting https://https://www.nasa.gov/audience/foreducators/spacesuits/careercorner/amy-ross.html
You can stay up to date with NASA's space suit design by visiting the EVA website at https://www.nasa.gov/suitup
Regular Guests:
Today's sponsor: Big thanks to our Patreon supporters this month: David Bowes, Dustin A Ruoff, Brett Duane, Kim Hay, Nik Whitehead, Timo Sievänen, Michael Freedman, Paul Fischer, Rani Bush, Karl Bewley, Joko Danar, Steven Emert, Frank Tippin, Steven Jansen, Barbara Geier, Don Swartwout, James K. Wood, Katrina Ince, Michael Lewinger, Phyllis Simon Foster, Nicolo DePierro, Tim Smith.
Please consider sponsoring a day or two. Just click on the "Donate" button on the lower left side of this webpage, or contact us at signup@365daysofastronomy.org.
Or please visit our Patreon page: https://www.patreon.com/365DaysOfAstronomy
End of podcast:
365 Days of Astronomy
=====================
The 365 Days of Astronomy Podcast is produced by Planetary Science Institute. Audio post-production by Richard Drumm. Bandwidth donated by libsyn.com and wizzard media. You may reproduce and distribute this audio for non-commercial purposes.
This show is made possible thanks to the generous donations of people like you! Please consider supporting to our show on Patreon.com/365DaysofAstronomy and get access to bonus content.
After 10 years, the 365 Days of Astronomy podcast is poised to enter its second decade of sharing important milestone in space exploration and astronomy discoveries. Join us and share your story. Until tomorrow! Goodbye!