Podcaster: Rob Sparks. Guest: Andrew Vandenberg & Siyi Xu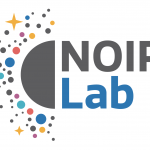 Title: A White Dwarf's Surprise Planetary Companion
Organization: NOIRLab (NSF's National Optical-Infrared Astronomy Research Laboratory)
Links: www.noao.edu ; @NOAONorth; http://www.lsst.org/ ;https://nationalastro.org/ ; https://www.facebook.com/NOIRLabAstro ; https://www.instagram.com/noirlabastro/ ; https://www.youtube.com/noirlabastro ; @NOIRLabAstro
Description:  White dwarfs are the final state of stars like our Sun at the end of their lives. A typical white dwarf is about the size of Earth but with a much larger mass and density. Recently a Jupiter sized planet was discovered orbiting very close to a white dwarf. In this podcast, learn about this planet, its discovery and how it was studied using NASA and NOIRLab facilities.
Bio: Rob Sparks is a science education specialist in the Education and Public Outreach (EPO) group at the National Optical Astronomy Observatory (NOAO) and works on the Galileoscope project (www.galileoscope.org), providing design, dissemination and professional development. He blogs at halfastro.wordpress.com.
Andrew Vandenberg is an assistant professor at the University of Wisconsin-Madison where he studies and characterizes exoplanets.
Siyi Xu is an assistant astronomer at Gemini North, a program of NSF's NOIRLab in Hawaii.
End of podcast:
365 Days of Astronomy
=====================
The 365 Days of Astronomy Podcast is produced by Planetary Science Institute. Audio post-production by Richard Drumm. Bandwidth donated by libsyn.com and wizzard media. You may reproduce and distribute this audio for non-commercial purposes.
This show is made possible thanks to the generous donations of people like you! Please consider supporting to our show on Patreon.com/365DaysofAstronomy and get access to bonus content.
After 10 years, the 365 Days of Astronomy podcast is poised to enter its second decade of sharing important milestone in space exploration and astronomy discoveries. Join us and share your story. Until tomorrow! Goodbye!Toggle panel: Podcast Episode