Podcaster: Host : Fraser Cain ; Guest: Dr. David Warmflash, C.C. Petersen, Allen Versfeld, Veranika (Nika) Klimovich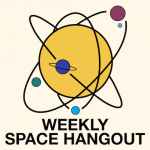 Title: Weekly Space Hangout – Guest: Dr. David Warmflash and Mixed Reality Surgical Systems
Link: Cosmoquest: http://cosmoquest.org
Description: Today's story:
The first direct observation of exoplanet Beta Pic C.
Is Earth the best habitable planet? (Yes, for us.)
Germany is planning its first spaceport.
Host: Fraser Cain ( @fcain )
Special Guest:
This week we welcome back to the show Dr. David Warmflash. Since he was last with us, David has been named as Co-Principal Investigator and Medical Director for a new NASA Small Business Innovation Research (SBRI) Phase I study titled "Mixed-Reality Holographic Training System to Enable High-Value Surgical and Complex Medical Procedures by Astronauts." This study, managed by the New Jersey-based Mgenuity Corporation with collaboration from Oregon Health Sciences University (OHSU), aims to develop a system to guide astronauts through surgical and medical procedures on Exploration Class missions.
David is also a science advisor for Let's Rover the Moon, an Israeli non-governmental initiative.
David Warmflash M.D. is an astrobiologist, space medicine researcher, and author. David is a contributor to Medscape Neurology of WebMD and to various science and space magazines and online outlets, where his topics include space exploration and space life sciences, genetics, neuroscience, and the history of science and medicine.
His 2019 book, "Moon: An Illustrated History: From Ancient Myths to the Colonies of Tomorrow", was the basis for an Oregon Public Broadcasting TV documentary in which he appears with various Moon experts, including Apollo 17 astronaut geologist Harrison Schmitt. David also has begun work on a new book that will focus on space medicine and other life science issues and how they relate to humanity's coming expansion beyond Earth.
You can stay up to date with everything David is doing by following him on Twitter (@CosmicEvolution) as well as Instagram (https://www.instagram.com/moonillustratedhistory/).
David's book is available from Sterling Publishing (https://www.sterlingpublishing.com/9781454931980/), Barnes and Noble (https://www.barnesandnoble.com/w/moon-david-warmflash/1129710720), Amazon (https://www.amazon.com/Moon-Illustrated-Colonies-Tomorrow-Histories/dp/1454931981), and !ndigo (https://www.chapters.indigo.ca/en-ca/books/moon-an-illustrated-history-from/9781454931980-item.html) .
Guest:
Today's sponsor: Big thanks to our Patreon supporters this month: David Bowes, Dustin A Ruoff, Brett Duane, Kim Hay, Nik Whitehead, Timo Sievänen, Michael Freedman, Paul Fischer, Rani Bush, Karl Bewley, Joko Danar, Steven Emert, Frank Tippin, Steven Jansen, Barbara Geier, Don Swartwout, James K. Wood, Katrina Ince, Michael Lewinger, Phyllis Simon Foster, Nicolo DePierro, Tim Smith.
Please consider sponsoring a day or two. Just click on the "Donate" button on the lower left side of this webpage, or contact us at signup@365daysofastronomy.org.
Or please visit our Patreon page: https://www.patreon.com/365DaysOfAstronomy
End of podcast:
365 Days of Astronomy
=====================
The 365 Days of Astronomy Podcast is produced by Planetary Science Institute. Audio post-production by Richard Drumm. Bandwidth donated by libsyn.com and wizzard media. You may reproduce and distribute this audio for non-commercial purposes.
This show is made possible thanks to the generous donations of people like you! Please consider supporting to our show on Patreon.com/365DaysofAstronomy and get access to bonus content.
After 10 years, the 365 Days of Astronomy podcast is poised to enter its second decade of sharing important milestone in space exploration and astronomy discoveries. Join us and share your story. Until tomorrow! Goodbye!