Podcaster: Host : Fraser Cain ; Guest: Dr. John Kiss, Dr. Morgan Rehnberg, Moiya McTier, Pam Hoffman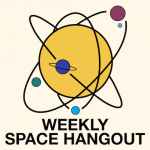 Title: Weekly Space Hangout –  Guest: Dr. John Kiss – The Growth of Plants in Space
Link: Cosmoquest: http://cosmoquest.org
Description: Today's story:
Comets with auroras!
October sky highlights.
Astronauts voting from spaaaaace!
StarLink in action. Finally.
Host: Fraser Cain ( @fcain )
Special Guest:
Dr. John Kiss from the University of North Carolina, Greensboro (UNCG). Tonight, Dr. Kiss will be discussing the sensory physiology of plants in space research, including the effect of Mars' levels of gravity on plant development.
John Z. Kiss is the Dean of the College of Arts and Sciences at UNCG, and his academic appointment is as Professor of Biology. He served as Dean of the Graduate School at the University of Mississippi from 2012-16. John was on the faculty of Miami University (1993-2012) where he was a University Distinguished Professor and Chair of the Botany Department. He has been an instructor in 15 different courses ranging from introductory biology for first year students to advanced graduate courses. He also has mentored 57 independent research projects by undergraduates and has served as major professor for 14 M.S. students, 8 doctoral students, and 7 post-doctoral scholars.
John's research focuses on the gravitational and space biology of plants, and he has published 112 peer-reviewed papers. He also has been invited to present seminars based on his research at universities throughout the US and in another 12 countries. He served as PI on grants from NASA, USDA, NSF, and the NIH (career total = $6.0 million) as well as PI on eight spaceflight experiments on the Space Shuttle and the International Space Station. In 2014, he received the NASA Outstanding Public Leadership Medal "for exceptional contributions in spaceflight research in the fundamental biology of plants in support of NASA's exploration mission."
John was President of the Midwestern Section of the American Society of Plant Biologists (2001-02) and the American Society of Gravitational and Space Biology (2003-04). He has major editorial activities including currently serving as an Associate Editor for the American Journal of Botany and as a former Editor for Advances in Space Research.
Guest:
Today's sponsor: Big thanks to our Patreon supporters this month: David Bowes, Dustin A Ruoff, Brett Duane, Kim Hay, Nik Whitehead, Timo Sievänen, Michael Freedman, Paul Fischer, Rani Bush, Karl Bewley, Joko Danar, Steven Emert, Frank Tippin, Steven Jansen, Barbara Geier, Don Swartwout, James K. Wood, Katrina Ince, Michael Lewinger, Phyllis Simon Foster, Nicolo DePierro, Tim Smith.
Please consider sponsoring a day or two. Just click on the "Donate" button on the lower left side of this webpage, or contact us at signup@365daysofastronomy.org.
Or please visit our Patreon page: https://www.patreon.com/365DaysOfAstronomy
End of podcast:
365 Days of Astronomy
=====================
The 365 Days of Astronomy Podcast is produced by Planetary Science Institute. Audio post-production by Richard Drumm. Bandwidth donated by libsyn.com and wizzard media. You may reproduce and distribute this audio for non-commercial purposes.
This show is made possible thanks to the generous donations of people like you! Please consider supporting to our show on Patreon.com/365DaysofAstronomy and get access to bonus content.
After 10 years, the 365 Days of Astronomy podcast is poised to enter its second decade of sharing important milestone in space exploration and astronomy discoveries. Join us and share your story. Until tomorrow! Goodbye!