Podcaster: Dr. Al Grauer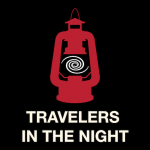 Title: Travelers in the Night Eps.  69E & 70E: Views From The Shores Of The Cosmic Ocean & Interplanetary Travelers-Antarctic Meteorites
Organization: Travelers in The Night
Link : Travelers in the Night ; @Nmcanopus
Description: Today's 2 topics:
Before artificial lighting many people knew the night sky the way humans of today know their favorite TV channels
In the cold deserts of Antarctica nature collects meteorites as ice sheets carrying space rocks are pushed up against mountains
Bio: Dr. Al Grauer is currently an observing member of the Catalina Sky Survey Team at the University of Arizona. This group has discovered nearly half of the Earth approaching objects known to exist. He received a PhD in Physics in 1971 and has been an observational Astronomer for 43 years. He retired as a University Professor after 39 years of interacting with students. He has conducted research projects using telescopes in Arizona, Chile, Australia, Hawaii, Louisiana, and Georgia with funding from NSF and NASA.
He is noted as Co-discoverer of comet P/2010 TO20 Linear-Grauer, Discoverer of comet C/2009 U5 Grauer and has asteroid 18871 Grauer named for him.
Today's sponsor: Big thanks to our Patreon supporters this month: David Bowes, Dustin A Ruoff, Brett Duane, Kim Hay, Nik Whitehead, Timo Sievänen, Michael Freedman, Paul Fischer, Rani Bush, Karl Bewley, Joko Danar, Steven Emert, Frank Tippin, Steven Jansen, Barbara Geier, Don Swartwout, James K. Wood, Katrina Ince, Michael Lewinger, Phyllis Simon Foster, Nicolo DePierro, Tim Smith.
Please consider sponsoring a day or two. Just click on the "Donate" button on the lower left side of this webpage, or contact us at signup@365daysofastronomy.org.
Or please visit our Patreon page: https://www.patreon.com/365DaysOfAstronomy
Transcript:
69E: Views From The Shores Of The Cosmic Ocean
Before artificial lighting many people knew the night sky the way humans of today know their favorite TV channels. Our ancestors used the sky as a clock and calendar.  The night sky has informed humans when to plant, hunt, and even when the Nile river would flood.
More than 30 years ago Carl Sagan expanded the public's awareness of the Universe with the television series Cosmos. The episodes are available on YouTube and are well worth watching.
The International year of Astronomy 2009 was scheduled to coincide with the first recorded astronomical observations with a telescope by Galileo Galilei.
The International Year of Light 2015 has an astronomical component. The Cosmic Light. Visit their website to learn more about how Einstein contributed to our understanding of light, become aware of the importance of being able to view the un-light polluted night sky, view many images of the Universe, gain an understanding of the Big Bang, and build your own high quality low cost telescope.There are places where you can view the naturally appearing sky. The National Park Service understands the importance of the natural night sky as part of the park environment. There is a new accessible night sky viewing area in the Gila National Forest about 75 miles north and west of Silver City, New Mexico. It is called the Cosmic Campground. Check it out at cosmiccampground.org. It is one of the best places in the world to view the night sky in all of its beauty with the naked eye, a pair of binoculars or a telescope.
70E: Interplanetary Travelers-Antarctic Meteorites
In the cold deserts of Antarctica nature collects meteorites as ice sheets carrying space rocks are pushed up against mountains.  High speed winds remove the ice leaving dozens to hundreds of meteorites stranded in an area often as small as a football field.  
In the past 30 years the Antarctic Search for Meteorites program has discovered more than 20,000 meteorites.
This is more than all of other meteorites discovered in the past 500 years. Most of these space rocks come from asteroids and comets. Approximately 1 out of a thousand space stones found in Antarctica come from the Moon. Also rare but found are those which have traveled from Mars to Earth after being ejected from the red planet by an impact of an asteroid or comet. The meteorites which are collected are shipped, still frozen, to the Antarctic Meteorite laboratory at NASA's Johnson Space Center in Houston Texas. There they are catalogued and distributed to scientists all over the world for study.  Antarctic space rocks have much to tell us about asteroids, comets, planets, and how our solar system was formed.
Even though Antarctic meteorite hunters operate in the "summer" it is still cold near the south pole. People who are experienced in traveling across glaciers and ice sheets train prospective space rock hunters.  Explorers are rewarded when they find an area with a fantastic number of meteorites in a small area called a trough.  
The Antarctic Search for Meteorites Program takes applications from both men and women early in the spring each year.
For Travelers in the Night this is Dr. Al Grauer.
End of podcast:
365 Days of Astronomy
=====================
The 365 Days of Astronomy Podcast is produced by Planetary Science Institute. Audio post-production by Richard Drumm. Bandwidth donated by libsyn.com and wizzard media. You may reproduce and distribute this audio for non-commercial purposes.
This show is made possible thanks to the generous donations of people like you! Please consider supporting to our show on Patreon.com/365DaysofAstronomy and get access to bonus content.
After 10 years, the 365 Days of Astronomy podcast is entering its second decade of sharing important milestone in space exploration and astronomy discoveries. Join us and share your story. Until tomorrow! Goodbye!