Podcaster: Host : Fraser Cain ; Guest: Terry Virts, Dr. Kimberly Cartier, Dave Dickinson, Moiya McTier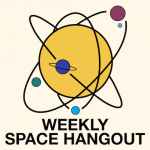 Title: Weekly Space Hangout –  Guest: Astronaut Terry Virts Tells Us "How To Astronaut"
Link: Cosmoquest: http://cosmoquest.org
Description:  Today's story:
An ultra-hot Neptune discovered around a Sun-like star.
MARS! At opposition.
Extragalactic planet? M51 representing!
Planet around a white dwarf!
Host: Fraser Cain ( @fcain )
Special Guest: Terry Virts
Fraser's prerecorded interview with Colonel Terry Virts. Colonel Virts is one of only four astronauts in history to have piloted a Space Shuttle, flown a Russian Soyuz spacecraft, performed space walks, and commanded the ISS.
He's written "HOW TO ASTRONAUT: An Insider's Guide to Leaving Planet Earth," the book for everyone who wants to know what space travel is really like. Terry took enough photos while in space to create a book and feature IMAX film "View from Above," all while doing spacewalks to maintain the ISS and conducting science experiments for NASA scientists on Earth.
Terry is an expert at demystifying the science associated with space travel, and a treasure trove of anecdotes about daily life in space (How do you shower? What do you wear in space? Can you check your email on the ISS?). He's also a frequent speaker for National Geographic and I'm pleased to share some clips below my signature.
Guest:
Today's sponsor: Big thanks to our Patreon supporters this month: David Bowes, Dustin A Ruoff, Brett Duane, Kim Hay, Nik Whitehead, Timo Sievänen, Michael Freedman, Paul Fischer, Rani Bush, Karl Bewley, Joko Danar, Steven Emert, Frank Tippin, Steven Jansen, Barbara Geier, Don Swartwout, James K. Wood, Katrina Ince, Michael Lewinger, Phyllis Simon Foster, Nicolo DePierro, Tim Smith.
Please consider sponsoring a day or two. Just click on the "Donate" button on the lower left side of this webpage, or contact us at signup@365daysofastronomy.org.
Or please visit our Patreon page: https://www.patreon.com/365DaysOfAstronomy
End of podcast:
365 Days of Astronomy
=====================
The 365 Days of Astronomy Podcast is produced by Planetary Science Institute. Audio post-production by Richard Drumm. Bandwidth donated by libsyn.com and wizzard media. You may reproduce and distribute this audio for non-commercial purposes.
This show is made possible thanks to the generous donations of people like you! Please consider supporting to our show on Patreon.com/365DaysofAstronomy and get access to bonus content.
After 10 years, the 365 Days of Astronomy podcast is poised to enter its second decade of sharing important milestone in space exploration and astronomy discoveries. Join us and share your story. Until tomorrow! Goodbye!